Starburst XXXtreme Review
Starburst is a classic, but what about Starburst XXXtreme? Here's why you should drop everything and start playing NetEnt's latest slot, Starburst XXXtreme.
What I checked in Starburst XXXtreme
What is Starburst XXXtreme?
| GENERAL DETAILS | | | |
| --- | --- | --- | --- |
| Slot type | Video Slot | Number of rows | 3 |
| Provider | NetEnt | Reels | 5 |
NetEnt has done it again with their latest version of their beloved classic, Starburst. This time, they give us Starburst XXXtreme, which has 3 rows, 5 reels and 9 paylines.
To win, all you have to do is manage to get 3 to 5 matching symbols/wilds on your reels and there you go! Remember that the symbols have to be from left to right.
One thing I'll say is that this slot is better suited for more experienced players, and I'll tell you why soon.
You can find Starburst XXXtreme at the following PA online casinos: Betrivers, Sugarhouse, Borgata, BetMGM, and PlayLive!.
Which Game and Bonus Features Starburst XXXtreme has?
| FEATURES | NO. | LIST |
| --- | --- | --- |
| BASE GAME FEATURES | 1 | Starburst Wilds Feature |
| BONUS BUY FEATURES | N/A | N/A |
| BONUS GAMES FEATURES | 3 | Starburst Wilds Feature, Random Wilds Feature, Spins Feature |
Base Game Features
The Starburst Wilds Feature is available to use in the base game, not just the bonus game. When this is the case, they only show up on 3 reels rather than the regular 5 (that's reserved for the bonus game).
If this wild lands on your reels, it will expand and the player will be given 1 respin to use immediately.
The symbols
Golden Bear – x5 (5 on a payline)
Lucky Red 7 – x10 (5 on a payline)
Yellow Gemstone – x0.60 (5 on a payline)
Green Gemstone – x0.50 (5 on a payline)
Orange Gemstone – x0.40 (5 on a payline)
Blue Gemstone – x0.30 (5 on a payline)
Purple Gemstone – x0.30 (5 on a payline)
Paytable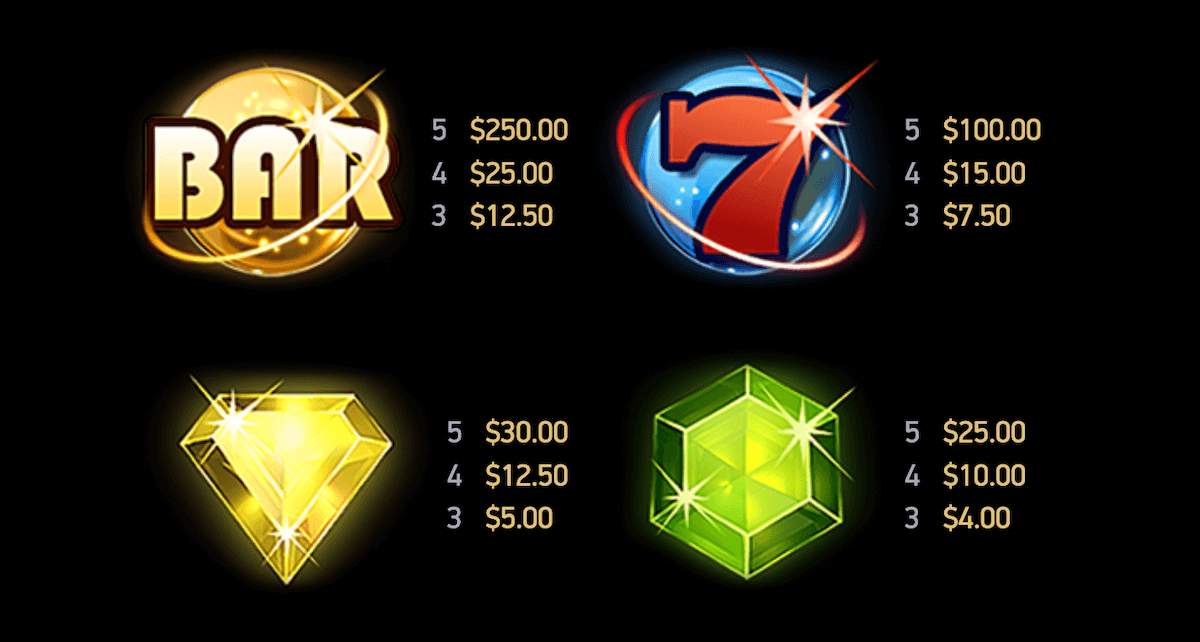 Bonus Game Features
The original Starburst game also had the Starburst Wilds Feature but this time, in Starburst XXXtreme, players can get lucky with random multipliers of 2x, 3x, 5x, 10x, 25x, 50x, 100x, and 150x. Amazing right? Imagine what your final winnings will be if you manage to land a few of these.
The Random Wilds Feature can be triggered anytime during the game, and it adds 1-3 wilds to one of your multipliers. If you get the maximum number of 3 wilds, you'll get a x450 multiplier!
Last but not least, we have the XXXtreme Spins Feature, where you'll get the chance to choose between two options. You can either opt for a x10 stake which will guarantee you 1 wild, or you can opt for a x95 stake where you'll get 2 wilds to use in the game.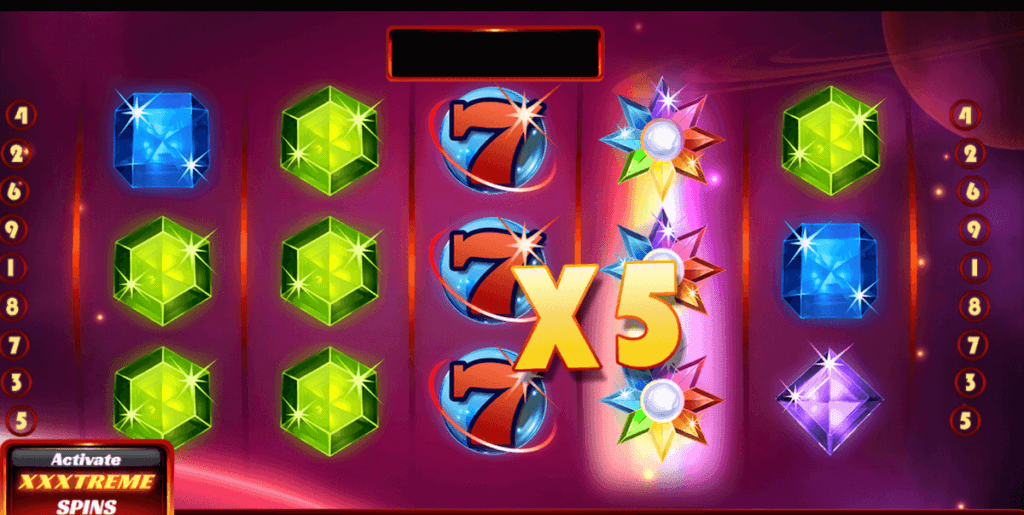 What innovative Special Features can be seen in Starburst XXXtreme?
| SPECIAL FEATURES | |
| --- | --- |
| Autoplay option | 👍 |
| Change the speed | 👍 |
| Mute the sound | 👍 |
| Adjustable bet size | 👍 |
With Starburst XXXtreme being a very new slot, players can expect to find all the basic features that make a slot convenient to play. Other than the features listed in the table above, you also have the option to stop the round, an information button, and a special feature button that allows you to activate/deactivate the XXXtreme Spins Feature.
The RTP of this game is 96.26%, which makes this slot a high RTP slot, and if you make use of the spins feature, this percentage will go up to 96.45%.
Starburst XXXtreme is a high volatility slot, and this is what makes it more suitable for more experienced players. While new players can play this game if they want to, I'd suggest trying the original slot first, getting used to that one and later moving on to Starburst XXXtreme.
The maximum bet you can place is 50 and the minimum bet is 0.1.
What's the Story behind Starburst XXXtreme's Theme?
Starburst XXXtreme follows the same vibe and theme as its predecessor. It has a sci-fi theme with an immensely sleek and futuristic design to it.
Graphics
NetEnt never slacks when it comes to their graphics. Starburst XXXtreme is a feast for the eyes, and you'll see what I mean once you start playing it.
Sound
The slot's sound is reminiscent of the original, making it nostalgic for fans of Starburst.
Who made Starburst XXXtreme?
NetEnt is responsible for Starburst XXXtreme. They launched in Sweden back in 1996 and in 2021, they were acquired by Evolution. Their game library is extensive and filled with hits! Players all over the world keep seeking out NetEnt's games and for good reason.
They almost never disappoint.
Conclusion – Is Starburst XXXtreme better than the others?
Fans of the original may be a bit apprehensive about trying this one out, but I can assure you that it's one of the best slots NetEnt has put out recently.
They built on what was already great and made it even better. So what are you waiting for? Head over to our New Slots page to find out more about new slots in the PA market.