First Person Craps
Are Live Casinos Legal in Pennsylvania?
Live casinos are legal at any PA casino that is licensed through the Pennsylvania Gaming Control Board. This agency regulates all online and land-based casinos. 
We will never recommend any offshore or illegal online casino on our site as these casinos are not held to the same high standards for security and fairness as licensed casinos are.
Are Live Casinos Rigged?
No. Because legal online casinos in PA are regulated by government agencies all of their games are carefully checked and monitored to ensure that their games are 100% fair for all players.
The game providers are also licensed to operate in the state and they must follow all guidelines from the PGCB to prove that the outcomes for all games are completely random and fair.
Failure to comply with these regulations could result in hefty fines and/or losing their license to operate in the state. So in this case, it pays to make sure all regulations are met.
What is a Live Casino?
A live casino is a casino that specializes in live dealer games. Here, players will find their favorite table games and live game show games hosted by a live, human dealer.
Players can interact with the live dealer via text communication.
Why play Live Casino Games?
Live Casino Games vs RNG (Virtual) Games
| | Live Casino Games | RNG (Virtual) Games |
| --- | --- | --- |
| Immersion | ✔ | X |
| Entertainment | ✔ | X |
| The Feeling of Fairness & Safeness | ✔ | X |
| Constant Evolution | ✔ | X |
The Pros of Playing Live Dealer Casino
They're Immersive
Live dealer games seek to give players the ultimate casino experience by completely immersing themselves in the gameplay.
Everything, from the dealer to the chips to the cards or wheel, is all 100% real.
The goal is to give players the full experience of being at a land-based casino but at the comfort of their own homes.
They're Entertaining
Casino games are always thrilling to play, but live dealer games seek to take the games to a whole new level.
The live dealers are trained to be professional, but also engaging with players.
There are HD graphics, animations, backdrops, etc. to fully keep players entertained.
Because of this live dealer games are truly unparalleled in comparison to other online casino games.
They're Fair and Safe
Whereas most online casino games use RNG (Random Number Generator) software to ensure random outcomes and fairness to all players, live dealer games do not.
But players can be reassured in knowing that all game providers and casinos must abide by the strict regulations of the PGCB and that all games have been thoroughly tested for fairness.
They're Constantly Evolving
When live dealer games were first introduced, players could find all the classic table games to play: Blackjack, Roulette, Poker, etc.
Now, players can also find variations of these games like no other. For example, in NJ players can be treated to Live Floor Casino at Golden Nugget and Live Slots at Hard Rock.
Currently, the selection of live dealer games in PA is rather limited. However, players can look forward to this list greatly expanding over time.
Most Popular Live Casino Games
There's a large array of types of live casino games that exist.
While players can't currently find all of these games in Pennsylvania at this time, we expect them to be offered at your favorite online casino soon.
Live Poker
You can play a variety of poker games with a live dealer.
A few popular titles include Texas Hold'Em and Three Card Poker.
Some games will have you playing against other online players.
Other games like Hold'Em, are played one against one with the dealer.
Since online poker is already legal in the state, we expect to see a large variety of live poker games offered.
Live Blackjack
Blackjack is the most popular casino table game, and that doesn't change with Live Casinos.
Most live blackjack games will have a starting minimum bet of $1 to $5, but this can go as high as $20.
Evolution has a feature at their live blackjack tables called Bet Behind. This allows those not playing to make a wager on the hand of a current player.
SugarHouse and BetRivers offer live blackjack games that play using the Bet Behind rule as well as side bets.
Live Roulette
You will find several live roulette games to choose from in Pennsylvania already.
Like blackjack, roulette is another very popular casino table game.
If we take a look over at New Jersey, we see options like Slingshot Roulette and Lightning Auto Roulette.
These games were first launched in PA by Rush Street Interactive.
Evolution also offers other variations of live roulette, including:
Mini Live Roulette
French Roulette
Speed Roulette
European Roulette
Roulette and blackjack will most likely make up the majority of live casino libraries.
Game Shows
With live dealer casinos, you even get to play as a contestant on popular TV game shows!
Evolution gaming features several exclusive live game shows.
These include Deal or No Deal, Monopoly Live, and Dream Catcher.
Game Shows are extremely unique to live casinos, as you won't be able to play them like this on any other platform!
Watch the live dealer spin the wheel for your chance to hit a jackpot!
Or maybe, you'd rather select the winning case in a game of Deal or No Deal.
Either way, these sorts of games bring a whole new level of excitement to live casinos and players.
Read all about live casino game shows and how to play by clicking here!
Live Baccarat
Baccarat is known as a high roller game, especially in Asia. Like roulette and blackjack, players will see live baccarat offered at live casinos in PA eventually.
New Jersey currently offers two games of Live Baccarat to online players, so we expect the same in Pennsylvania.
Baccarat is easy to learn and requires little to no effort from the player's side of things during a live game.
All you have to do is place your bets and watch the live dealer handle the rest.
Types of Live Dealer Tables
There is a huge demand for live dealer casinos in Pennsylvania.
As more live dealer games are added to game libraries, you'll see a few options.
Evolution and Authentic Gaming are both known for their live casino platforms. The two providers are expected to be supplying most PA live dealer games software.
Evolution has already started by launching its software through SugarHouse, BetRivers, Hollywood Casino, and several other PA online casinos.
Studio tables (Evolution)
Most live casinos stream their games directly from a studio. While you aren't inside a real casino, you're still engaging with a live dealer and other online players.
Evolution offers a variety of live dealer games streamed directly from their live studios. Recently, the company moved into Philadelphia, Pennsylvania.
The majority of live games will be streamed from this studio for PA gamers.
Studio tables allow you to control the game since the dealer will only do what's told of them. You also have the chance to claim exclusive promotions!
Live promotions are a huge pro for studio tables, as you won't find them at any land-based casinos.
Land-based tables (Authentic Gaming)
As a virtual player, you can play live roulette tables on the casino floor in real-time with other players.
You can converse with the live dealer and anyone around the table, right from your device.
Authentic Gaming is another well-known live casino provider. The company specializes in live dealer games streamed from the brick and mortar.
When you play with a live dealer that's being streamed from a studio, you don't get the whole social experience.
Playing with live dealers from off the casino floor lets you interact with everyone.
You can be as social as you want off your device!
We hope to see a variety of live roulette games offered by Authentic Gaming in Pennsylvania.
How to Play Live Casino Games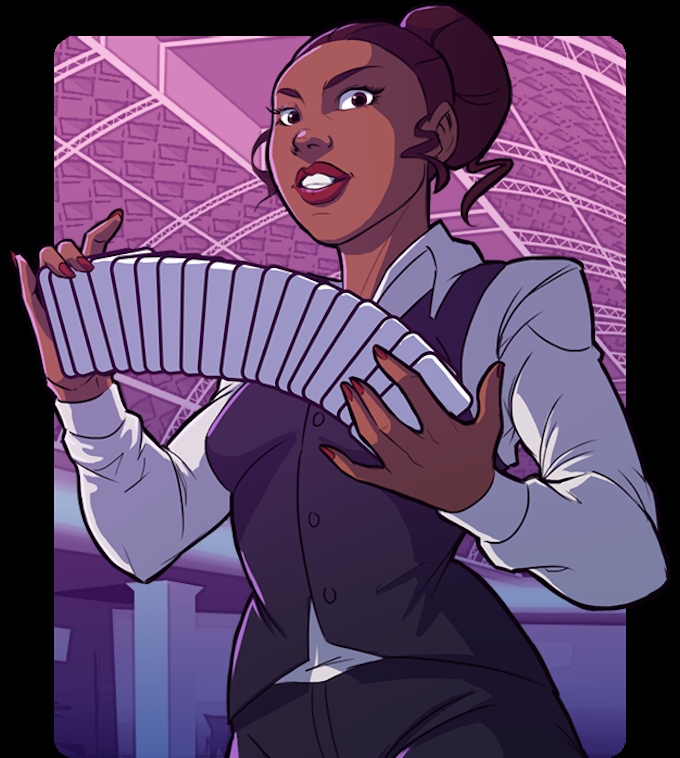 Live dealer games are broadcast from a live casino studio, directly to your computer or phone. To start, you'll need to find an online casino in PA offering live dealers.
BetRivers and SugarHouse are our top online casinos offering live dealer games in PA right now.
You can use the links we have above to sign up and get started playing!
You will be required to set up an account before you can start playing for real money. Live dealer games do not have the option to play in demo mode.
Depending on the live dealer game you're playing, all you are required to do is place your bets with the dealer.
Once you've started, you'll be taken to a live screen.
Occasionally, you will even see other live tables in the background.
After bets have been made, it's the live dealer who will then place them on the table for you, in real-time.
How to Find the Best Live Casino Sites
As Live Casinos start to launch in the state, players have much more selection when it comes to casino game libraries.
With several operators getting ready to debut Live Casino platforms, how do you know which one is the best? We've listed a few factors to think about when surfing casino game libraries.
Keep the following points in mind when looking for a live casino to start playing on in the state:
1. Read our reviews
Our team reviews all of the best legal online casinos in Pennsylvania.
In our reviews, you'll find information about the live dealer games at each of these casinos.
You will also find the best bonuses for which you can use on live dealer games.
2. Game Selection
Start with looking at what's being offered by the Live Casino in terms of the overall product. Can you play your favorite casino game? How many variations of the game are featured?
There isn't much of a point playing at a live dealer casino if the usual games you play aren't being offered.
3. Bonus and Promotions
Bonuses are always important to consider before signing up for any online casino. You want to find a casino with a strong welcome offering and recurrent promotions.
This is one way to see a long-term profit from the casino if you plan to play regularly.
For example, Evolution has all kinds of exclusive live promotions it offers to players. These can include live promos on blackjack and roulette, as well as live prize draws.
You always want to look for bonuses and games with fair wagering requirements. In the Pennsylvania market, this is usually between 3-10x.
SugarHouse is the exception, offering a 1x wagering requirement with its welcome package!
4. VIP Program
Similar to bonuses, you want to see what sort of loyalty program is offered by the online casino hosting the live platform.
Does the VIP program include live casino players?
A lot of loyalty programs in PA tie into the brick and mortar chains and reward virtual points to online players.
If you're planning to play at a live casino often, being able to claim loyalty points at the same time can result in some big rewards!
5. Branded Live Dealer Tables
Branded Live Dealer tables are a unique feature of live casinos. These tables give online casinos the freedom to do whatever they want with the branding!
You're able to stand out from the other live casinos which is important in a competitive industry like PA.
Casinos can also choose bet limits and rules for the game at their branded live dealer tables.
6. Studio Appearance and Design
Casinos can also choose bet limits and rules for the game at their branded live dealer tables. This is all about the visuals of the live casino.
Graphics are limited at live dealer tables but should still be visually pleasing.
Take a look at the environment of the live studio. Sometimes there will be more tables in the background hosting other games.
Dealers should be wearing professional attire as you'd see at a land-based casino, and the studio should be clean.
It's easy to tell which live dealer casinos have been in the industry for a while and the amateurs apart, just by observation.
7. Technology and functionality
The way a live casino operates is very important to your gaming experience. You want a casino that provides you with high-quality streaming and no bugs.
Most live casinos can be streamed on your mobile device, computer, or tablet.
Evolution, for example, has a very sleek interface.
Interacting with other players and the live dealer is very easy, and tables are streamed in HD.
8. Watch Streamers
Players can find live streamers on Twitch that will walk you through live dealer gameplay, explain the rules, and give tips on how to win.
Play Live Casino Games on Mobile
You can play them on your mobile! Every online casino in PA offers a mobile casino compatible with either iOS, Android, or both.
Already, a few operators in PA have live dealer games available right off the mobile casino app.
To access live dealer games from your phone, you'll need to make sure you have a strong internet connection and Location Services working.
iOS users will need to download Geo Comply software before downloading any casino app.
This is all to make sure you're playing inside PA state lines.
Those with an Android device can download most casino apps right off the casino's desktop site.
iOS users can find casino apps in the Apple App Store.
How Do Live Casinos Work? – "Behind the scenes"
A live casino is a very similar experience to what you get at the brick and mortar. Live casinos utilize live dealers and real game equipment.
As a player, you're able to communicate with the dealer and the other players.
On your device, you'll see different ways to chat in real-time.
After you have selected the game you'd like to play and met the dealer, you can go ahead and place your bets.
From there, the live dealer only plays when instructed by the player.
Most often, you can choose from blackjack, roulette, baccarat, and poker, to play with a live dealer.
You'll be able to access these games off PA casino sites once they start to launch.
There aren't many live casinos that operate 24/7, which means you have to look at the times listed by the casino.
They usually run throughout the day and night shifts.
Best Live Casino Providers and Software
As Live Casinos gain popularity in PA, we expect to see more providers move into the state.
Evolution is the most notable one, as it's expected to be powering most PA casinos Live platforms.
Evolution
Evolution specializes in live casinos and saw great success in Europe, which prompted them to expand into the US market.
They have a live studio in PA that will stream directly to online casinos. Players will be able to log in at different times of the day to play with a live dealer.
Since these games are not all 24/7, times will vary depending on the online casino.
The studio has more than 10 live dealer tables available for users, which include the following games:
American Roulette
Auto Roulette
Infinite Blackjack
Blackjack with side bets
Side Bet City
Ultimate Texas Hold'em Poker
Evolution uses some of the best software in the industry.
All games are streamed in HD to bring players a high-quality gaming experience.
Authentic Gaming
Authentic Gaming is a premium live casino provider. You can find live dealer games by this company at several online casinos around the world!
What makes Authentic Gaming unique is the fact that they stream live tables from actual casino floors.
Not just from any casino though, but some of the most luxurious Casino Resorts on earth.
The company specializes in Live Roulette and offers different variations of the game.
You can play Live Roulette with a dealer in the studio or right off the casino floor.
A few of the games include Auto Roulette Live games and Authentic Roulette.
How to register at Live Casino?
In PA, you'll be registered for the live casino once you are a registered user at the online casino's site.
Find an online casino you like.
Click on the sign-up button on the site's homepage.
Enter the required information (name, email address, phone, etc).
Validate your user account.
Claim your live casino bonus (if available)
Click on the Live Casino tab on the main menu of the site
Find your table and start playing!
Solutions for common issues when playing Live Casino Games
You will find gameplay at live casinos to be generally seamless and straightforward.
However, there is a chance that you might experience issues while playing.
1. What happens if I lose connection while playing a live casino game?
Always make sure you have a strong wifi connection when playing at any online casino. You will need this to stream live video and loading animations of games.
If for some reason the stream is interrupted on your end while playing, the game will continue and all outcomes will remain the same.
If the stream is interrupted on the live casino's end, all wagers will be returned to all players.
2. I cannot use my welcome bonus on live games. Why is that?
Not all bonuses can be used at live casinos. Most welcome bonuses tend to cater to slot players.
Make sure that your bonus can be used at live casinos before playing games. You will find this information in the terms and conditions.
3. I want to play a live casino game for free first. Can I do this?
No, you cannot play live dealer games in Demo Mode the same way you can other games. This is because of all the games playing out in real-time.
However, you will find betting minimums to be low at most tables, so you will be able to enjoy full gameplay at very little cost.
Frequently asked questions
Live casinos use a real person as the dealer instead of RNG software for their games. Players can join a table and interact with the live dealer as the game is played the same way it would be in a land-based casino.
Live dealer blackjack is currently the most popular live casino game in Pennsylvania. There are different variations you can play of the game, including Infinite Blackjack. PA players can enjoy live blackjack at most top casinos in the state, including SugarHouse and Borgata Online.
So far, most operators in Pennsylvania have teamed up with Evolution Gaming to launch live dealer games. BetRivers, Unibet, and Borgata Online each have strong platforms with various live games to choose from. DraftKings hosts their own live casino games, allowing them to have regular live casino promotions available.