Venice Amore Review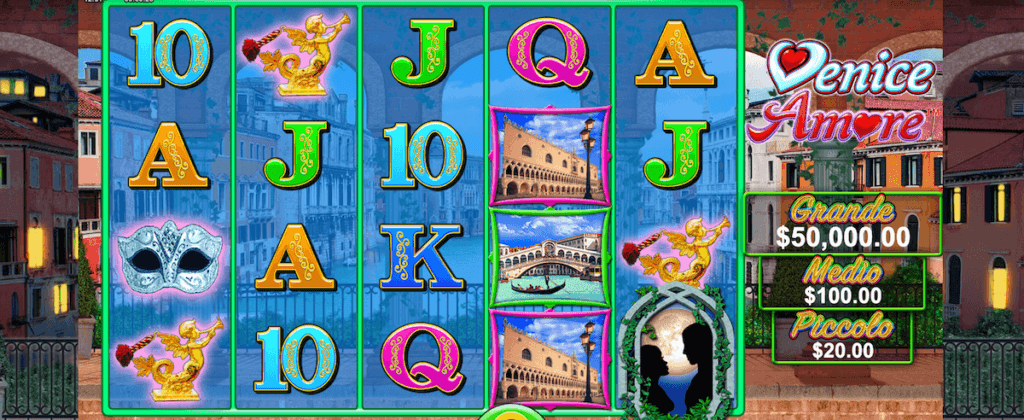 How I tested Venice Amore
The game's title says it all: we're about to play a romantic-themed slot machine with Venice as the backdrop. With a 4×5 setup, Venice Amore taps into the romantic side, with the Venetian sites as the premium symbols. Visuals-wise, this game brings excitement and colors to the reels.
But are these enough to sustain the players' interest? It's the main question that guided me when I reviewed this popular slot. In completing the review, I followed a few steps as indicated below:
1. I spent time playing the game
So, how do you make a fair assessment of a casino game? You play it in real money, that's the way. This game is widely available in most Pennsylvania online casinos, so finding a site to play is not hard.
2. I look at the quality of graphics, themes, and symbols
Aside from the potential payouts, I also look forward to the entertainment. The theme should be interesting enough and symbols and background should be nicely done.
3. A review of its RTP and volatility
The game's RTP tells you how generous the game is. It's expressed as a percentage, and the closer it is to 100%, the better. Its volatility or the frequency of wins and size of wins should also be a cause of concern. Some games offer frequent yet lower payouts, and some deliver rare yet huge wins!
4. What are the bonuses, and how do I unlock these?
In my review, I checked the types of bonuses available and the ways on how I can play these. Are the bonuses lucrative? Do they offer free spins and multipliers? I love slot machines that throw in huge multipliers and free spins.
5. I check the betting limits
The game should offer an accessible betting range that can work for different players.
Play Venice Amore with the best bonus
You can play the Venice Amore slot in the following online casinos:
At these casinos, you can collect some promising bonuses that can help you play the game. at Unibet, for example, there's a $10 no deposit bonus and a 100% deposit match bonus up to $500!
Venice Amore Symbols & Payouts
As the title suggests, this slot machine takes you to the city of Venice. This 5-reel and 30 paylines slot recreate the Venetian landscape on the reels. It uses the city as the backdrop and its tourist spots such as the Rialto Bridge, St Mark's Basilica, and the Piazza San Marco as the premium symbols.
The symbols
The game's symbols are all about Venice's proud locations such as the Rialto Bridge, St Mark's Basilica, and the Piazza San Marco. The huge payouts will come from these symbols, and they appear as mixed, too. Also, there are special symbols such as the Amore logo as the Wild, the Money Wheel, and the Scatter.
Let's review the actual payouts that you can collect when you land these symbols:
5-of-a-kind of Amore Love Heart pays 250x your bet
5-of-a-kind of the Rialto Bridge pays 100x your bet
5-of-a-kind for Piazza San Marco pays 80x your bet
5-of-a-kind for St Mark's Square pays 60x your bet
For a complete look at the payout schedule, check out the game's paytable below.
Paytable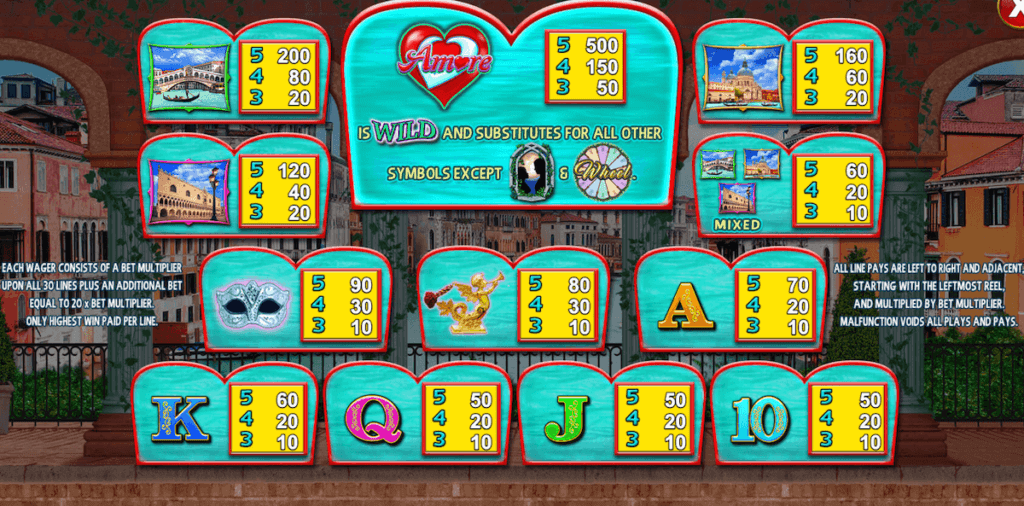 Min/Max Bet, Autoplay Option
Venice Amore slot is a game that can work for players with different bankroll sizes. Your bets here start at $0.50 up to a maximum of $125.00. There's an option to configure the denomination and Bet Multiplier. I'm satisfied with the basic bet selection, but I guess some players will like this extra detail on the game's menu.
You will also find two helpful buttons on both sides of the 'Spin' button: the Autoplay and Max Bet. With the Autoplay function, there's an option to schedule up to 500 spins in advance. If you want to immediately play the big amount, just click the Max button on the right.
RTP
The game's RTP is set at 94.25%, and it's displayed on the paytable. This number is slightly lower than the standard 95 to 97% RTP that we normally find in popular slot machines.
Volatility
I can't find the official information about the game's volatility. This is an important metric that you should also consider in slot selection. It tells you how this game behaves when it comes to delivering wins.
Hit Frequency
This is another technical information that should be considered. It's different from volatility because the hit frequency tells you how frequent the wins are. However, I can't find this information during my research about the game.
Jackpot and/or Maximum Win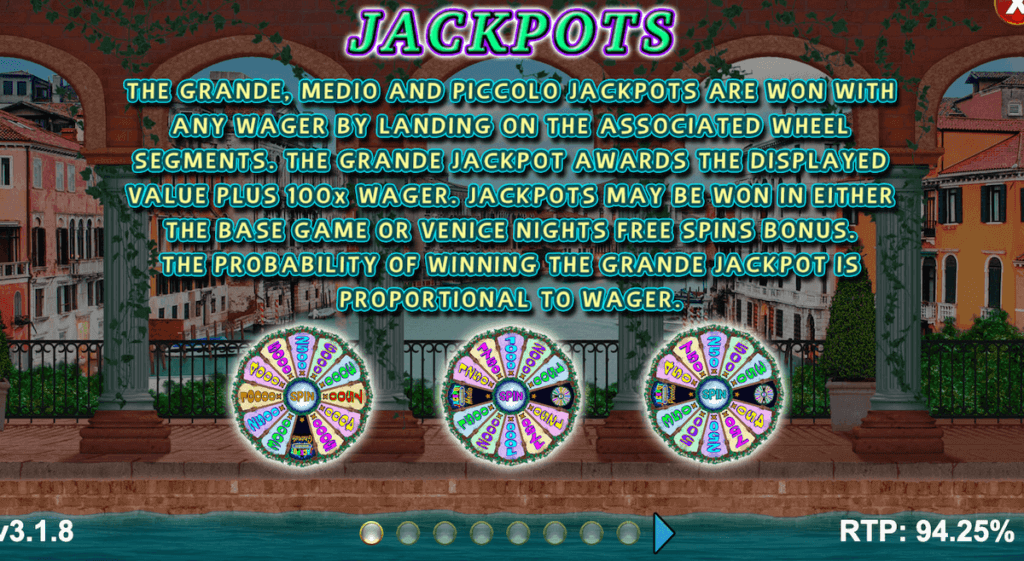 Venice Amore offers a low minimum bet, but it offers a lower RTP at 94.25%
The game's tech sheet is not available, so I can't find information about its volatility and hit rate. But it doesn't mean that you can skip this. It offers three types of jackpots – the Piccolo, Medio and Grande.
Game Features
This slot game boasts standard gameplay where you only need to land at least three matching symbols to pick up a win. You will find a display for the three jackpots on the right side of the screen, and the win potential is updated every time you change your bet. But don't let this information distract you from fully appreciating the game's gameplay, features, and its set of bonuses.
Wilds, re-spins and other features
Wilds
The Amore logo serves as the game's Wild, and it replaces other symbols except for the Money Wheel and Scatter. It also awards you up to 250x your bet for a five-of-a-kind.
Money Wheel Bonus and Multiplier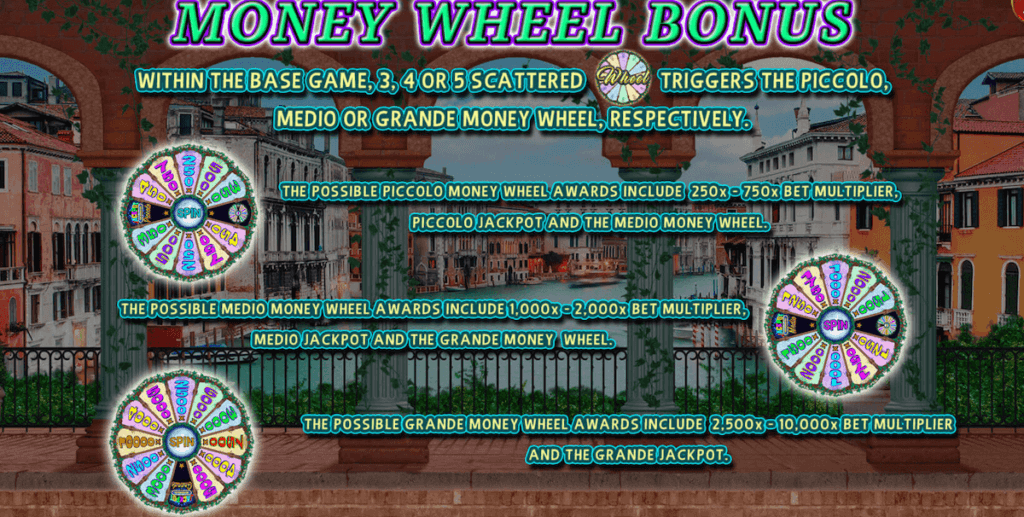 Collecting at least three, four, or five scattered Wheels will start the Piccolo, Medio, and Grande Wheel Bonus. In the Piccolo Bonus, you can collect a Multiplier of up to 750x your bet plus the bonus and the Medio offers you a chance to earn a 2,000x bet Multiplier. Finally, the Grande Wheel Bonus awards you with up to 10,000x Multiplier and the Grande bonus.
Venice Night Spins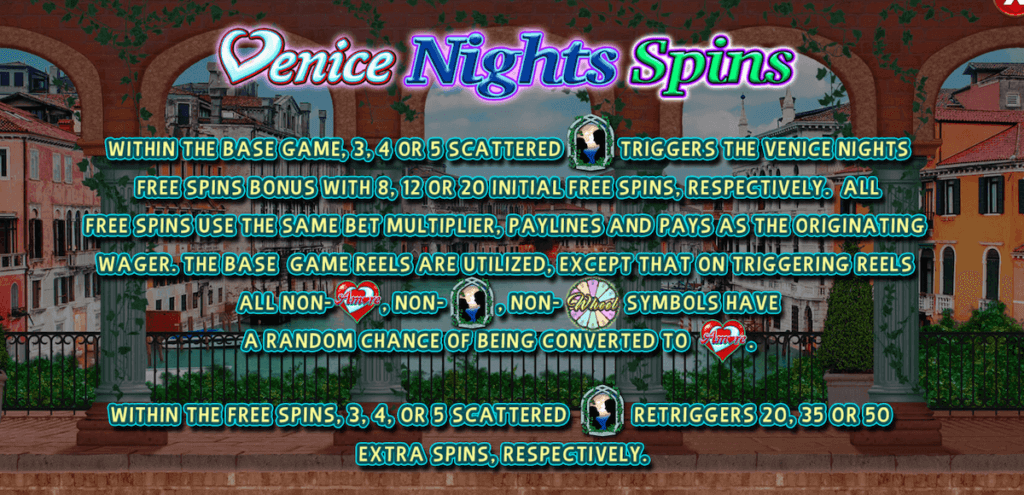 Your random spins become sweeter once you start the game's Free Spins Bonus. Collecting three, four, or five Scatters reveal eight, 12, or 20 free spins respectively. The free spins are played out using the same paylines and Multipliers. During the bonus, all regular symbols have a chance to be converted into Wilds. During this feature, collecting additional Scatters will award you with 20, 45, or 50 free spins.
Venice Amore offers a sweet deal to players with its Wheel Bonus, the Grande jackpot, and a lucrative Free Spins feature!
Some players may take this game lighting due to its theme and less popular vendor, but it's surprisingly fun and lucrative. Initially, I was attracted to the game's theme and colorful symbols, but as I play the game, it becomes clear that its real gem can be found in its features. Its Free Spins Bonus is one of the best I've played, with up to 20 free spins for a start with a chance to retrigger the bonus and collect 50 more spins! The Multipliers, too, are worth the wait. Although I failed to score the Multipliers during my session, the promise of 10,000x your bet is a sweet deal!
Venice Amore Graphics & Sound
| | |
| --- | --- |
| Graphics | 2D |
| Optimized for Mobile | 👍 |
| Music | Romantic, waltz music |
| Special features | Falling hearts when matching symbols |
Venice Amore offers delivers romance on the reels with its soundtrack and the falling hearts effect when matching symbols.
This online slot manages to be different and entertaining. I have played a few romance-themed online slots, and many of these are from top vendors. Although Venice Amore is from a small studio, it expertly weaves a romantic, entertaining, and fun online slot for different types of players. I love the choice of theme, the rendition of Venetian locations as symbols, and the falling hearts effect that you will notice every time you win.
Visuals and production-wise, this slot machine captured my heart, and it means a lot to someone who has played hundreds of slot machines. My only complaint in this department is on the actual design of symbols and backdrop. If only the images are clearer and realistic, then the studio can have an impressive slot that's ready to compete with premium titles!
Solutions if you have some issues with a game
There are instances when the volatility of the internet connection will pause or disrupt the game. In case this happens, simply reload this game, and it will continue to play where you left off.
If there is a game malfunction due to the hardware or software, your wager and payouts are rendered void affected wagers are refunded.
If the replay function of the game does not work, you can also contact the casino's Technical Support for help.
Verdict
In the Venice Amore slot, you'll find a sweet combination of entertaining themes, exciting features, and huge payout potential. The game designer invested time and effort in creating a Venetian escape on the reels, and its selection of bonuses including the three types of jackpots is impressive. Venice Amore can easily compete with some of the industry's best titles, and you can also play it in a free demo and real money.
Other slots to play if you like Venice Amore slot
If this is an entertaining game for you, then you can also check out the following online slots with a similar theme: