Pork Knox Review
Pork Knox is a rewarding jackpot slot launched by NetEnt in August 2021. We have created this detailed review to provide you with all the information you need to play this game like a pro.
Pork Knox Review – Choose your reward
It's fair to assume that you'd want to know as much as possible about a game before you play it – especially if you put your hard-earned money on the line.
For online slots like Pork Knox, this means diving deep into the bonus features, max wins, gameplay, and the look and feel.
This Pork Knox review will help you learn about this game and highlight what you can expect when you play it.
What We Checked On Pork Knox
We follow special criteria when analyzing online slots. Here is what we considered in this review:
What is Pork Knox?
| GENERAL DETAILS | | | |
| --- | --- | --- | --- |
| Slot type | Video Slot | Number of rows | 3 |
| Provider | NetEnt | Reels | 5 |
Pork Knox players will be impressed by the game's crystal-clear graphics. But beyond the aesthetics, it is a solid jackpot slot with a range of exciting bonus features.
NetEnt, a well-known name in internet gaming, supplies this slot machine game.
Pork Knox plays on a standard 3×5 grid and offers 20 fixed paylines spread out from left to right. It also features a special bonus round, summoned by landing at least three vault (scatter) symbols on the reels.
Which Game and Bonus Features Does Pork Knox Have?
| FEATURES | NO. | LIST |
| --- | --- | --- |
| BASE GAME FEATURES | 1 | Mystery Symbol |
| BONUS BUY FEATURES | 0 | / |
| BONUS GAME FEATURES | 3 | Free spins, Cash stacker, Instant Win |
Exciting base game features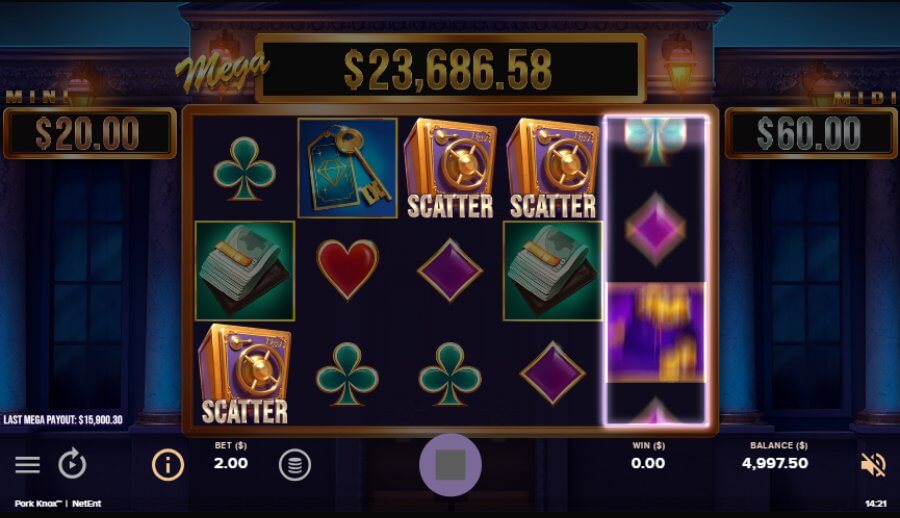 Pork Knox has a straightforward base game, ideal for new players getting a feel of online casino gaming.
The game plays on a standard grid with three rows and five reels. Players must match three or more symbols to activate a win determined by the game symbols and their value on the pay table.
Let's look closer at the Pork Knox online slot.
The symbols
Like other online slot machine games, Pork Knox has a range of symbols. These include the traditional card suits diamonds, hearts, clubs, and spades. You will also find special symbols like gold ingots, keys, and a ward of cold hard cash.
Paytable
Card suits are the lowest-paying symbols offering up 1x your bet when you land five of them on a payline.
The golden key and ward of cash are more lucrative at 5x and 6x, respectively. The big wins come when you get the gold sack and ingots on the screen. You can walk away with up to 15x your bet for a collection of five.
Special events that occur during the base game
The Pork Knox base game has a few twists to keep you engaged. For instance, the mystery symbol can appear at any time. This will populate the display with one type of symbol, opening up the game to more wins.
Also, look out for the bonus round, activated when three or more scatter symbols (vaults) appear on the screen.
No bonus buy feature
The Pork Knox jackpot slot machine game does not come with a bonus buy feature. But rest assured, there's plenty going on to keep you locked in.
No hold-and-win feature
Again, this game does not have a hold-and-win feature. But we are sure many players will agree that three available bonus game modes more than make up for this.
Engaging bonus game features
Collecting three or more scatter symbols on the reels activates the Pork Knox bonus game. Being a medium volatility slot, hitting the bonus round is not as hard as playing other online titles.
In the bonus round, you have the opportunity to pick a vault that will reveal the kind of game you will play. Three options are available: instant win, cash stacker, or free spins.
Instant win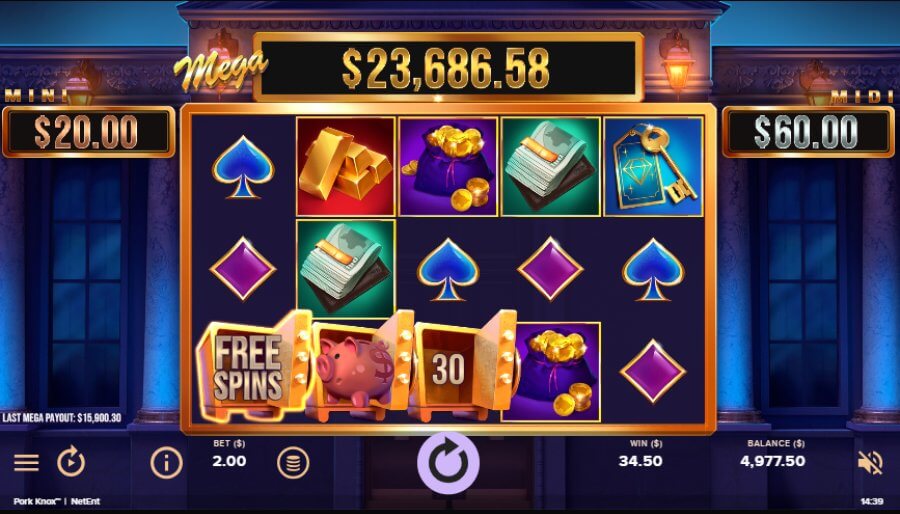 This bonus game is straightforward. It rewards you with an instant win of 7.5x to 250x your stake. The bonus is doubled if four or five scatter symbols activate the bonus round.
Cash stacker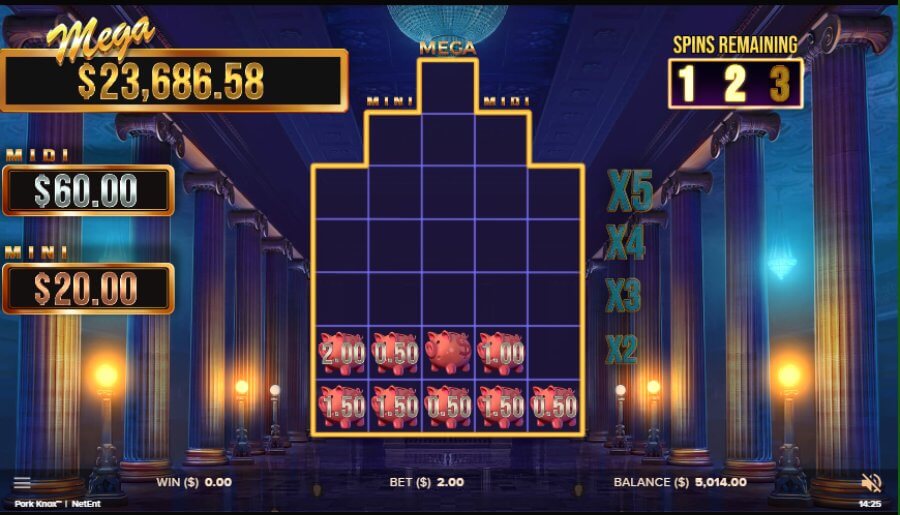 When you select the cash stacker bonus game, you will be transferred to a new playing environment. Falling cash stacker symbols valued from 0.25x to 15x populate the display.
The cash stacker game runs in three spins. The number is reset when a falling symbol fills one of the empty spots. In addition, you will also get some multiplier symbols on rows two through five.
Lastly, the cash stacker bonus round gives access to the game's jackpots. If you fill reel two, the mini jackpot is activated, offering 10x your bet. The midi jackpot is 30x and falls when reel four is full. The most lucrative prize is the progressive mega jackpot, obtained by populating reel three.
Free spins
The last bonus game option is the free spins. You will receive five, 10, or 20 free spins when you land three, four, or five scatter symbols, respectively. All wins in the free spins bonus round are multiplied by 3x.
What Innovative Special Features Does Pork Knox Have?
| SPECIAL FEATURES | |
| --- | --- |
| Autoplay option | 👍 |
| Change the speed | 👎 |
| Mute the sound | 👍 |
| Adjustable bet size | 👍 |
A game like this will always come with all the standard features. Pork Knox provides an autoplay, allowing you to preset the number of spins from five to 50.
This game has a catchy tune, which positively impacts your playing experience. But if this is not for you, you can mute it.
Most aspects of Pork Knox are highly customizable to meet your playing needs, even down to the amount you spend on each spin. You can set bet values from $0.20 to $100.
What's The Story Behind The Pork Knox Theme?
The theme of the Pork Knox slot is apparent to any player who engages in this game. From the base game and bonus round symbols, it's all about money.
The display is awash with gold coins, sacks, and ingots. Players will also get the chance to break into the Pork Knox vault in the bonus game, where even more riches await.
Excellent game graphics
The Pork Knox online slot has excellent, crystal-clear graphics. The game displays eye-catching colors with hues of blue and purple, ideal for those extended gaming sessions.
An upbeat soundtrack
If you are looking for a slot with a catchy soundtrack to nod to as you play, Pork Knox fits the bill. But we noticed time tends to pass by quicker when you rocking to the tune, so you might want to keep a close eye on how much time you are actually spending on the reels.
Who made Pork Knox?
NetEnt made Pork Knox. The provider unveiled this title in mid-August 2021.
A few of our favorite slots by NetEnt that we think you might enjoy!
Here are some top slots from NetEnt. You can find them in PA online casinos.
Conclusion – Is Pork Knox better than the others?
Pork Knox is a solid option for players looking for an enjoyable experience and the chance to win a progressive jackpot. The game competes in a competitive market with well-known fan favorites like Divine Fortune and Imperial Riches.
Overall, Pork Knox is a firm option. The sound, aesthetics, and general ease of gameplay make it ideal for new and regular players alike.