Imperial Riches Review
There are many progressive jackpot slots available to players in PA, so it begs the question, why is this one so popular? What is it about Imperial Riches that makes it so appealing?
Imperial Riches review – Unpacking PA's favorite progressive jackpot slot
So, Imperial Riches is PA's favorite progressive jackpot slot, but have you ever wondered why?
Could it be the RTP, game features, better chances of winning, or maybe just a cool aesthetic? The thing is, before you play this game, you must know what you're signing up for.
We've created this Imperial Riches review to answer all these questions for you. We've got a set of criteria that we use when reviewing online slots to give you a better picture of what the game is about.
What we checked in Imperial Riches
As stated earlier, our experts have a special method for reviewing online casino slots. We don't just pull facts and figures out of thin air.
Here is what we looked at on Imperial Riches.
What is Imperial Riches?
| General Details | | | |
| --- | --- | --- | --- |
| Slot Type | Video slots | Number of rows | 5 |
| Provider | NetEnt | Reels | 3 |
Imperial Riches is a progressive jackpot slot by NetEnt, released in September 2019. The game offers an RTP of 96,88% coupled with low volatility.
If you want to play Imperial Riches, the game accepts wagers from $0.15 to $30 per spin. For your trouble, you'll get to experience PA's most loved jackpot slot with all its exciting features.
Which game and bonus features does Imperial Riches have?
| Features | No. | List |
| --- | --- | --- |
| Base game features | 4 | Free spins, Avalanche, Scatter symbol, Wilds |
| Bonus game features | 1 | Progressive jackpot |
Exciting base game features
There is a lot to look forward to on Imperial Riches, even in the base game.
Avalanche feature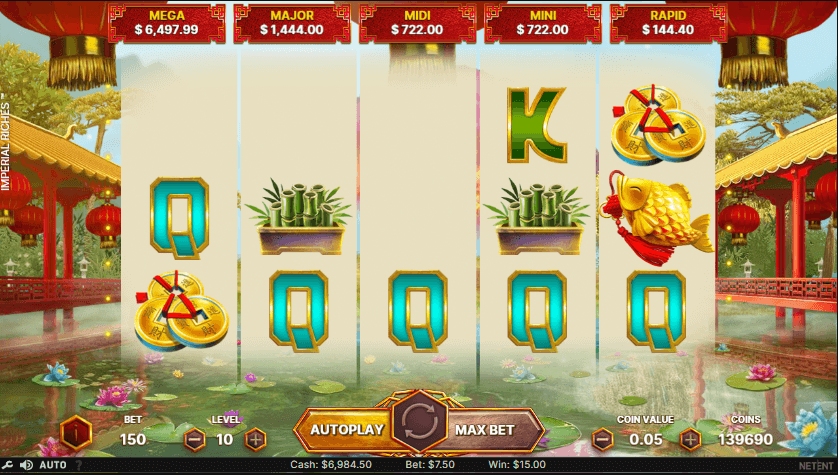 One of our favorites is the avalanche feature, otherwise known as cascading reels. Symbols forming a winning payline magically disappear, making room for more wins.
Free spins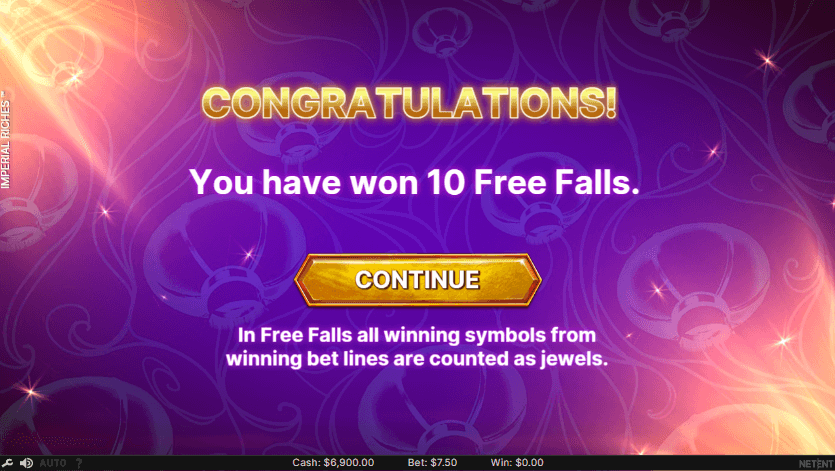 You can also win free spins on Imperial Riches. This happens when 3, 4, or 5 scatter symbols land on the screen.
Straightforward bonus game
In this job, we've come across many jackpot bonus games, and some are more exciting than others. While the Imperial Riches jackpot slot bonus game may not be the most innovative, we love it for its simplicity.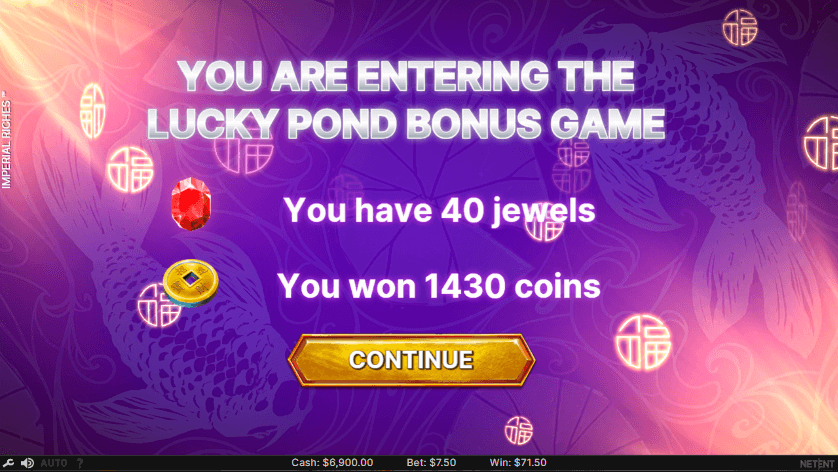 Access to the jackpot game is via the free spins round. Whenever you get a winning combination in the free spins bonus game, you'll receive corresponding jewels.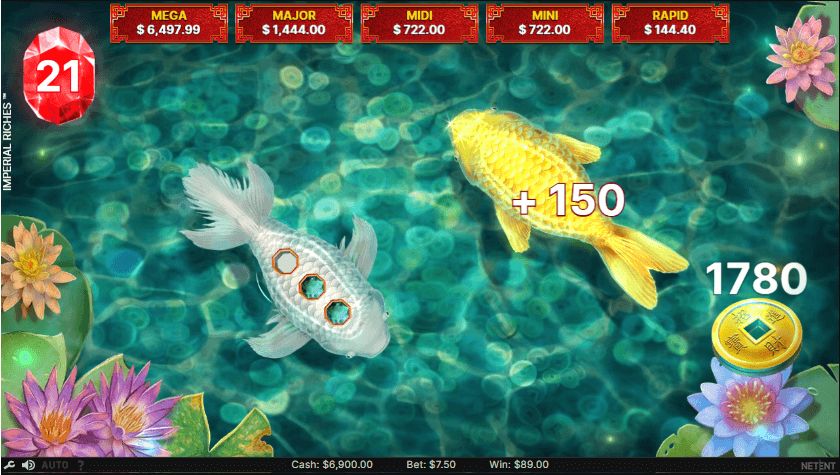 As soon as you finish the free spins, you're transferred to a pond where you'll find a coin and jackpot fish. Jewels collected in the free spins round are dropped into the pond and gobbled up by the fish. If the jackpot fish gets 3, that's your passport into the jackpot game.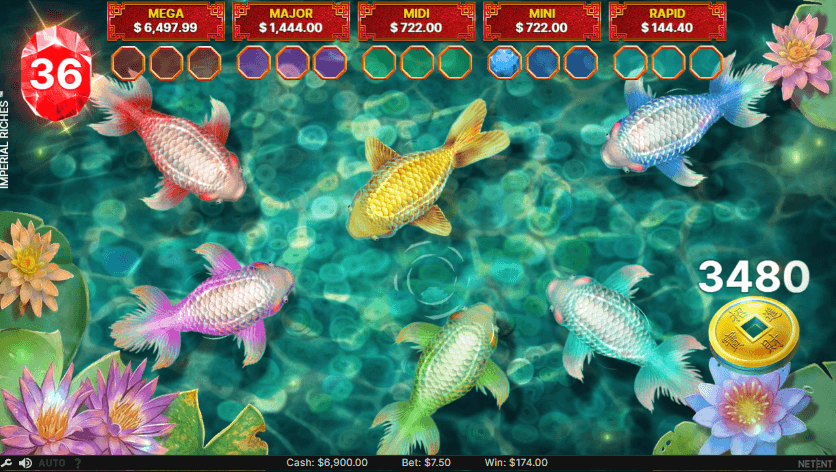 In the jackpot game, there are five jackpot fish and one coin fish. Basically, it players exactly like the bonus game before, but this time, you'll have 50 jewels to start with as standard.
What innovative special features are in Imperial Riches?
| Special Features | |
| --- | --- |
| Autoplay option | 👍 |
| Change the speed | 👍 |
| Mute the sound | 👍 |
| Adjustable bet size | 👍 |
Imperial Riches is a NetEnt creation and, unsurprisingly, comes with all the bells and whistles.
Players can set up autoplay, sit back and watch while it executes up to 1000 spins. You can also toggle the spanner symbol in the bottom left to tweak the settings. These settings include quick spin, the intro screen, and using the spacebar to spin.
Lastly, though we love the subtleness of the Imperial Riches background track, we realize it might not be for everyone. NetEnt has included an option to either lower the volume or mute the track altogether.
What's the story behind imperial Riches' theme?
If you're tired of the same fruit-themed slots that are all over the place these days, Imperial Riches is a refreshing alternative. The game has a Chinese zen garden theme that's complimented by everything from the symbols to the background music.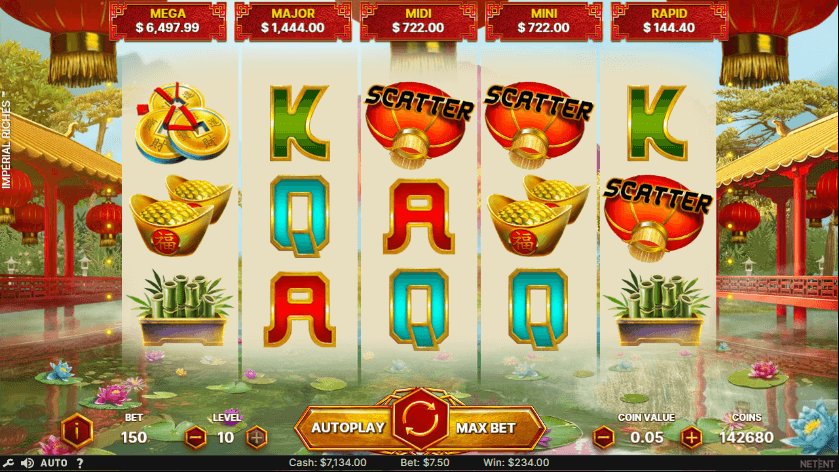 Imperial Riches is a celebration of Asian culture. It's designed to give the illusion that the reels are magically dancing on top of a koi pond. Talk about attention to detail – NetEnt wasn't leaving anything to chance with this one.
Pretty decent graphics
Word of warning, though – the gameplay is so calming, don't be surprised if hours fly by without noticing. Imperial Riches is also chock full of eye-catching graphics, exactly what we've come to expect from a game coming out of the NetEnt stable.
Perfect sound for the game
We've already admitted to being fans of the Imperial Riches soundtrack. It complements the theme of the game perfectly. But again, if you don't like it, you can switch it off.
Who made Imperial Riches?
NetEnt is the genius behind this masterpiece. The provider released Imperial Riches in September 2019.
A few of our favorite slots by NetEnt that we think you might enjoy
Here are some of our go-to slots from NetEnt
Conclusion – Is Imperial Riches better than the others?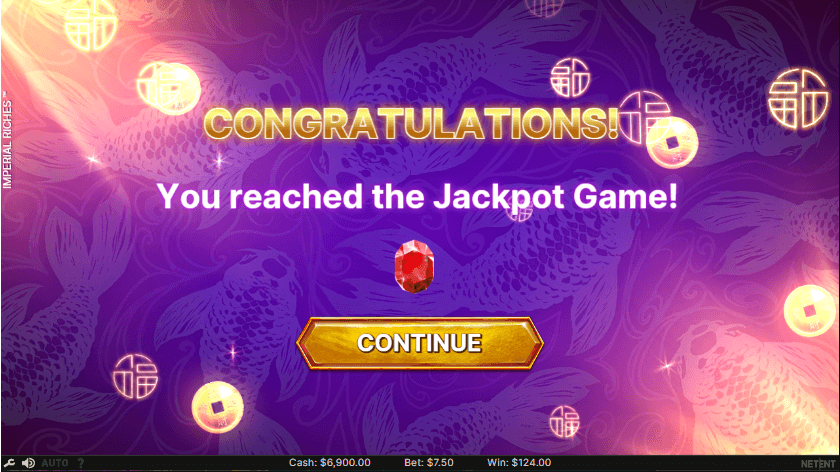 If you ask most players in PA, yes. There is a reason this game is the most-played progressive slot in PA, and it's not that hard to see why.
But nothing can be great, 100%, right?
Well, the only thing we found with Imperial Riches and the reason you might look at Divine fortune, Imperial Wealth, or Mercy of the gods is the max bet. While Imperial Riches only goes up to $30 per spin, the rest of the competition caps off at $100 and even $500 for Imperial Wealth.
That said – fantastic game with lots to be excited about.