Joe Exotic Review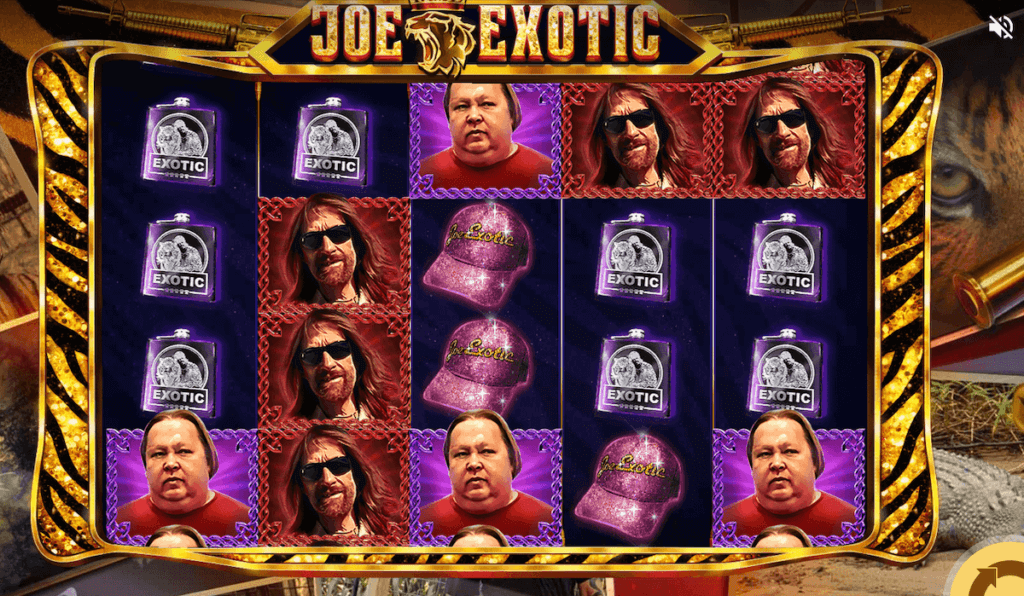 How I tested Joe Exotic
With a tagline, 'get insane, get paid', this game surely brings some shock factor to the reels. A Red Tiger production, this slot machine takes inspiration from the colorful life of the Tiger King. On the reels, you'll encounter guns, big cats, and country music as you spin the reels for potential payouts.
I must say that Red Tiger chose a somewhat sensitive theme due to the context and backstory of its main character. However, in the spirit of fairness, I have reviewed the game using my standard process, as explained below.
1. I checked and played the game
An objective review always starts by playing the game in real money. It's the best way to learn about the theme, mechanics, features, and its potential jackpots to players.
2. What are the bonuses and features I can play and win in the game
As part of the review process, I make it a point to check the game's set of bonuses and features. Does the game offer Multipliers, Free Spins, or a Progressive Jackpot? How can a player activate this bonus and how lucrative is this?
3. I consider the game's RTP and volatility
It's important to check the game's math and see if it provides players with a fair chance of winning. Two important details to consider are the Return to Player (RTP) percentage and volatility. The RTP tells us the theoretical return of a game to the player, and the volatility describes how frequent the wins or large the wins are.
4. I check the game's minimum and maximum bet
The betting range should be accessible to different types of slots players, from beginners to those with a huge bankroll.
5. I check out its theme, graphics, and choice of paying symbols
An online slot should be entertaining and come with a relatable theme. We also play slot machines because we want entertainment, so it's best that the theme is colorful and visuals are easy on the eyes.
Play Joe Exotic with the best bonus
We can fully enjoy an online slot if we play it using the best casino bonuses. The good news is that there are top Pennsylvania online casinos that reward bettors with lucrative offers. You can visit the following websites to collect some of the best bonuses:
You can check the updated list of bonuses at DraftKings Casino. Here, all new players can double their first deposits up to $2,000. There is a Refer a Friend bonus worth $100 credits which you can use on any game, Joe Exotic slot included!
Joe Exotic Symbols & Payouts
This game mirrors the persona and lifestyle of its inspiration, the Tiger King. The game's design is loud and proud, and you can find nine paying symbols on the screen, led by Joe Exotic himself.
The symbols
This game relies on nine symbols inspired by the popular TV show. You can find four random icons of the Hip Flasks, Hats, Belts, and the Joe Token. There are high-paying symbols, too, such as Eric Cowie, James Garretson, Jeff Lowes, and there's Joe Exotic. In this game, Joe Exotic is a Wild and a 3x Multiplier, too, which can boost your win potential.
Here's how these symbols pay up when you land them on the reels:
Five-of-a-kind for Joe Exotic pays up to 200x your bet
Five-of-a-kind for Jeff Lowe pays up to 100x your bet
Five-of-a-kind for James Garretson pays up to 50x your bet
Five-of-a-kind for Eric Cowie pays up to 40x your bet
Check the game's paytable for the summary of symbols and their payouts.
Paytable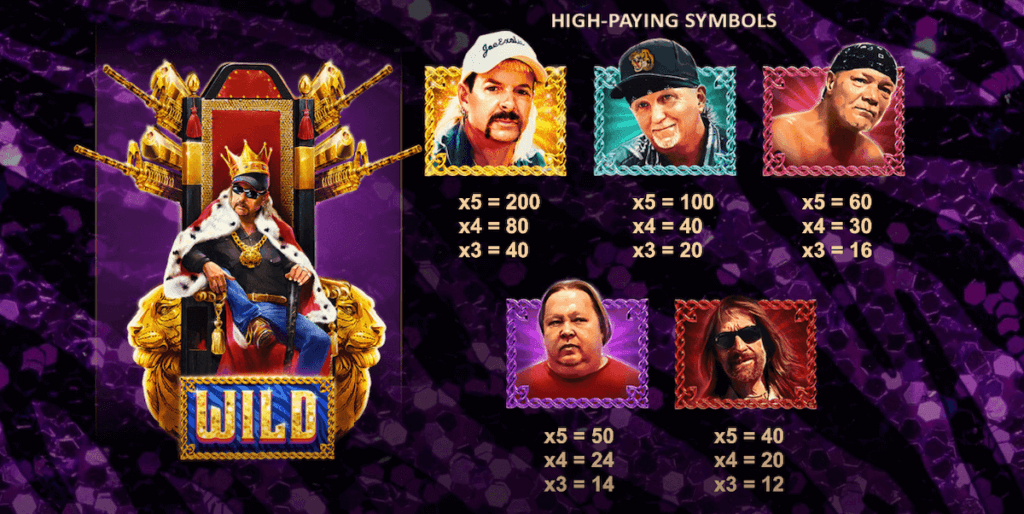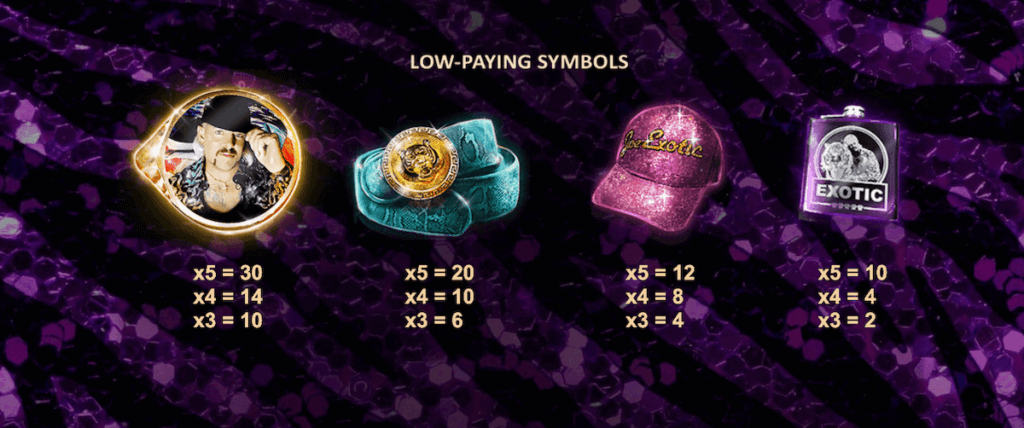 Min/Max Bet, Autoplay Option
Like many Red Tiger games, this game offers a friendly betting range for all players. The minimum bet per spin here is $0.20, with the maximum set at $20.00. It's on the low end of betting ranges, which makes this slot an ideal game to play for beginners. You can also efficiently manage your game session thanks to its use of the Autoplay option.
By accessing this feature, you can set up to 100 spins at a time and set your loss limit up to $10,000. There's also an option to stop the game after collecting a specific amount or when a feature has been triggered.
RTP
Joe Exotic slot from Red Tiger Gaming has an RTP of 95.7% that sits just in the average range of returns for most slots.
Volatility
It is a high volatility slot, which I think perfectly fits the crazy and unpredictable nature of the Tiger King. With this rating, the wins are far in between, but they can be huge when it happens!
Hit Frequency
In my review, I can't find the exact figure that describes the game's hit frequency. However, the publisher assigns a score of a high score of 5. In online slots design, the hit frequency gives us an insight into how frequently the player can hit a winner in the game.
Jackpot and/or Maximum Win
Joe Exotic slot offers a minimum bet of $0.20, and it comes with a 95.7% RTP and a high volatility
In Joe Exotic, you'll find a flamboyant, wild, and colorful production. In short, you can expect an exciting selection of symbols and features as you play this game for real money. The thrill is also made possible by the game's math and mechanic: Joe Exotic is a highly volatile game, and it offers a maximum Multiplier of 4,117x your bet on a single spin!
Game Features
The game's theme and overall production can be wild and shocking to some players. But don't let the initial shock value stop you from playing the game and maximizing its win potential. In Joe Exotic slot, you can find the standard Wild, Multipliers, a Free Spins round, and a unique and exciting bonus feature.
Wilds, re-spins and other features
Wilds
Joe Exotic is the game's Wild symbol. This replaces other symbols in this game and transforms into Super Multiplier Wild, which awards players with up to 3x Multiplier. Also, this symbol remains in place during the bonus.
Election Time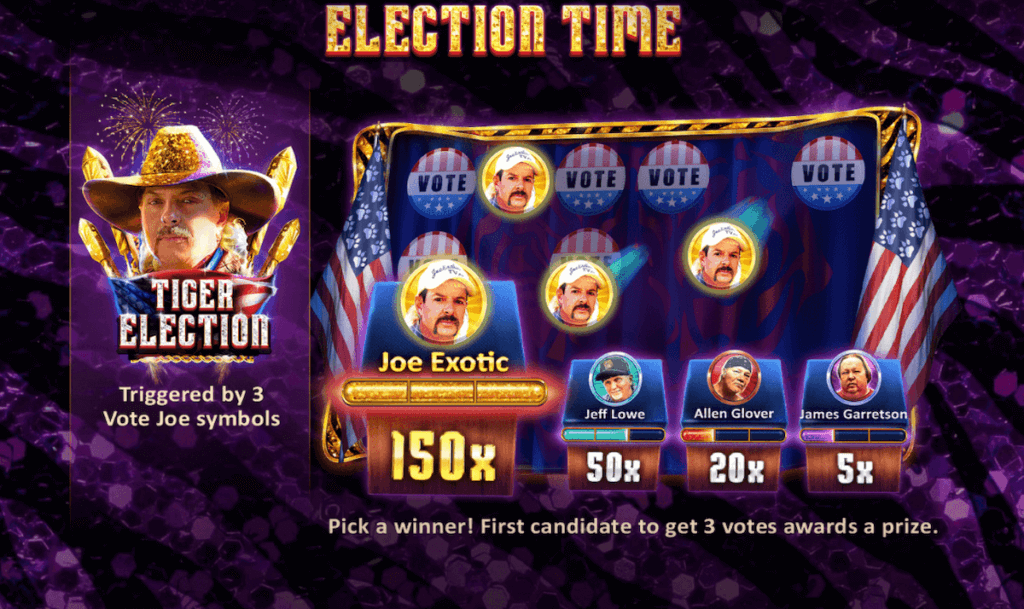 It's activated by landing three Vote Joe symbols on the reels. You need to pick a winner, and each winner carries a random Multiplier from 5x up to 150x your bet. If your candidate wins in the poll, you win the corresponding Multiplier! In this bonus round, Joe Exotic is the most important candidate, as he brings a 150x Multiplier to the table.
Tiger Bounty and Dynamite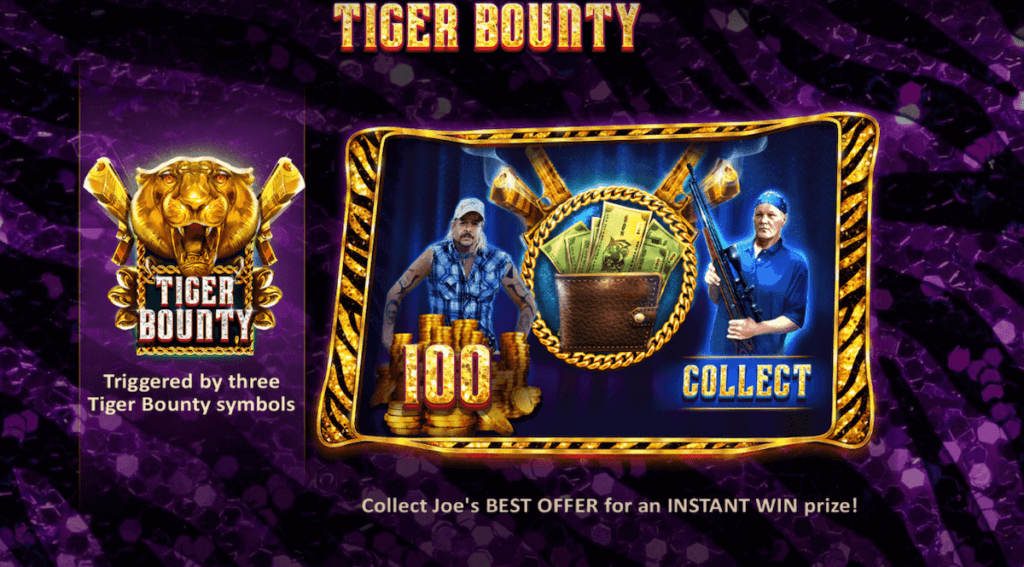 This is activated by collecting three Tiger Bounty symbols. Here, you just need to collect Joe's best offer to win a prize. And in the Dynamite feature, all low-paying symbols are blasted off the reels.
Exotic Spins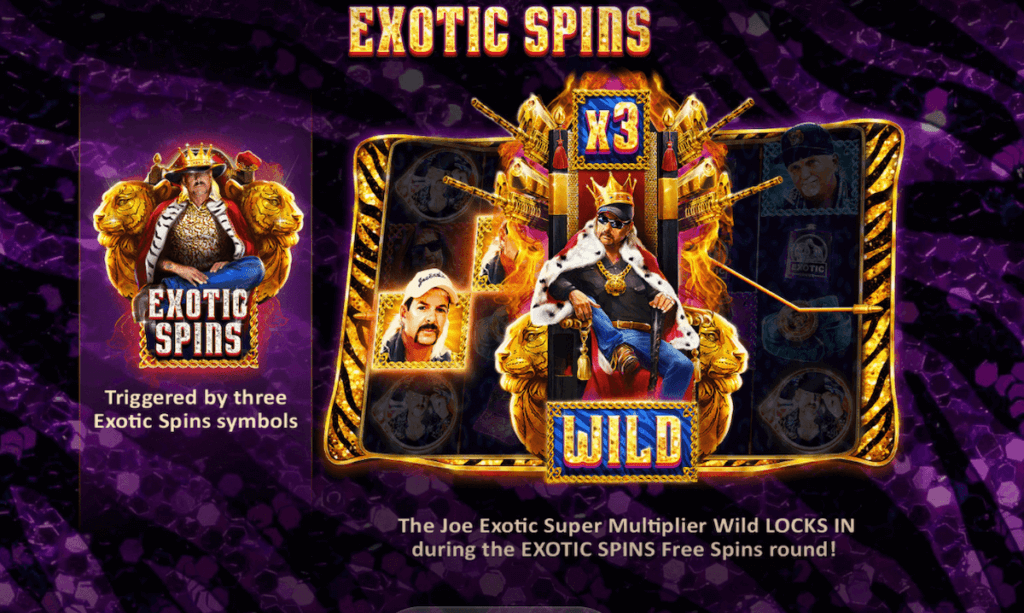 It's the game's version of the popular Free Spins, which you can activate by collecting Exotic Spins symbols on the first, third, and fifth reels. Upon activation, players get nine Exotic Spins and during play, the third reel is transformed into a 1×3 Joe Exotic Super Multiplier Wild. Like all Wilds, Joe Exotic will substitute for other symbols. For every win collected, this Multiplier increases by +1 up to 15x.
Joe Exotic's wild side extends to its selection of features and bonuses to players. Its Election Time lets you enjoy up to 150x Multiplier and the Exotic Spins serves as the game's version of the popular bonus with an increasing Multiplier to boot!
To say that Joe Exotic is exciting is an understatement, well, at least in terms of the bonuses and features. If you're looking for a lucrative selection of bonuses, then this game has it. Your adventure starts with the presence of Joe Exotic Wild, there's an Election Time to collect some Multipliers, and the Dynamite feature can blast off low-paying symbols. What I like the most is the Exotic Spins, a fun and innovative take on the standard Free Spins bonus. Although the initial number of spins is small, the rewards as you collect wins are lucrative. If you're lucky during the Free Spins, you can enjoy its increasing Multiplier up to 15x!
Joe Exotic Graphics & Sound
| | |
| --- | --- |
| Graphics | 2D |
| Optimized for Mobile | 👍 |
| Music | Country music |
| Special features | Mayhem, falling dollar bills |
Joe Exotic slot by Red Tiger Gaming comes with a divisive theme. Yes, it's fun with playful mayhem, but some players may not be comfortable with the theme's context and its choice of paying symbols. But with some brilliance in its gameplay and features, this Red Tiger slot is still worth checking out.
Joe Exotic slot dares to be different, and I think the game designer manages to deliver. The theme and the overall production of the game are interesting. Yes, it's bordering on mayhem and madness, but it's the game's main appeal. Some players will love the game, and others, I think, will have a hard time loving this. Still, it's a great game with impressive visuals and a storyline that can accompany the players' random spins.
Solutions if you have some issues with a game
The game must be played on just one device at a time. Otherwise, this can lead to game errors that may ruin the gaming experience. Also, your preferred device should run on the latest browser or OS to avoid these errors.
In case this slot becomes non-responsive, just reload the game, and it will continue where it stopped.
For all other technical issues regarding the game, make sure to report these to the Technical Support of the online casino.
Verdict
It's either you love it or hate it. Red Tiger Gaming takes a risk in the game's theme, and I must say, it still succeeded in delivering an entertaining game. Its theme is colorful and messy, but I guess it's part of the plan. In terms of features, it easily wins over some of the top slot games in the business, thanks to its Multipliers and its version of the Free Spins bonus. If you have a thing for something wild and different, then playing Joe Exotic slot from Red Tiger Gaming may be a great idea!
Other slots to play if you like Joe Exotic slot
Aside from this exciting slot, there are other similarly themed games that you can enjoy in leading US casinos: