Gordon Ramsay Hell's Kitchen Review
Gordon Ramsay is turning up the heat in this new online slot from NetEnt. This game has 20 paylines, multiple bonus games, and is sure to give you a mouth-watering good time. Learn everything you need to know about Gordon Ramsay Hell's Kitchen online slot in our review below.
Score
93/100
Argument
Excellent graphics with plenty of bonus game action. Great fun for online slot players and fans of the TV show.
Game Name
Gordon Ramsay Hell's Kitchen
Provider
NetEnt
Game Type
Video Slot
Volatility
Low/Medium
RTP
96.07%
Features
Free Spins
Multipliers
Battle Feature
Team Wilds
Paylines
20
Reels
5
Min Bet (all paylines covered)
$.20
Max Bet
$400
Supporting Currencies
USD, EUR, CAD, NZD
Top Win
1,000x
How I tested Gordon Ramsay Hell's Kitchen
When we conduct slot reviews, we look at every aspect of the game to form a final verdict. Our team takes the time to play all the games we review so that we have a complete understanding of what the gameplay and bonus features are like. Here are all the things we factor into our review process.
The Layout and Design of the Game
Is the slot physically appealing to the eye? Do the symbols draw your attention? How do the music and sound effects impact your overall experience? These are all questions we ask ourselves when evaluating the entertainment value of any online slot.
The Details
The details of an online slot include the RTP, volatility, hit frequency, and max win amount. These are aspects of games players should always be aware of before they start playing. These figures will help determine your overall win rate.
Ease in Play
One question we always want to ask ourselves is "Can this game be enjoyed by most players?" Online slots should be enjoyable to new and seasoned players, so it's important that there are elements to the game that can be enjoyed by both.
The Bonus Features
Online providers are coming out with new and better bonus features for their games every day. This act of one-upmanship is great for players as this means we get access to fantastic bonus rounds that are not only more engaging while playing, but also help boost our overall winnings. We'll dive into all of the bonus features of the game to make sure you know what makes this slot stand out from the rest.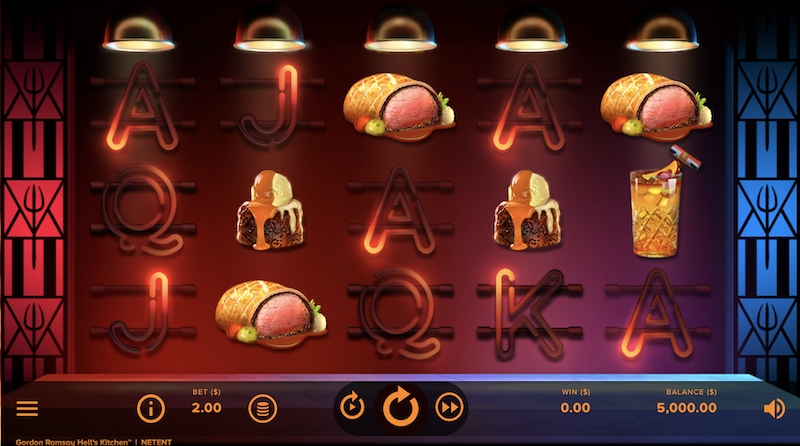 Play Gordon Ramsay Hell's Kitchen with the best bonus
You can find Gordon Ramsay Hell's Kitchen slot at most online casinos in PA.
Here are some that have great bonus offers:
Grab A No Deposit Bonus and Start Spinning Today!
When a casino gives you a no deposit bonus, it's a good thing. Borgata Online has one of the best welcome bonuses in PA with their $20 no deposit bonus. This bonus can be used on any online slot, including Gordon Ramsay Hell's Kitchen, and comes with a 1x wagering requirement.
Gordon Ramsay Hell's Kitchen Symbols & Payouts
The symbols
It will surprise nobody to see that the symbols in this game revolve around food, specifically Ramsay's specialties. The highest paying symbol is his classic beef wellington, but you'll also find his premium cheeseburger, a sticky toffee pudding, and his signature cocktail. In addition to the standard J, Q, K, and A symbols, players will see HK Wilds and Ramsey Scatter symbols featuring his face.
Paytable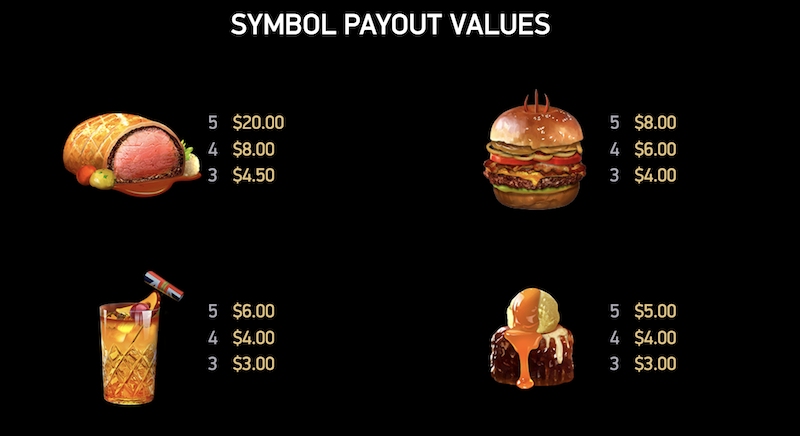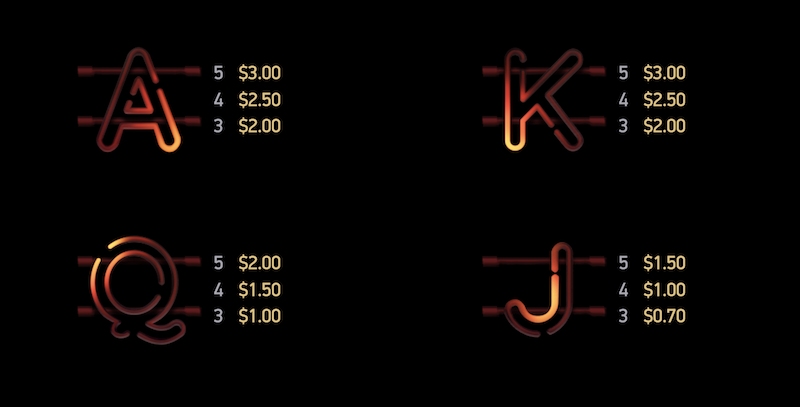 Min/Max Bet
The minimum wager for Gordon Ramsay Hell's Kitchen is $0.20 and the maximum wager is $400.
RTP
The RTP for Gordon Ramsay Hell's Kitchen is 96.07%.
Volatility
The volatility for Gordon Ramsay Hell's Kitchen is low-medium.
Maximum Win
The max win of Gordon Ramsay Hell's Kitchen is 1,000x your initial wager.
Gordon Ramsay Hell's Kitchen has an average RTP and below-average max win
The good news here is that with low-medium volatility, players will be sure to rack up plenty of wins. However, with an average RTP, those wins will come in much smaller denominations than some of the other popular online slots. Add to this the very small maximum win amount available at this slot, and you get the feeling that this game is meant to be played more for fun than attempting to hit the jackpot.
Game Features
Wilds, Re-Spins, and Other Features
Ramsay's Wilds
Take cover because Gordan Ramsay is mad and throwing things in the kitchen! During gameplay, Ramsay may throw knives, plates, or pots at the reels and turn those symbols into HK Wilds. This is an entertaining and completely randomized way of racking up a good amount of wild symbols in one spin.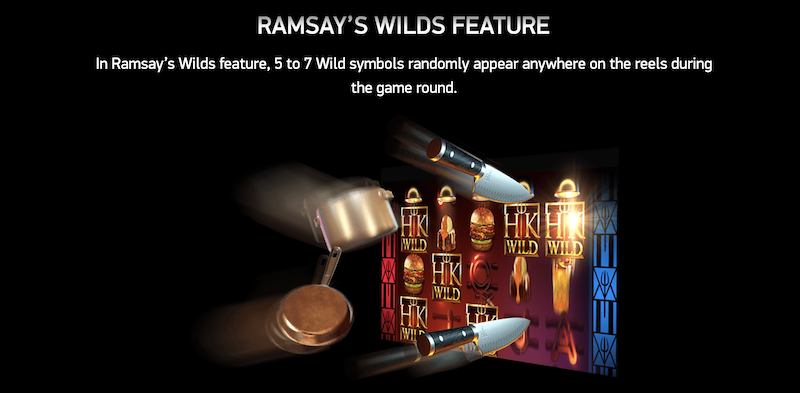 Team Challenge Free Spins
Score enough Scatters and you'll be entered into the "Order Up" Team Challenge. Before your free spins rounds begin, you will have to choose which team you want to be on: Red or Blue. Then, the two teams go head-to-head in this quickfire food challenge where you'll attempt to score as many multipliers and wilds as possible. The team that scores the most gets to continue to the bonus round.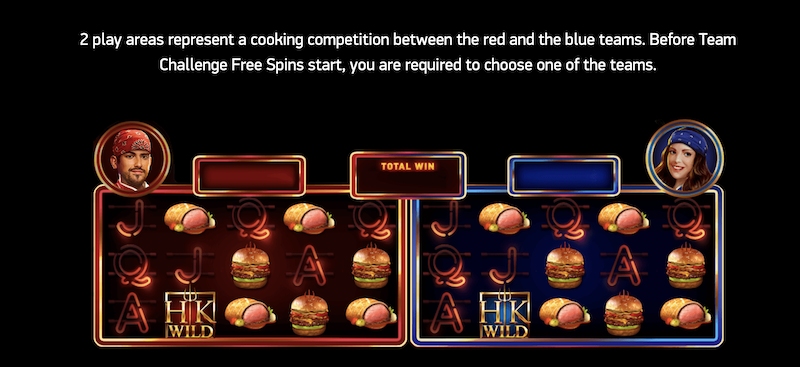 Gordon's Bonus Game
If your team wins the "Order Up" Team Challenge, you'll be sent to Gordon's Pick-and-Click bonus game. In this round, you will be presented with 15 menus. 12 of the menus will reward you with more prizes (coins or multipliers). But three of the menus have Strikes on them, and you know the rule: 3 strikes and you're out. The more correct guesses you make, the more prizes you will win.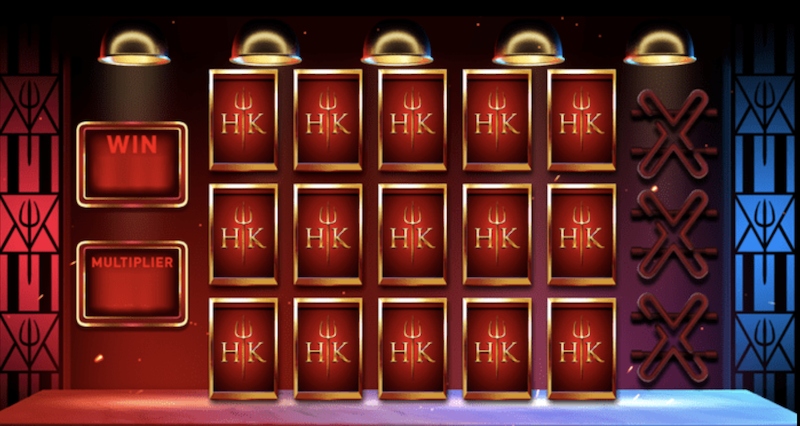 Bonus Buy?
This game does not feature a bonus buy feature. However, if you are interested in Bonus Buy slots, be sure to check out our page on The Top Bonus Buy Slots in PA!
Gordon Ramsay Hell's Kitchen has some of the best bonus feature action you'll find!
When it comes to bonus features, NetEnt delivers with this online slot. Having the chance to go head-to-head in a challenge truly embraces the competitive nature of the TV show that is Hell's Kitchen. The pick-and-click bonus game will be a huge hit amongst players and reminds us of another popular NetEnt title, Blood Suckers II.
Gordon Ramsay Hell's Kitchen Graphics & Sound
| | |
| --- | --- |
| Graphics | 2D/3D |
| Optimized for Mobile | 👍 |
| Music | Ambient and light |
| Special features | Gordon Ramsay phrases |
Gordon Ramsay Hell's Kitchen offers stunning graphics and interactive gameplay
Players will immediately be invited into the exciting atmosphere of the game with Gordon Ramsay telling us to "Let's open the doors to Hell's Kitchen." You'll then be treated to culinary delights with the food images used in the graphics. While it's always great to rack up wins, fans of the show will love the times Ramsay's voice calls out phrases as you play. The only downside here is that all the phrases are encouraging ones, and don't include any of the popular insults we've come to expect from TV's favorite celebrity chef.
Solutions if you have some issues with a game
If you run into issues while playing Gordon Ramsay Hell's Kitchen slot game, here are some suggestions that may help:
Reload the game – This should bring you back to where you left off and allow you to replay if needed.
Contact customer support – If the game is consistently malfunctioning or you are having larger issues, contact the customer support team of the online casino you are playing at. Most top casinos in PA offer 24/7 live chat support.
Use a strong WiFi connection – Whenever you are playing online casino games, always ensure you are using a strong enough WiFi connection to load the game's graphics and sounds. This should help avoid possible issues before they occur.
Verdict
Overall, Gordon Ramsay Hell's Kitchen is a fantastic game that truly embraces Ramsay's larger-than-life personality and the classic TV competitive show we've all come to love. This game is ideal for casual or new online slot players as the gameplay is easy and the small wins come often. The biggest drawback here is the low max win amount. There are many other online slots that offer much larger jackpot rewards. However, this particular game is all about featuring our favorite celebrity chef, Gordon Ramsay, and in that, it delivers.
Other slots to play if you like Gordon Ramsay Hell's Kitchen slot
If you enjoyed playing Gordon Ramsay Hell's Kitchen, here's a list of some other popular NetEnt titles you might also like: