First Person Craps – Live craps from the comfort of home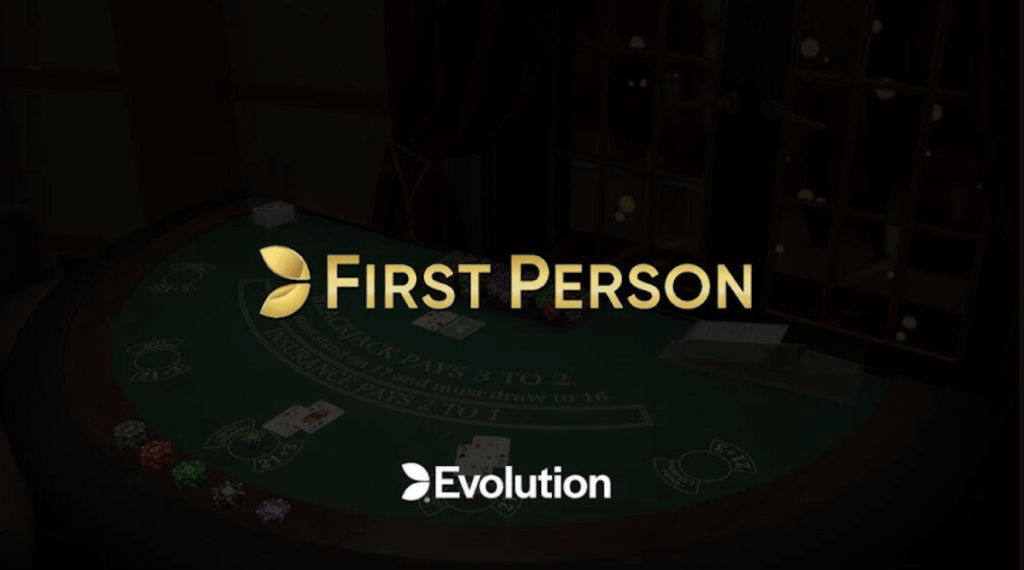 Do you want to learn to play this popular and convivial game without moving from your armchair? Maybe it's winter, and you don't want to venture to a bricks and mortar casino. Or perhaps you're worried about embarrassment, or even because time is an issue.
There are plenty of reasons you may want to enjoy craps on your computer screen rather than in a traditional casino. Evolution Gaming is affording you that opportunity. First Person Craps stands as an example of Evolution's commitment to providing fantastic user experiences.
What I analyzed in First Person Craps
What is the general First Person Craps information?
| | | | |
| --- | --- | --- | --- |
| Provider | Evolution Gaming | Theme | Authentic casino table |
| RTP | 99.17% | Min. stake | $0.50 |
| Max Profit | x30 | Max stake | $5000 |
| Special Features | My Numbers, Dynamic Statistics, Easy Mode, Go Live | | |

What are the First Person Craps Special Features?
1. My Numbers
The My Numbers feature helps players keep track of all the goings-on in a game of craps. It gives an outline of potentially winning numbers and the winnings they would provide.
2. Dynamic Statistics
Get an up-to-the-minute overview of all the statistics related to a player's bet on Evolution Gaming's First Person Craps. The boards on the studio wall are continuously updating as players place their bets.
3. Easy Mode
Craps can be a very complicated game to understand. The Easy Mode option provided by Evolution Gaming removes some of the more complicated bet options on the table. This allows you to ease yourself into playing craps.
4. Go Live
Evolution promotes First Person Craps as an opportunity for those new to the craps to start learning how to play a complicated game before going into live scenarios. They have even added a quick portal. So, when you think you're ready, click Go Live to head straight into a live table.
5. First Person Craps doesn't have traditional bonus features, but it does add more ways to interact
Craps is a classic game which has been played for over 200 years. I guess what I am trying to say is that it doesn't need messing with. It doesn't need fancy features to appeal to people. The simplicity of throwing dice on a table has helped it stand the test of time. Instead, what Evolution has done is adding improvements to enhance the experience of playing the game online.
Is the interface user-friendly?
The interface on First Person Craps is very self-explanatory and can even be simplified further.
Learning all the different types of bets on craps be overwhelming and an intimidating prospect for newcomers to this old classic. With Evolution's First Person Craps, new players can experience a less intense introduction to the world of craps.
The game is designed to recreate the experience of playing craps in a bricks and mortar casino. The interface is made up of a sophisticated 3D animation of a table in a classic American speakeasy.
The interactive overlay is identical to the markings found on a table if it was in an actual casino. I can completely understand why a game like craps can be confusing for newcomers, and so does Evolution Gaming, which is why it provides its signature First Person option before attempting to go live.
Is the game optimized for mobile?
First Person Craps has been optimized for mobile. Evolution Gaming's First Person Craps does not have a dedicated website or app, so the best way to experience this game on the go is by using your chosen casino operator's app.
What are the First Person Craps' Rules?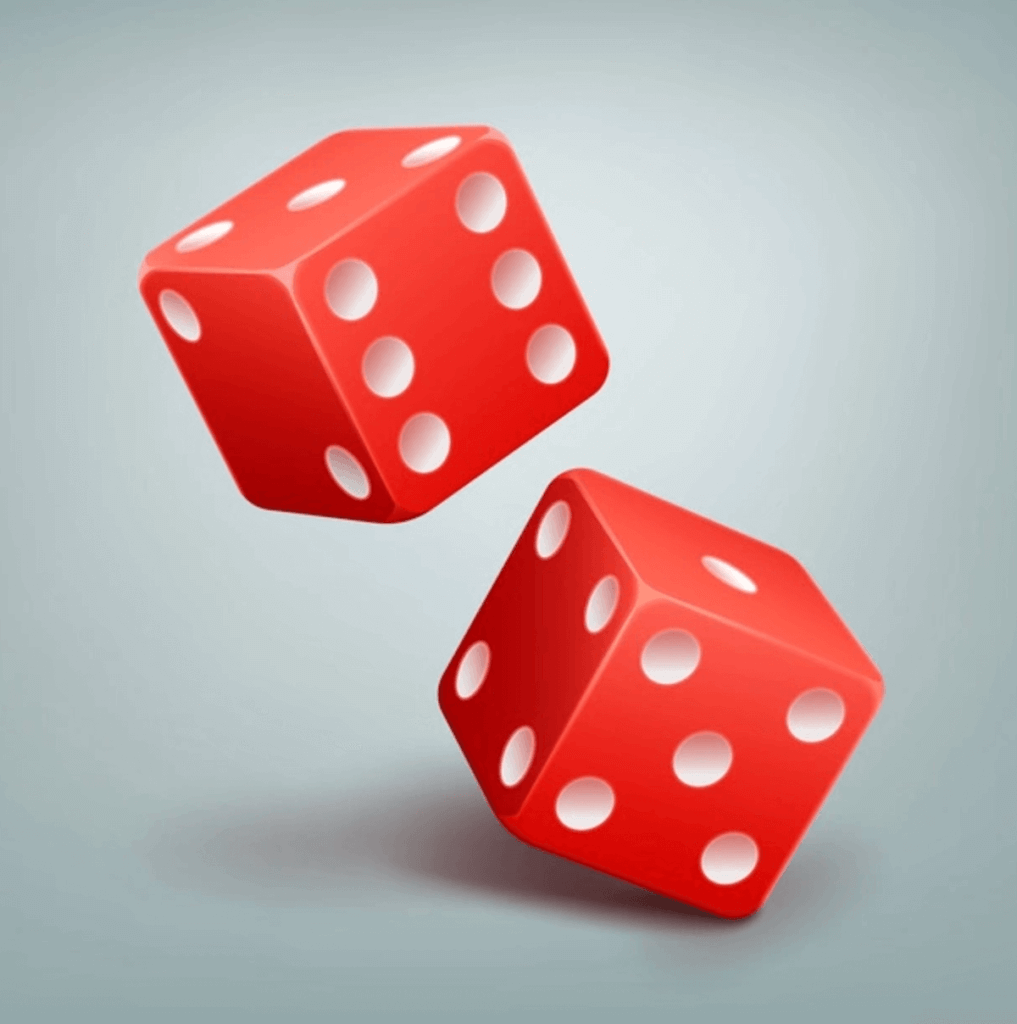 A shooter takes turns rolling two dice. In an actual casino, you would physically roll the dice, but in this game, an animation plays out, and two values are generated by an accredited random number generator.
You, the player, can place different options of bets on the outcome of the rolls. Essentially, you are trying to guess the outcome of each dice roll.
Each round has two phases – the come-out roll, which comes first, and the point roll.
To begin playing craps, a player must bet on whether the first roll will lose/"crap out" by landing a two, three or 12, or whether it will win/pass the line by landing a seven or an 11. If either of these things happen, the round is over, bets are paid out, and we proceed to the next round.
If any other number comes up, i.e., four, five, six, seven, eight, nine, or 10, a point has been set on the table and the second phase happens.
The second phase involves rolling the two dice until the shooter lands a seven or land on the point number.
How to play First Person Craps?
Log in to your account with your chosen online casino.
Navigate to the First Person Craps game and launch it.
Place your first bet on the come-out roll and wait for the outcome.
Animated shooter rolls the dice.
If the first bet wins or loses, the round ends and winnings are paid out.
If a point is set, you can make more bets and the dice are rolled again.
The dice are continually rolled and bets are consistently placed until the roller rolls the point or a seven.
What are the First Person Craps Betting Options?
1. Line Bet
This is the bet which is required to join a game of craps. You can either bet to Pass and Don't Pass. A Pass Line bet will win if the first roll (the come-out roll) is seven or 11. It loses if the roll is a two, three or 12. If a point is set, your bet remains until the round ends. If the point is rolled, you win your bet. But if a seven is rolled, you lose.
A Don't Pass Line bet wins if the come-out roll is two or three. It loses if the roll totals seven or 11. If the value is any other possible combination, it remains until the end of the round. You win then if a seven is rolled and lose if the point is rolled.
2. Come Bet
A come bet is similar to a Pass Line bet, but it comes after the round's point has been set. The sequence of a come bet could go several ways. You place the bet, the shooter rolls a seven or 11, and you win. If a two, three or 12 is rolled, you lose the bet. If any other number is rolled, this becomes your personal point. Your wager remains until the point or a seven is rolled. You win if the point is rolled before the seven.
3. Don't Come Bet
A Don't Come bet is comparable to the Don't Pass bet. You place the bet. If a seven or 11 is rolled you lose; if a two, three or 12 is rolled you win. If a new point is made because any other number is rolled, your bet remains in place until the new point is rolled or a seven. In this case, you win if a seven is rolled before the point.
4. Place Win
Once a point has been established, you can bet on a particular field number coming up. A field number is not a crap or a seven/11. You win the bet if your chosen number is rolled before a seven.
5. Place Lose
This is identical to above, however in this case you want the seven to arrive before the number you picked.
6. Big 6/Big 8
Here you are betting that a six or eight will appear before a seven. These bets typically pay evens because eight and six have the most combinations on dice.
7. Hardways
When an even number is rolled using two dice of identical values, it is said to be rolled the hard way. A hard four, for example, would be a double two. You place a hardways bet on a specific number, and you are wagering that that hard number will come up before a seven.
8. Field
With a field bet, you are wagering that a field number will be rolled in the next roll.
What are the First Person Craps Payouts like?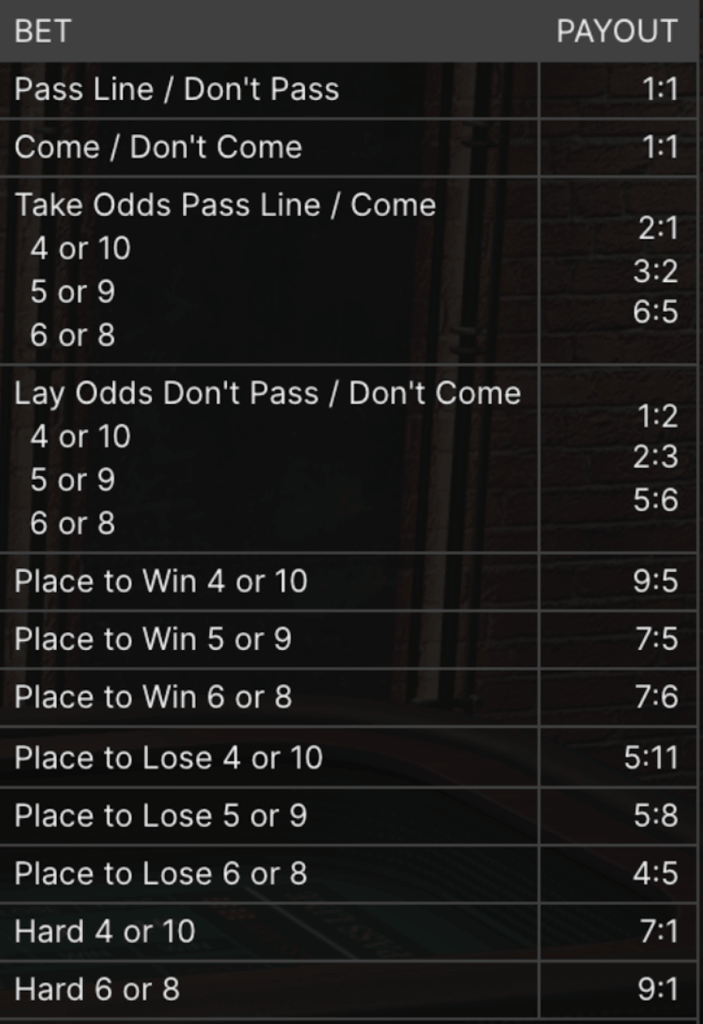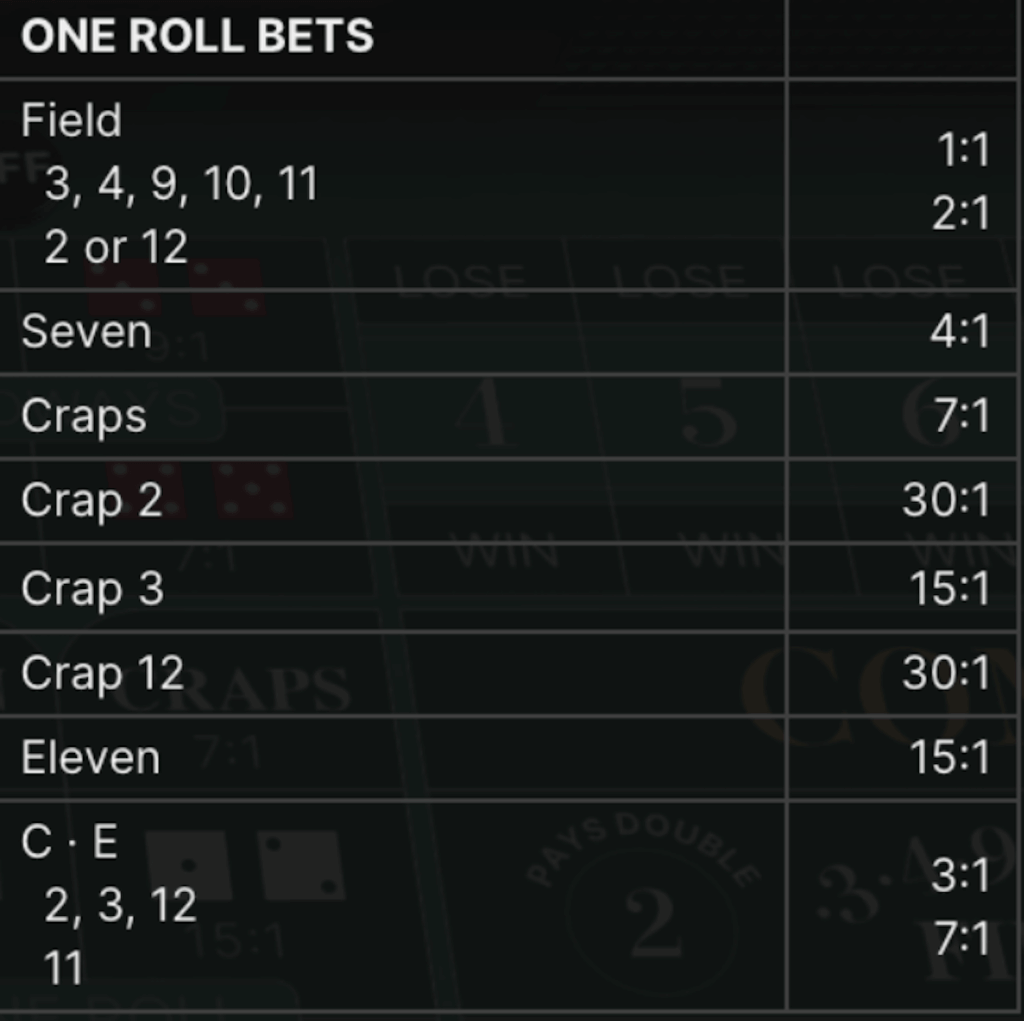 The most valuable bets when playing craps are the one-roll bets, particularly betting on a two or a 12. This is because there are so few combinations which could create those two numbers.
Therefore, it makes sense for these to have the best returns. The least valuable are the ones which do only have two possible outcomes, as they pay evens.
Craps is a very rewarding game… once you understand it.
Craps is not the easiest game to understand, but that does give this random number generated version a raison d'etre.
The rules when combined with all the lingo and slang found within the game can sound very complicated. The nature of the game does, however, allow for plenty more betting options than you're likely to find on any other table game.
What is the theme of the First Person Craps?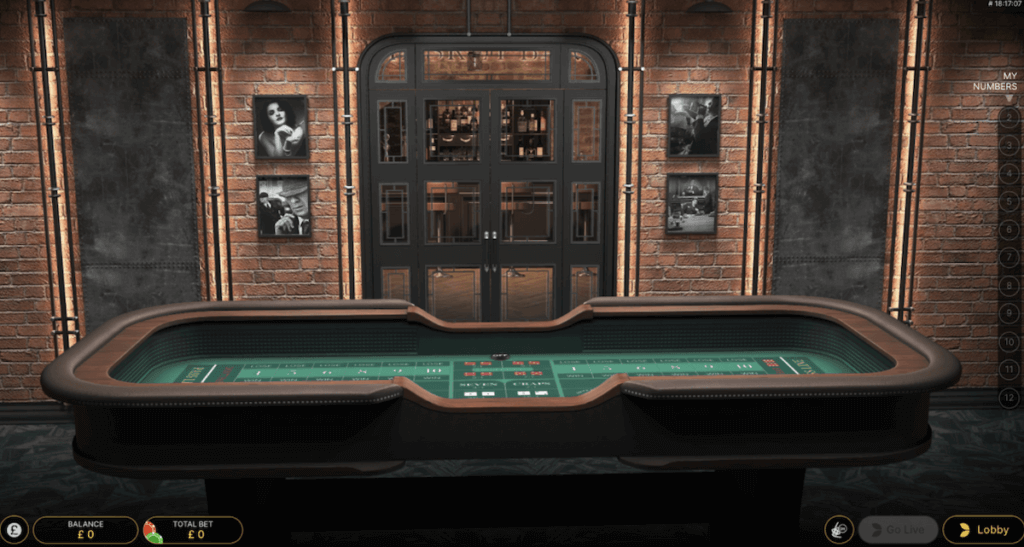 Speakeasies are prohibition's worst kept secret and much like the saloons which preceded them were a den for all revelry – drinking, ladies of the night, and of course, gambling.
Graphics
I adore the theme Evolution Gaming has opted for here. It is so simple yet very effective. Using a speakeasy-style bar as the location just brings so much authenticity. The digital camera is so dynamic and allows you to experience the whole room darting around depending on whether we are idle, betting or rolling.
Soundtrack
First Person Craps would benefit from a soundtrack. There is a mute button in the top right-hand corner, but it only mutes the skeuomorphs which recreate real casino sounds. I do think this theme is ripe for a swinging soundtrack in the background. I think it would be perfect to be able to hear some grainy 1920s swing music lightly in the background, as if leaking from a vintage Bakelite wireless.
A fantastic design which could be improved with a soundtrack
Overall, the digital experience emulating a real casino experience comes together nicely. The theme obviously makes it less like a casino you would experience in modern times, but I found it to be a fun way to enjoy a table game online. I was only really a little disappointed to not find an engaging soundtrack to bop along to.
Who is the First Person Craps provider?
First Person Craps is a pre-cursor to the live casino games which Evolution Gaming has become so well known for. Evolution Gaming does spectacular work in this area, which has led it to become a world leader in live casino games. Check out our reviews to find out more about games it has to offer and where you can find them.
Conclusion – How is First Person Craps better than others?
Craps is an intimidating, yet very popular casino table game. It is one a lot of people would like to play, especially after the exciting and social portrayals we can see in Hollywood films. First Person Craps from Evolution Gaming is the perfect way to get into craps.
It gives players more time to understand what is going on and think about their bet. The best part is that Evolution has introduced the Easy Mode button, which simplifies the betting table and lets new players learn the actions of the game without being overwhelmed by the bets.
If you enjoy First Person Craps, you can also check out other games in Evolution's First Person series, including roulette, blackjack, and baccarat.
Frequently asked questions
This particular online craps game's RTP is 99.17%.
The biggest win is a return of 30 times your stake from betting on Crap 2.
Although this is not a live casino game, there is no demo version, therefore you cannot play for free.