Montezuma Review
Whether you've been playing slots for years or are just looking to get started, there's a good chance you've heard of Montezuma.
It's been around in physical casinos forever. It made the jump online with the rest of the world early on, but is it any good?
Read below for our comprehensive review of Montezuma and its features in 2022.
Score
95/100
Argument
An excellent, well-rounded slot with great bonus potential and low stake caps.
Game Name
Montezuma
Provider
WMS
Game Type
Video Slot
Volatility
Medium
RTP
95.86%
Features
Free Spins
Mobile-friendly
Paylines
30
Reels
5
Min Bet (all lines covered)
$0.30
Max Bet
$60
Supporting Currencies
AUD, CAD, EUR, GBP, NZD, USD
Top Win
$250,000
How I Tested Montezuma
Our reviews are experience-based and hands-on; there's no point in reviewing something you haven't tried yourself.
The steps in our reviewing process include the following.
Finding a Demo
Many casinos will allow you to demo their slots before putting down an actual wager amount.
A quick Google search will yield a handful of places to play, and the top options are frequently the most reputable with the least amount of obstacles (ads, pop-ups, etc.).
Reading Onsite
Whichever site we choose to play the demo on will usually present us with a basic overview of the game.
This includes return-to-player (RTP) rate, reels, and where it comes from.
Looking at Other Reviews
An essential part of the reviewing process, whether for a website or personal use, is to see what other people are saying about it.
We make sure to read old and recent reviews for context.
Play Montezuma with the Best Bonus
With a UKGC license, Montezuma can be found through hundreds of providers both online and in-person.
Here's a shortlist of the best places if you're wondering where to play Montezuma: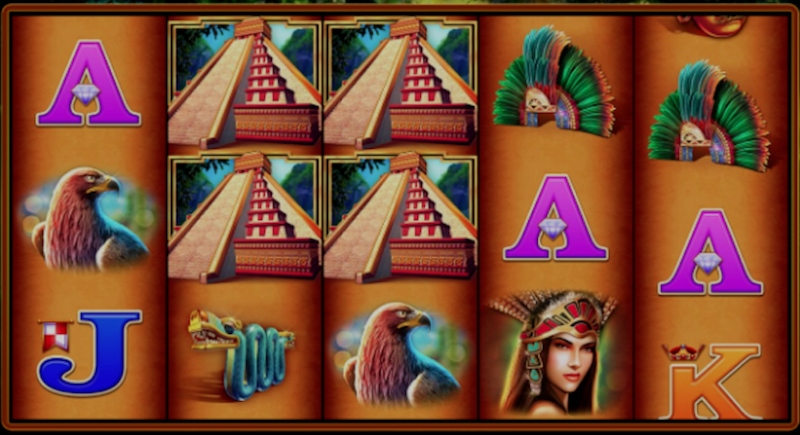 Montezuma Symbols & Payouts
The first part of our Montezuma review will include a detailed break-down of its symbols and payouts.
While reading reviews or viewing screenshots, remember that pay tables will reflect the current betting configuration; some minor details on that front may be subject to differences.
The symbols
Montezuma features symbols that celebrate the Aztec culture, as well as your traditional face cards.
The symbols are the face cards in a deck (Jack through Ace), a dragon, a mask, a headdress, a bird, a tribal queen, and Montezuma himself from lowest value to the highest.
Pay table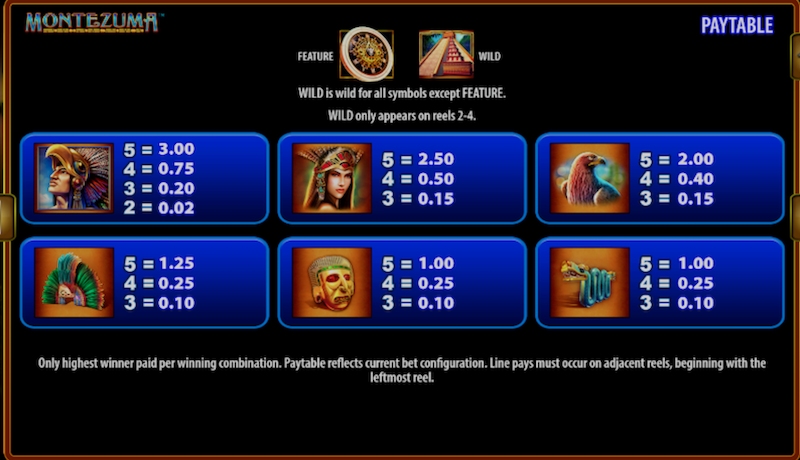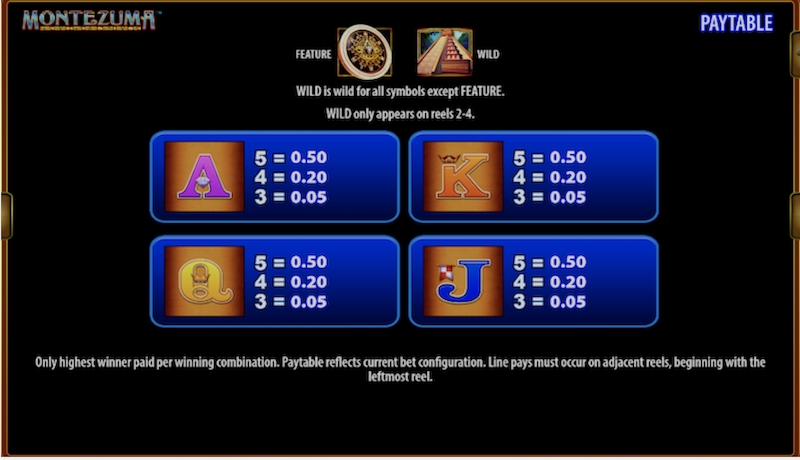 Min/max bet & autoplay option
Montezuma's minimum and maximum wager amounts are fairly small compared to other slots.
The minimum bet is $0.01, and the maximum is $2.
You can spin each round or autoplay in specific increments up to 200 spins.
RTP
The RTP rate for this slot is 95.86%, putting it slightly above the industry average.
Volatility
Montezuma has medium volatility and should regularly payout a sizable amount.
Hit Frequency
Due to the low-stakes nature of the betting amounts, Montezuma is equipped with a medium-high hit frequency.
Max Win
The top win you can receive while playing Montezuma is worth 3,000x your stake amount; the maximum bet you can place in a single round is $60.
To receive this big reward, you must spin at least three Feature symbols to enter a bonus spin round.
In these rounds, you'll spin a series of special symbols that can add an extra multiplier per line.
The Montezuma face symbol can add an extra 10x boost per line to equal 3000x your stake.
Although wager amounts are kept small, payout consistency and multipliers can help you win big
It may not seem like there's a potential for massive winnings at this slot, given the low cap on the stake amount.
Although it's rare to receive bonuses and large multipliers, there are enough bonus conditions and opportunities to make the extensive play worth it.
All symbols have a fair chance of appearing and are designed with quality in mind.
Game Features
Montezuma is a classic video slot with built-in features to extend your winnings even further.
Wilds, re-spins, and other features
Wilds
The Wild Symbol for this slot is an Aztec pyramid; it can only show up on the second and fourth reels.
Re-spins
While you can't purchase re-spins separately in Montezuma, there are reel combinations that award free extra spins.
Multipliers
There are two ways to receive a multiplier in this game.
The first is through their Feature symbol, the Aztec calendar; any spins with at least four of these icons multiply the final payout by 10.
The second way to receive a multiplier also requires using a free spin. When using one of your free spins, you'll spin a separate reel at the top of your screen.
These icons will determine your multiplier amount.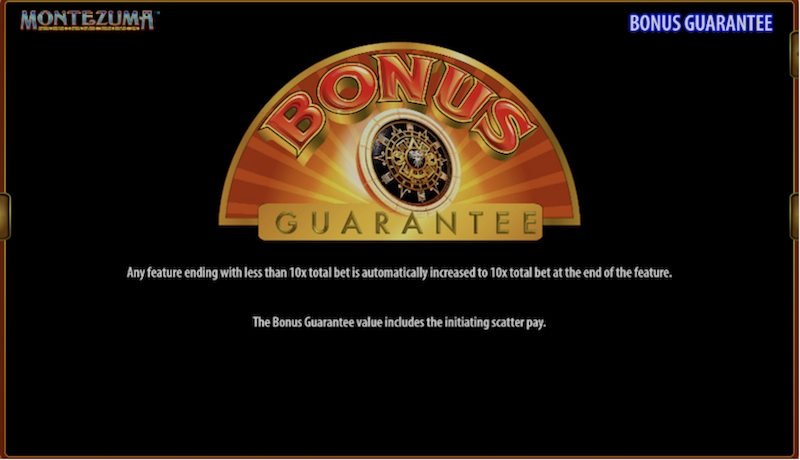 Bonus Buy
You have the ability to earn bonus rounds in Montezuma through their Feature symbol free spins.
At this time, there are no other ways to purchase a bonus round.
Free spins and multipliers can make any wager have big winning potential
When it comes to these built-in bonus features, Montezuma shines.
Every spin has the chance of skyrocketing thanks to their multitude of multipliers; this more than makes up for the lack of bonus buys and re-spin options. Rating: A-
Montezuma Graphics & Sound
Although this slot isn't alone in utilizing the Aztec theme, it's undoubtedly one of the best examples of it.
From the sound design and ambiance to various symbol features, every spin is as exciting as the last.
| | |
| --- | --- |
| Graphics | Characters and symbols representing the ancient Aztec civilization |
| Mobile Optimization | ✔ |
| Music | Ambient forest sounds while wagering; Bouncy and theme-appropriate percussion while the reels spin |
| Special Features | Feature symbol can multiple earnings and activate a free spins round |
The Feature symbol is an excellent addition as it adds another way to extend your earnings while keeping the game grounded thematically
The Feature symbol, or "Scatter," takes the form of an Aztec calendar.
Spinning to find three or more of them in a single round will allow the player to spin the calendar itself to earn up to 25 free spins.
Finding four or more calendars in a single spin will multiply your stake by 10x.
This theme is carried by the music and appearance of the reels throughout your playing experience.
Having the free spins wheel be an Aztec calendar helps build immersion, pairing nicely with a well-timed and authentic-sounding ambiance. Rating: A+
Solutions if you have some issues with the game
If you find that payouts are ridiculously low, make sure you check your stake amount.
The minimum is $0.01 at default, so rogue spins of that amount probably won't yield much.
Also, keep in mind that Montezuma has fixed pay lines, meaning you'll automatically be wagering on all 30 lines.
Verdict
A good casino game is one that meets the player where they are. It doesn't force anyone to bet more than they're comfortable with but still provides opportunities to win big regardless.
The theme is a desirable game that must also be consistent, with appropriate symbols and pleasing sound-design.
Montezuma is an excellent slot. It falls short in a few areas, such as paying for guaranteed bonus rounds and its low betting cap.
However, its developers seem utterly aware of this and have added the Feature symbols, free spins system, and multipliers to help boost even the most meager bets.
For novices and high-rollers alike, we'd highly recommend Montezuma. Rating: A
Other Slots to Play if You Like Montezuma Slot
Are you already a fan of Montezuma and all it has to offer? Check out this list of related slots!
Montezuma Megaways (NEW)
Spirits of Aztec
Lions Pride
Sirens
Bear Mountain
Cave King