Baccarat variants, RTPs, and different special features
You can play different variations of baccarat from top software vendors, with exciting side bets, betting rules, and huge payouts. Before playing, know what baccarat you're playing to set the right betting strategy.
Check the table below for the top baccarat variations in PA casinos, the theoretical returns, and a short description.
| Variation Name  | RTP | Special features |
| --- | --- | --- |
| Chemin de Fer | 98% | The player can act as the 'Bank' |
| Punto Banco | 98.94 | A third card is given to the player |
| Baccarat Banque | 98.4% | One of the bettors serves as the dealer for each round |
| No Commission Baccarat | 98.94% | Players don't pay the commission for the winning Banker's wager |
| EZ Baccarat | 98.98% | Winning Banker's and Player's wagers pay even money |
| European Baccarat | 98% on average | The house is always the Banker |
| American Baccarat | 98.76% | The game uses six to eight decks of cards |
| Baccarat Squeeze | 98.94% | The croupier slowly squeezes the card to show the value |
| Dragon Tiger | 96.27% | Only two betting options – Dragon or Tiger |
| Mini Baccarat | 98.76% | Uses a smaller betting table that seats up to seven players |
| Speed Baccarat | 98.94% | A fast game that lasts 27 seconds each round |
| Super Pan 9 | 98.8% for the Player's bet | One deck of cards is used with 36 cards |
| Three Card Baccarat | 95.7% for the King's Bonus | Both the Player and the Banker get three cards |
| Midi Baccarat | 98.76% | Up to nine players can play |
| Lightning Baccarat | 98.76% | Game boasts multipliers of up to 8x |
Most popular Baccarat variants
Baccarat games are some of the most exciting offerings in top Pennsylvania casinos. In addition to their exclusive reputation and simple gameplay, players can count on different baccarat variations.
While there are different variants, the player's aim remains the same. In baccarat, you wager which hand has the best point. There are three main betting options in online baccarat: Player, Banker, or a Tie. 
In addition, there are exciting side bets in some types of baccarat games and some specific rules on drawing third cards and the number of decks used. Since some variations in decks of cards and rules are used, it's best to review what variant you're playing to identify a working online baccarat strategy.
1. Chemin de Fer
Chemin de Fer is a popular baccarat game with French roots. In this baccarat variant, you can play against other bettors, and each table can accommodate up to 14 players.
2. Punto Banco
Punto Banco uses the rules of the classic baccarat game, and the winning Player's bet pays 1:1.
3. Baccarat Banque
Baccarat Banque shares the gameplay rules with Chemin de Fer, but with one difference – the player cannot act as a Bank. In addition, Baccarat Banque boasts an RTP of 98.4%.
4. No Commission Baccarat
The bettor does not pay the 5% commission on a winning Banker's bet.
5. EZ Baccarat
In EZ Baccarat, there's no commission fee for the Banker's bet. In addition, a winning Tie bet pays 9:1.
6. European Baccarat
In European Baccarat, there are special rules on the drawing of the third card. For example, you decide whether to draw or stand on 5, and the Banker can decide whether to draw a third card. In online baccarat, the casino is always the Banker.
7. American Baccarat
American Baccarat is also called Punto Banco in many US casinos. This baccarat variant uses six to eight decks of playing cards, and only two hands are dealt – the Banker or Player.
8. Baccarat Squeeze
Baccarat Squeeze is an interesting live baccarat variant where the croupier slowly reveals the card's value.
9. Dragon Tiger
Dragon Tiger is a simple yet exciting baccarat game where you wager on two options: Dragon or Tiger.
10. Mini Baccarat
Mini Baccarat uses a small betting table that can seat up to seven players.
11. Speed Baccarat
Speed Baccarat offers a faster game that lasts up to 27 seconds.
12. Super Pan 9
Super Pan 9 is another unique baccarat variant in US casinos, and it uses a single deck with 36 playing cards.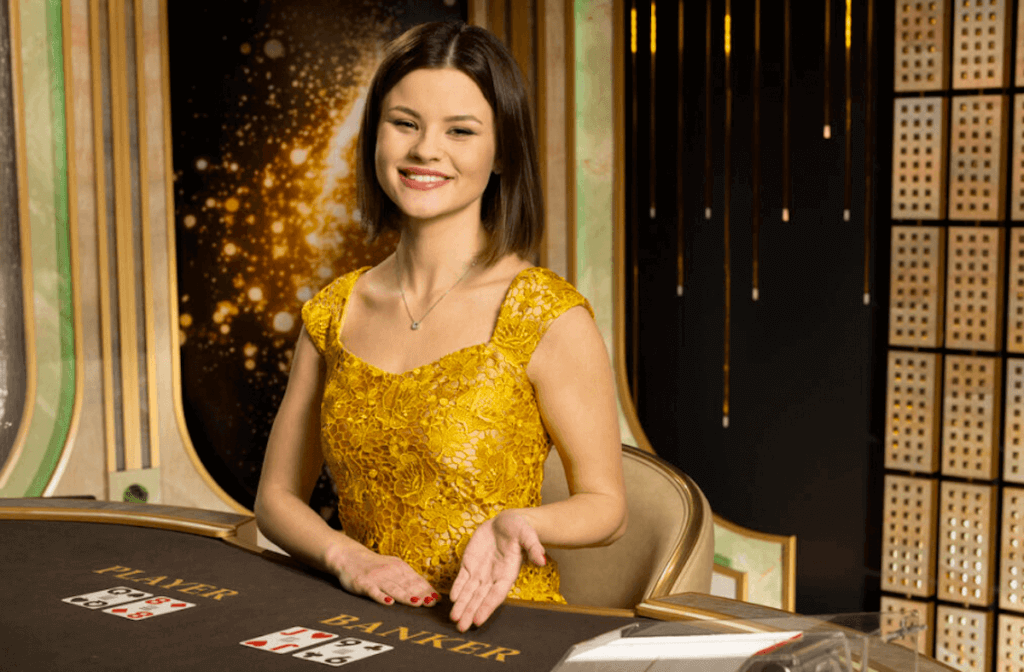 13. Three Card Baccarat
This baccarat game uses a single deck of playing cards, and the Player and Banker collect three cards.
14. Midi Baccarat
Midi Baccarat uses the classic rules, and its betting table can hold up to nine players.
15. Lightning Baccarat
Lightning Baccarat is a proprietary live dealer game from Evolution Gaming. In this live baccarat game, bettors can win multipliers, and there's a 20% Lightning fee for each wager.
What are the different Baccarat tables?
You can play baccarat in different betting table sizes in many US casinos. Currently, there are three table sizes for baccarat – Big, Midi, and Mini.
Big Table Baccarat 
 The Big Table Baccarat seats up to 14 players at a time.
Mini Baccarat 
 The Mini Baccarat table is the smallest in casinos and seats seven players.
Midi Baccarat 
Up to nine players can sit in the Midi Baccarat.
Which baccarat variation should you choose?
With plenty of baccarat variations available, the player can pick the best game to play for real money. The challenge for the player is comparing all variations, checking the theoretical returns, and reviewing the potential payouts.
Best variations of baccarat regarding its profitability
If you're faced with many options, you can choose a baccarat game based on its potential payouts. You can check out the payouts for the winning Banker or Player's bet and their theoretical returns.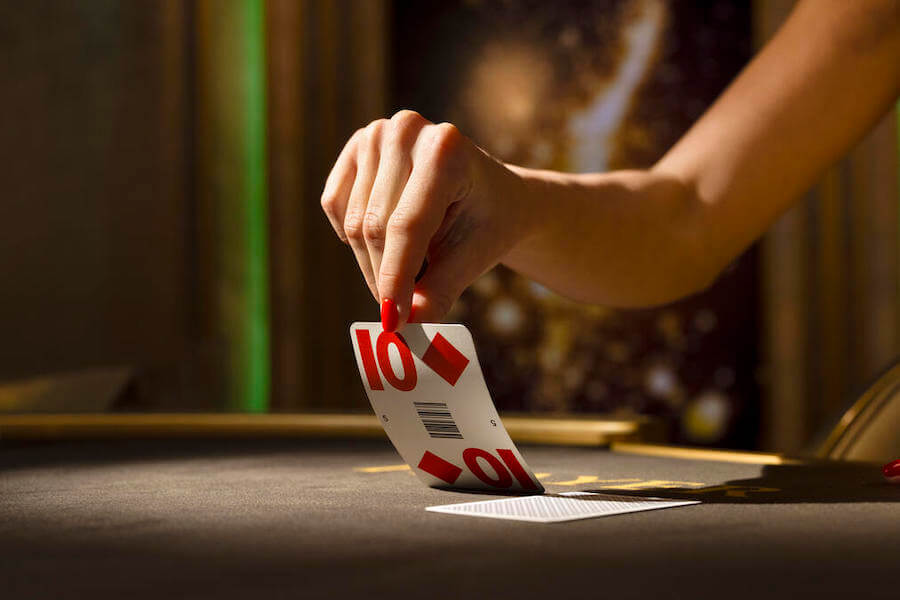 Baccarat variants with the lowest house edge
Another strategy for comparing the types of baccarat games is looking at its house edge. Look for baccarat variations that feature a lower casino's edge. Check out our top baccarat picks with lower house edge:
Punto Banco – This baccarat variant boasts an RTP of 98.4%.
No Commission Baccarat – The casino takes out the standard 5% commission for the winning Banker's wager.
Baccarat Squeeze – Baccarat Squeeze boasts an RTP of 98.4%.
Baccarat variants that payout the most 
You can also compare and check baccarat games based on their potential payouts. Check out our recommendations below before playing:
Baccarat Super Six – The Super 6 side bet awards a 12:1 payout.
EZ Baccarat – You don't pay the commission if you win the Banker's bet. Also, this game boasts two lucrative side bets, the Dragon 7 and Panda 8. These two baccarat side bets pay 40:1 and 25:1, respectively.
Best baccarat variants that suit any level of player
Your pick of what game to play depends on your experience and skill level.
The best baccarat variants for beginners
The classic baccarat game or even the no-commission baccarat is best if you're a beginner. However, you can also try out games with simple yet thrilling rules, like Punto Banco and Dragon Tiger. In Dragon Tiger, the bettor has two betting options – the Dragon or Tiger.
Baccarat variants for advanced players
High rollers and experienced players can play the entertaining live dealer blackjack games. These baccarat variations boast lucrative side bets and have special betting rules that make each game exciting. The three exciting baccarat variations in top PA casinos are Speed Baccarat, Lightning Baccarat, and Baccarat Squeeze. For example, each round lasts for just 27 seconds in Speed Baccarat!
Baccarat variations you should avoid
It's hard to ignore the game of baccarat in top PA casinos. In addition to its simple betting rules and exciting side bets, the prestige also comes with the game. Thanks to many Hollywood and James Bond movies, baccarat remains a classic favorite among different casino players. But if you need to skip the game, it's best to stay away from popular baccarat variants with a higher house edge.
Frequently asked questions
In a standard baccarat game, you can wager on one of three betting options. You can bet on Banker, Player, or Tie.
Some of the best baccarat games to play now are Punto Banco, Chemin de Fer, No Commission Baccarat, and Speed Baccarat.
Yes, there are live dealer variants playable in many US casinos. Some exciting live casino baccarat games are Speed Baccarat and Lightning Baccarat.