Lucky players in PA and other regulated US casino states walked away with over $104 million in winnings in 2022.
Key takeaways:
BetMGM US players claimed $104.4 million in progressive slot payouts in 2022
Michigan claims the top spot, but PA players also walk away with tidy sums
Bison Fury in NJ drops biggest jackpot
A recent report by BetMGM casino revealed that players in the US-regulated casino market walked away with over $104 million in progressive slot payouts in 2022.
BetMGM's Chief Revenue Officer, Matt Prevost, spoke on the development and expressed the operator's commitment to innovation and providing players with an unmatched gaming experience.
"We take tremendous pride in eclipsing the $100 million mark for jackpot payouts to BetMGM Casino players," said Matt. "We continue to innovate our online gaming product and look forward to offering some of the highest progressive jackpots in the United States in 2023."
Michigan tops the leaderboard on overall wins.
Although players in other states had a date with lady luck in 2022, Michigan saw the lion's share of the action. Progressive jackpot payouts in the Great Lakes state totaled $38.3 million.
BetMGM Casino also reported figures for New Jersey and Pennsylvania. Progressive jackpot lovers in these jurisdictions enjoyed $30.2 million and $28.9 million in winnings, respectively.
Five lucky winners bagged over $2 million in 2022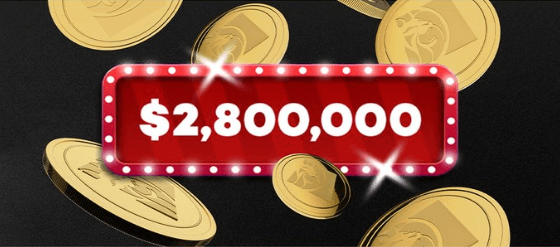 2022 was a very significant year for five lucky winners, who went home with over $2 million in progressive jackpot slots payouts each. To make it even more interesting, all these wins were on two progressive slots: Bison Fury and MGM Grand Millions.
$2.8 million – April 16, Bison Fury (NJ)
$2.5 million – March 3, Bison Fury (MI)
$2.3 million – September 9, MGM Grand Millions (MI)
$2.2 million – August 4, Bison Fury (NJ)
$2.1 million – December 23, MGM Grand Millions (MI)
As 2023 progresses, we can only expect more wins from BetMGM casino. If last year is anything to go by, it will not be long until more millionaires are made online this year.