What you can find in this review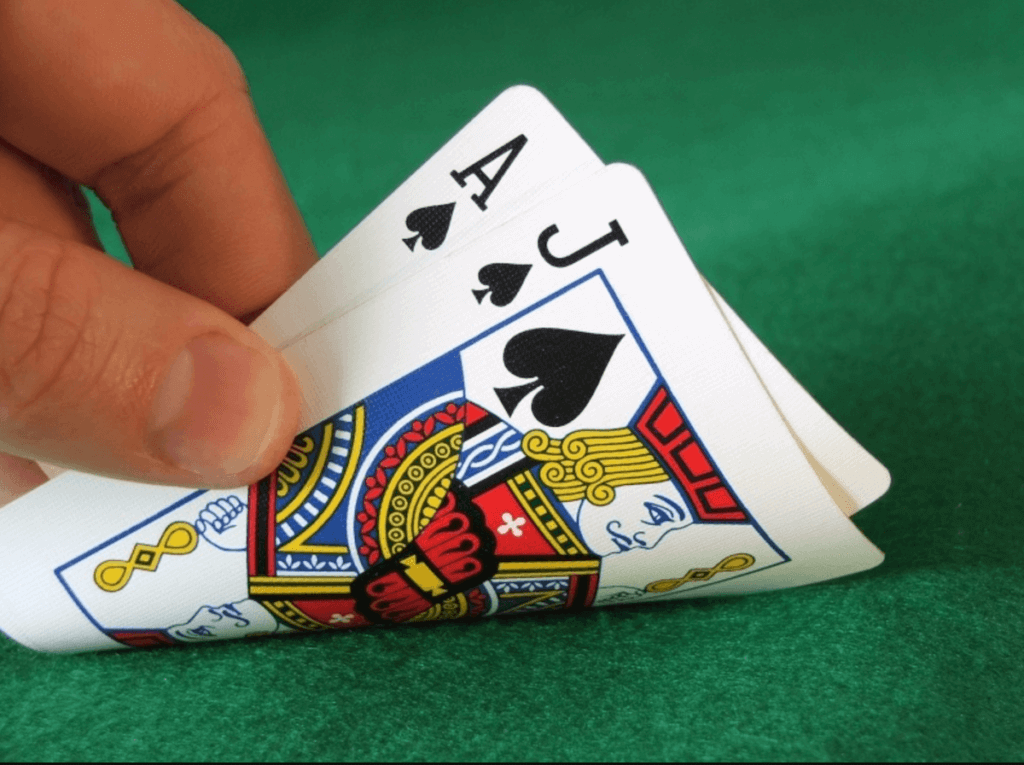 Why should I use a blackjack betting strategy?
Compared to slot machines, online blackjack does not solely rely on the results of the Random Number Generator (RNG) software. It requires an understanding of the rules, decision-making skills on how to hit, stand, or double-down. Also, it involves a proper bankroll management.
Can one blackjack strategy to win assure me a victory?
Let's be clear; there are risks when playing online blackjack. Also, there will always be a house advantage in all online blackjack variants. But with a blackjack strategy in place, there's a chance to lower this house edge to just 1% or even lower. A blackjack betting strategy can help protect the players' bankroll and help avoid massive losses.
So… Why actually play using blackjack strategies?
Whether you're a beginner or an experienced casino player, it's important that you have a blackjack winning strategy. A player needs a strategy as guide on when to hit, stand or split based on the available cards on the table and number of decks in play. Having a strategy also gives you better control of your bankroll.
The most basic Blackjack Strategy
As mentioned, the results of online blackjack are not at random. It requires a basic strategy on deciding when and what to do, based on the playing cards and decks available.
Hit or Stand?
The most basic blackjack strategy is knowing when to hit or stand. In blackjack, to hit means to ask for another card, and to stand, means you are satisfied with your hand value. As you can see in the chart below, collecting specific hand values should trigger a hit or a stand.
For example, 5 points should be a hit and a hand value of 19 or 20 should stand.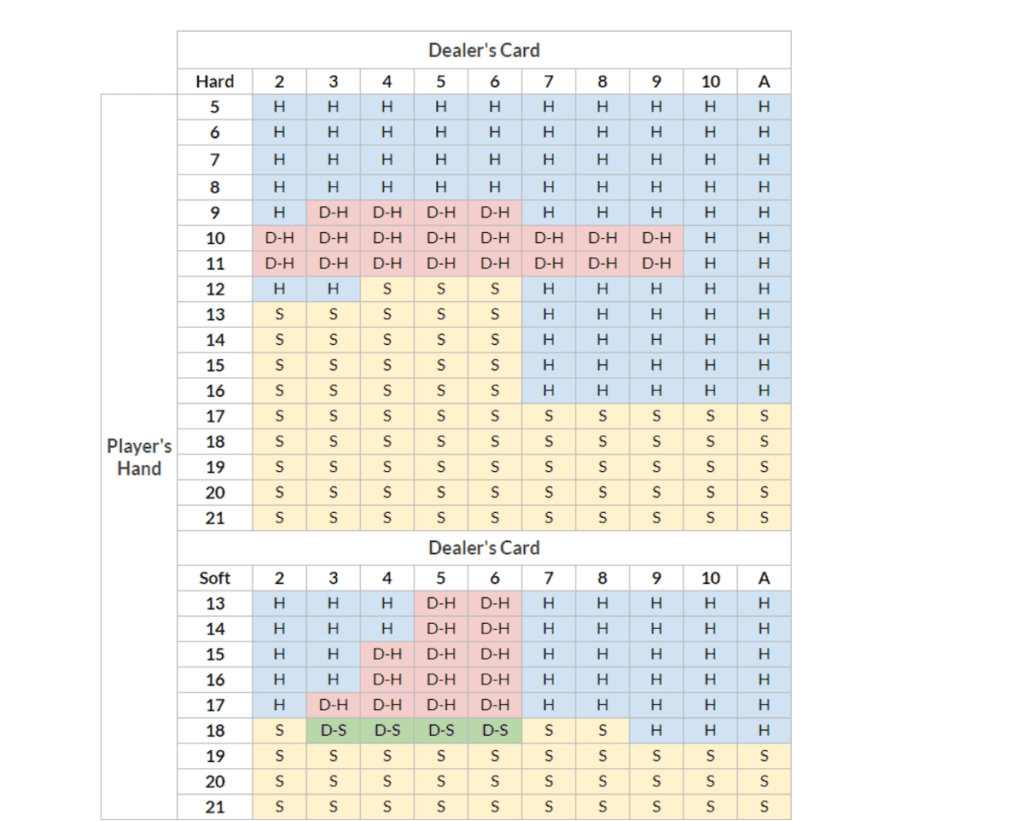 Double Down
To double down means to double your wager in the middle of the round in exchange for a card. Yes, it's a risky online blackjack strategy, but it can offer huge returns.
For example, you can double if the dealer's card is 5 or 6, and you have an Ace and 3.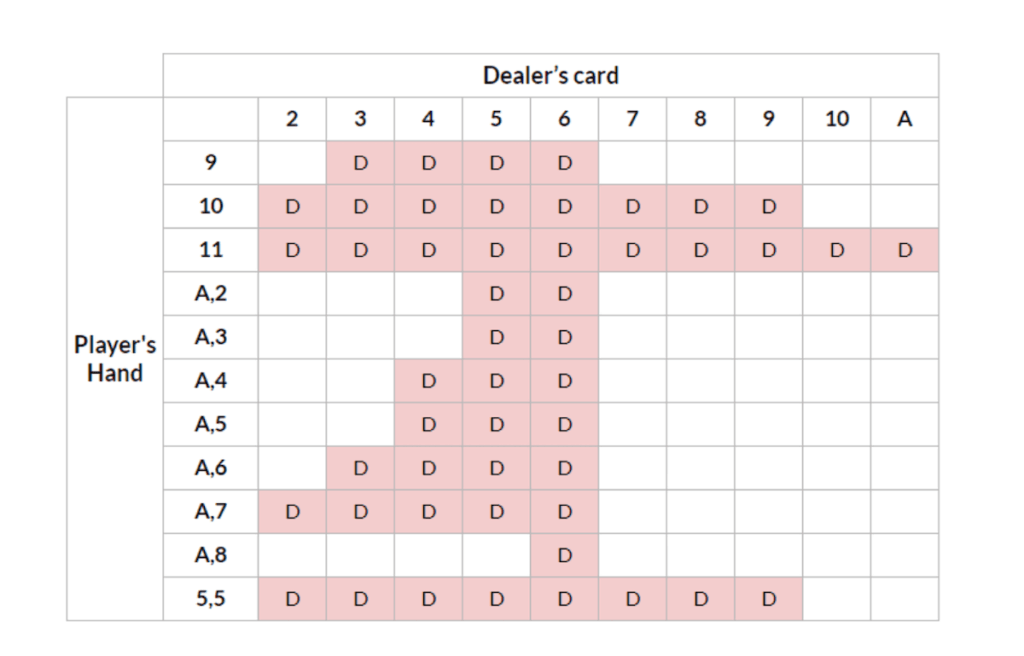 Split Pairs
If you receive a pair of cards of the same value, you have the option to split these into two cards. There are certain cards that you should split, such as aces and 8s, as indicated on the summary below.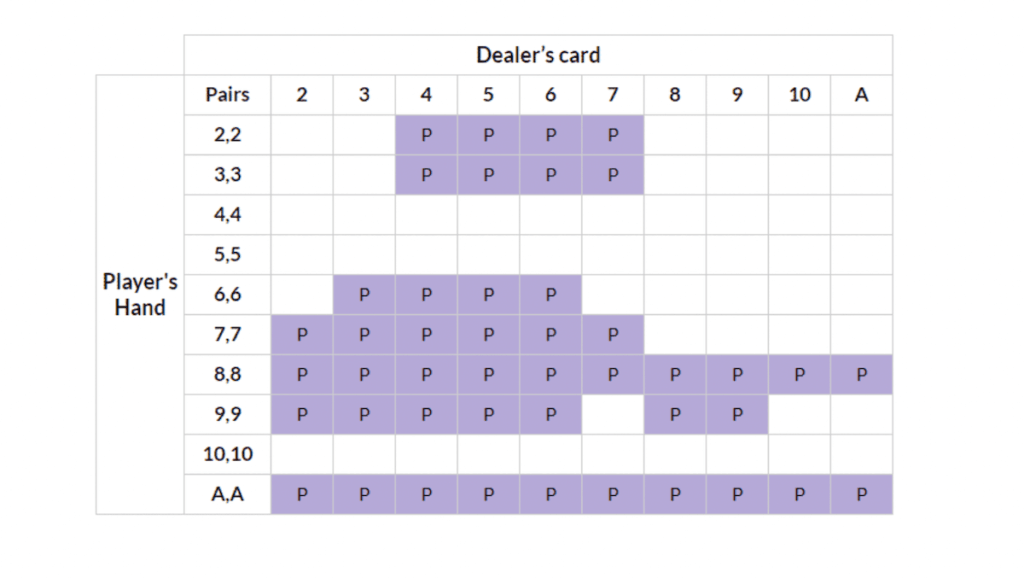 When to surrender?
This is an optional rule in the game that allows you to give up your hand and half your bet after checking the dealer's hand. The blackjack strategy that works is to surrender the hand if it has less than 50% chance of winning.
The most popular Blackjack betting strategies
Online blackjack is a classic card game that relies on math, basic rules, and decision-making skills of the player. Here, your task is to get to 21 using the dealt cards before the dealer. To get into a winning hand, there are certain rules in place and a blackjack strategy on how to hit, stand or split. Described below are some basic blackjack strategy tips and tricks you can consider.
1. Double Down on a hard 11
To double down is a risky yet lucrative online blackjack strategy. You do this with a hard 11, and the dealer's card is lower.
2. Hit a hard 12 against a dealer's 2 or 3 upper card
If you have a 12, your best bet is to hit, especially if the dealer's upper card is a 2 or 3. Yes, some players may fear getting a 10 and getting bust. But there are only four cards that can busts your hand- a 10, Jack, King or Queen, and the rest can help you win.
3. Double Down on 10 when the dealer's upper card is 9 or less
This is another working blackjack strategy that brings results to players. If the first two cards are 8 and 2 or 7 and 3, and the dealer's card is lower, then you have a higher probability of winning. You can't go bust, but the dealer can go over 21 because he must hit until they get to 17.
4. Double down a-2 through a-7 when the dealer's upper card is a 5 or 6
Based on the table above, you can also improve your chances by doubling down with an Ace and 1 to Ace and 7 and the dealer's card is 5 or 6. With an extra card, the chances of getting a 21 is better than going bust.
5. Never make the insurance bet
If you want a winning blackjack strategy, then you should stay away from the insurance bet. It only pays 2 to 1 and the house advantage is set at 6%.

Which blackjack Strategy should you choose?
As you play blackjack and learn more about the game, you'll find several strategies at work. You don't need to try all strategies to start winning in this classic card game. There are different blackjack variants, each with slight changes in rules and number of decks in play. As such, there's no single most successful blackjack strategy. The best approach is to pick the best blackjack strategy that works for your skills and risk level.
| Best strategies for a beginner | Best strategies for a pro |
| --- | --- |
| Splitting a pair – This is a great strategy, especially if you have two Aces or two 8s | Double down on Hard 11 – This is a risky strategy but offers some good chances of landing a better score, or even a 21 |
| Stand with a 19 or 20 – It's a prime hand value and you no longer want to risk going bust with an extra card | Surrender strategy – It's a risky strategy but if played right, it can save the player a lot of money in the long run |
Blackjack strategies for beginners
1. Split a pair
As part of the blackjack rule, you can split two cards of the same value into two hands. For example, experts say that you need to split two Aces.
2. Stand with 19 or 20
This is blackjack strategy is a no-brainer since picking another card will surely get you bust.
3. Hit with 5 or below
You need to hit and get another card to increase your chances of improving your hand value.
4. Avoid the Insurance side bet
The insurance side bet is never recommended as it offers a house edge of over 6 percent.
Blackjack Strategies for advanced players
1. Double down on Hard 11
Doubling down or doubling the wager in the middle of the round is always a bold move. Experienced players do this if they have a Hard 11, or they have a 5 and 5, and the dealer's card is less than 9.
2. Surrender strategy
To surrender has a negative connotation, but for some players, it can help protect the bankroll in the long run.
What is blackjack card counting and is it actually working?
One blackjack strategy to win is to count cards. Under this strategy, you need to track the cards as they appear on the table and track if it shifts in your favor. If this happens, you increase your bet on the blackjack table. Although the principle appears simple, the counting process follows some rules.
How to count cards?
In the card counting online blackjack strategy, you need to assign a count to each card. The count always starts at 0, and cards 2 to 6 get +1, with the 7 to 9 with 0. Your 10s to Aces in the deck get a value of -1. For example, if the round deals three and four cards, the count becomes +2.
Short or long term strategy in blackjack?
In the long term, it's difficult to beat the game due to its house edge. But there are several short- and long-term strategies that you can use to reduce the edge and protect your bankroll. For example, in the short term you can master the best time to hit, stand, split or double down.
Also, if you are a new player, you should skip the insurance bet. There are betting strategies, too, including the Martingale blackjack strategy, where you double your bet after a losing hand.
For your long-term strategy, you can focus on your bankroll and choice of what tables to play. If you're a beginner, play the tables with low betting limits. Finally, you need to identify a blackjack bankroll and stick with it.
General beginner mistakes easy to avoid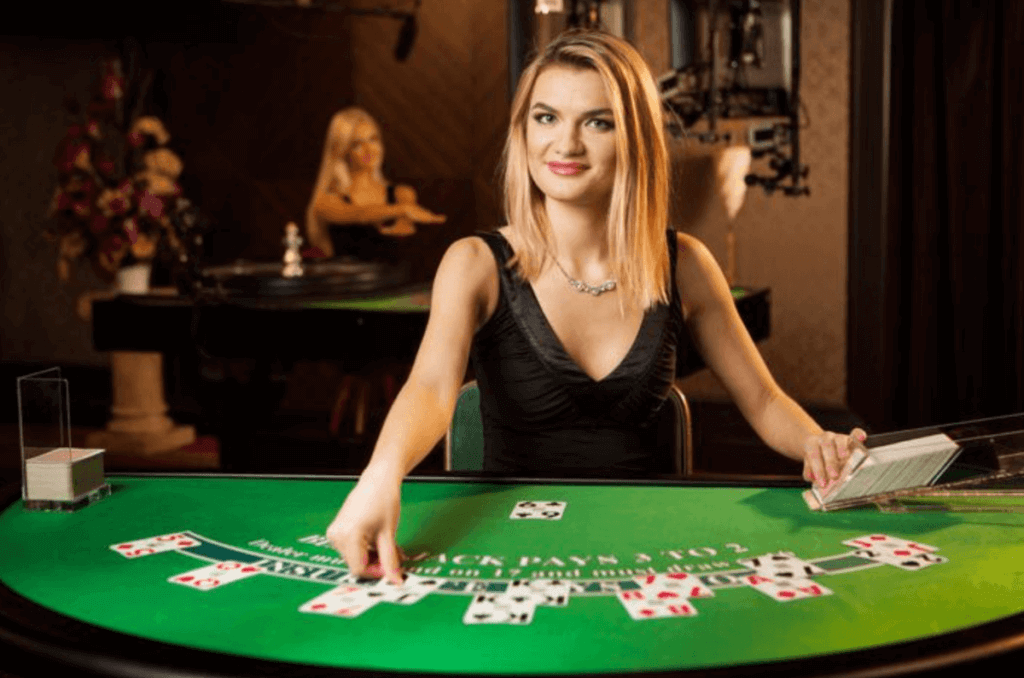 If you want to be successful in the game, then you should avoid the most common players' mistakes in blackjack.
To win, you must learn the rules and the fine print of the game and the casino bonuses. Joining a blackjack game without knowing the terms can be a costly mistake.
Also, forgetting the basic rules of hitting and standing in exchange for that 'gut feel' is another mistake. Finally, not setting a limit can be painful in the long term. To succeed, there must be a solid online blackjack strategy that you can follow every time!
Frequently asked questions
Yes, a blackjack betting strategy is your plan on how to manage the house edge and improve your chances of winning.
In blackjack, it's recommended to stand with a hand value of 19 and 20 and hit if that value is below 8.
For some players, card counting is their most successful blackjack strategy. Here, you need to track the card values and increase the bet if it shifts in the player's favor.