White Rabbit Review
White Rabbit Megaways Slot Review
Hop around on a fun and exciting gaming experience with BTG's video slot game, White Rabbit Megaways. If you're looking for a full review of the specs and bonus features of this game, then you're certainly in the right place.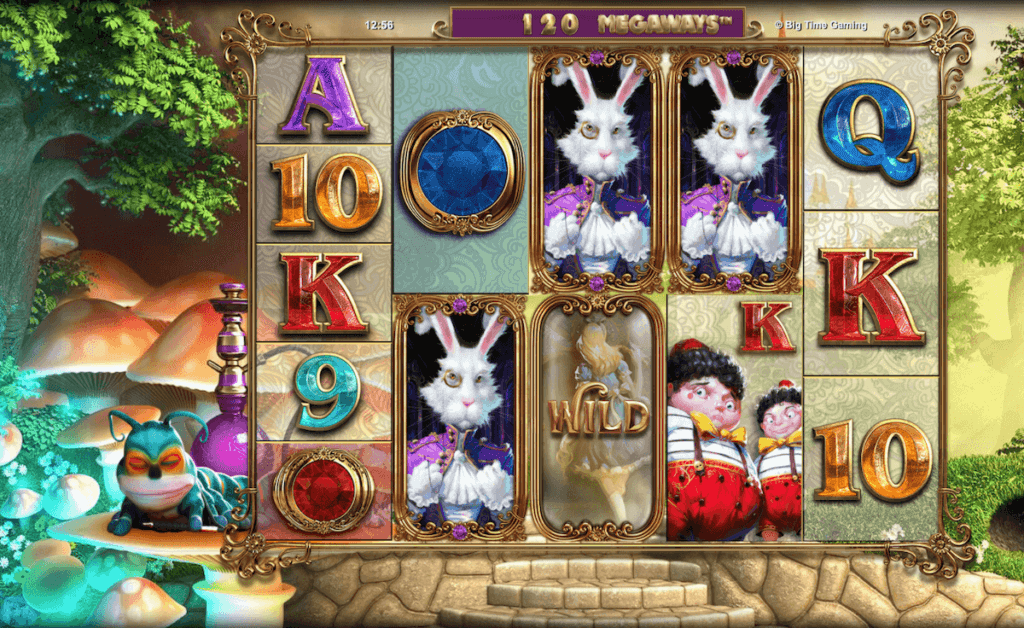 How I Tested White Rabbit Megaways Slot
Putting together a review can be exciting to do, and in this one, we took the time to ensure that specific criteria had been set up first before we took to putting it all together.
Judging a Book by Its Cover
With this step, we look at the game's design and assess the overall use of colors, characters, and shapes to add excitement to the game. With this step, we also listen in on the game's sound to see if it's vibrant enough to add to your gaming experience.
Looking at the Specs
During this step, we take the time to look at the details concerning the game. This would include specifications like the return to player (RTP) percentage, volatility rate, hit frequency (if any figures are available on that), and the maximum jackpot.
Assessing If Beginners Would Enjoy the Game
Providers never know who's on the other side of the screen, and this includes knowing if the player is experienced or still starting out. During this step, we look at whether or not the game is beginner-friendly and straightforward enough to navigate around.
Can the Player Walk Away With Worthwhile Rewards?
With this step, we assess the game's bonus features and see how innovative the casino has created opportunities for players to walk away with. Rewards can make the player want to return for a second round.
Can the Player Have Their Fun While on the Go?
Here, we look at whether or not the game can be played on both a desktop and mobile device.
Play White Rabbit Megaways With the Best Bonus
You can find and play White Rabbit Megaways at DraftKings. DraftKings has an excellent welcome package for all new players that includes a $10 no deposit bonus and a 100% match bonus up to $1,500 on your first deposit.
White Rabbit Megaways Symbols & Payouts
If you've been in the game for quite some time, you would know that your game symbols are something to look out for. Not all symbols offer the best payouts, so ensure that you know which ones to watch for those worthwhile winnings.
The Symbols
The numbers 9 and 10 are seen as the lowest paying symbols of the game, with payouts reaching as high as 0.7x the stake. Average paying symbols would include the letters J, K, and Q, which have maximum payouts of 1.9x the stake. Well-paying symbols would be the letter A, green, blue, and red gemstones, which have maximum payouts of 5x the stake. The highest paying symbol is the red queen, who has a maximum payout of 25x the stake.
The scatter symbol is the rabbit, and it only appears on reels two, three, and four. It's able to trigger feature games and can reward players with up to 15 free spins.
The wild symbol is the WILD card, and it only appears on reels two, three, four, and five. It can substitute the scatter symbol, feature drop, and cupcake symbols.
Paytable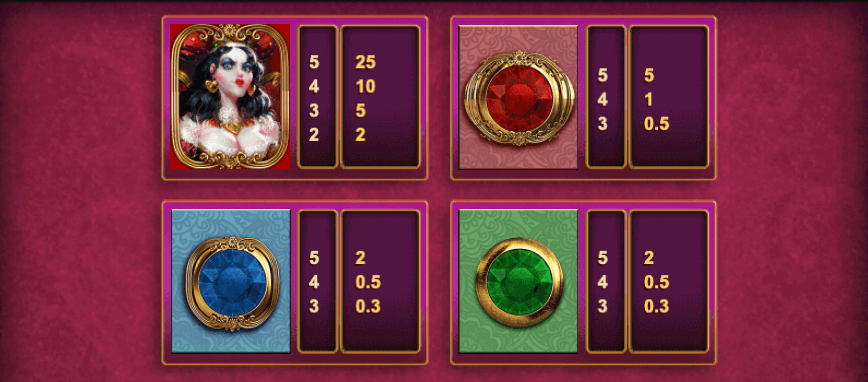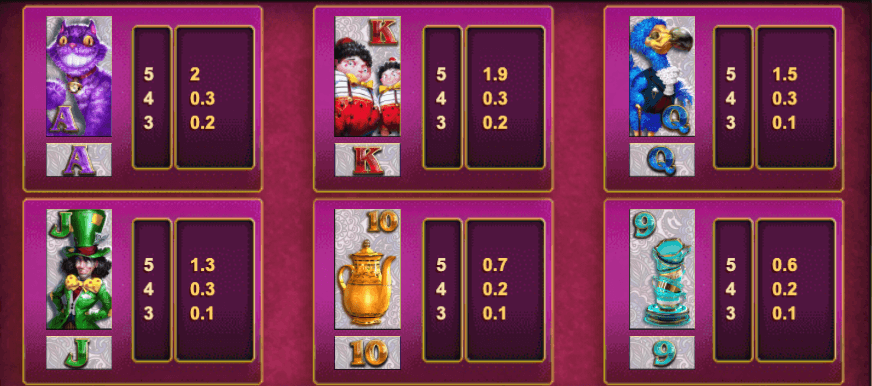 Min/Max Bet, Autoplay Option
White Rabbit Megaways has a minimum bet of $0.10 and a maximum bet of $20. It also offers an autoplay function.
RTP
The Megaways slot game has an RTP score of 97.77%.
Volatility
White Rabbit Megaways has a high volatility rate.
Jackpot And/or Maximum Win
The maximum win that a player can expect from this game is 13,000x the total stake.
White Rabbit Megaways has some good specs to look forward to.
If we start with the symbols, any experienced player will tell you that the maximum payouts aren't the best there are. Because the maximum bet size is $20 also doesn't leave a lot of room to make some big wins with payout amounts of 1.5x or 2x. But the gemstones and red queen are certainly something to look forward to.
Again, the maximum bet isn't all too exciting, but we hope that the bonus features offer enough opportunity to make up for this. We take delight in the RTP score of 97.77%, which makes this game a decent game to consider.
Couple that with a high volatility rating, the game is well worthwhile for the patient player. You may want to consider using the autoplay function during this time as well.
And who knows? You could just be one of those lucky winners to score the maximum jackpot of 13,000x your stake, which is quite impressive.
For this reason, we have decided to score the step on specs and details a solid 15/20.
Game Features
Whether you're experienced in slots or just starting, you are very aware that the chances of winning the maximum win are slim. For this reason, we take time to look into the options that providers create to allow players to walk away with some exciting rewards.
Wilds, Re-Spins, and Other Features
Caterpillar Wilds Feature
During this feature, you'll find a sleeping caterpillar that's lying over your game. It can add some bonus wilds that come with multipliers during the game. He can be randomly activated. There's a hookah pipe that he smokes, and when he does this, he can reward the player with a maximum of 12 smoke rings where each ring adds bonus wilds. During this time, you can get a maximum of four bonus wilds with multipliers of 2x or 3x. What's even better is that multipliers can multiply each other as well.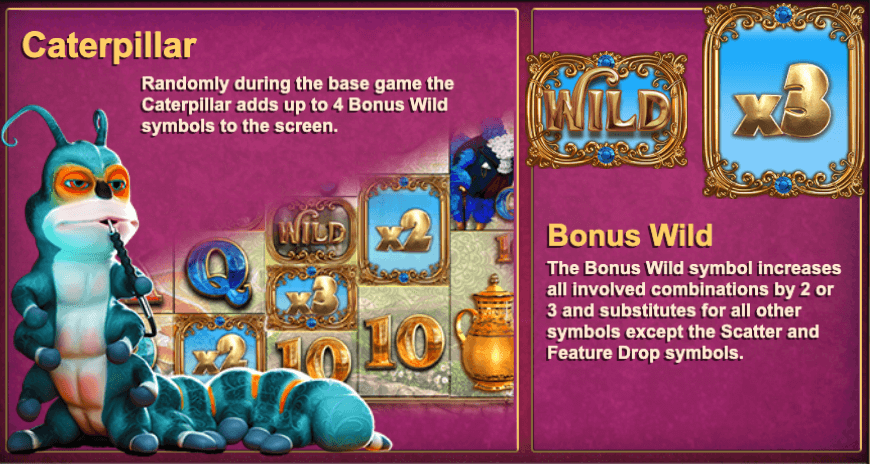 Free Spins Feature
The White Rabbit, which is the scatter symbol, needs to land on reels two, three, or four during one spin to trigger the Down the Rabbit Hole Free Spins feature. This will afford you 15 free spins that you can use during other sets of reels.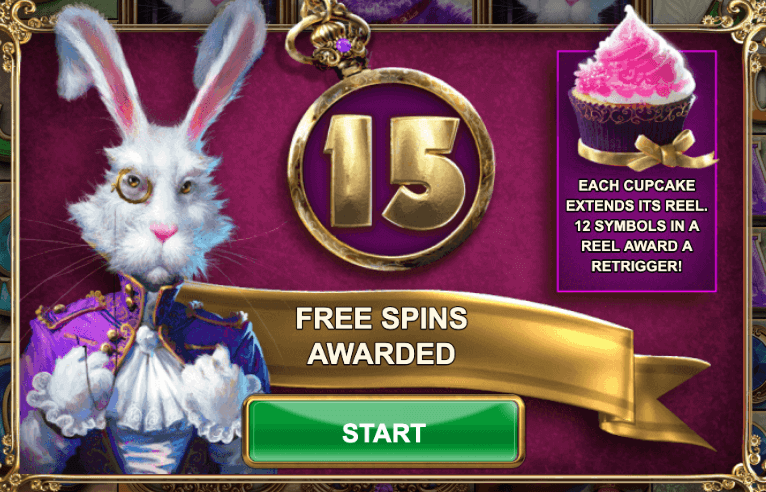 Extending Reels Feature
The Cupcake symbol can be substituted with two new symbols, and each symbol on that reel can grow by one. Should the reel reach its maximum height of 12, you get between three and 12 free spins. You can do this up to five times.
Bonus Buy
The bonus buy of White Rabbit Megaways would have to be the Feature Drop feature. This feature allows you to buy free spins, and you'll find this amount displayed at the bottom of the reels. Essentially, it's 100x your total stake. The BTG gold coins can reduce the price of the free spins; you can buy a way to the game's main bonus feature. Once the balance reaches zero, you will automatically trigger the Rabbit Hole Free Spins feature.
A fantastic way for players to multiply their stake.
White Rabbit Megaways has undoubtedly made a way to use their Megaways engine in a way that can genuinely multiply stakes one round after the next. Coupling the free spins with the multipliers allows the player to grow their stake repeatedly while playing at no cost to you.
Having wilds and scatter symbols during the game also aids in increasing the chances of scoring winning combinations which is also an added benefit to look forward to. Should you find yourself in need of any free spins, you have a feature that allows you to buy these.
BTG has gone out of its way in living up to what a Megaways slot engine is meant to do, and it's for this reason that we've scored the section on bonus features a solid 20/20.
White Rabbit Megaways Graphics & Sound
Competition is stiff in gaming design as providers go out of their way to make their games thoroughly entertaining and catchy on the eye. So in this section, we will be assessing the design, layout, and sound of the game while quickly touching on some added features such as mobile compatibility.
| | |
| --- | --- |
| Graphics: | Use of 3D, high-quality graphics which are vibrant and bold in color. |
| Optimized for mobile: | Yes. |
| Music: | Dramatic and calming in respective parts of the game. |
| Special features: | None |
It's all things colorful, bold, and vibrant.
White Rabbit Megaways is themed with the famous novel story Alice in Wonderland by Lewis Carroll. It's a beautiful setup with adorable animals and fun character symbols like hookah pipes. Even though the board game in itself can seem rather busy at first, the graphics are vivid, colorful, high-quality, entertaining, and appealing. To add to that, you also have the sound which becomes very dramatic during gameplay and takes a calmer note when you're not active. It's a fantastic way to add life to the whole thing.
Everything is well laid out on the game board with straightforward icons that can be understood without a guide. Should you need a guide, you can make use of the one they have compiled already.
We commend BTG for having the game optimized for mobile use as well. It's an excellent way to have the game tag along with you while on the go, and the quality is good even on mobile devices.
For this reason, we have decided to score this section a solid 60/60 for design, navigation, and mobile compatibility.
Solutions If You Have Some Issues With a Game
If you have encountered a problem while playing the game and need some tips, we have compiled a few pointers to look out for:
Outdated Java and Flash may cause your game not to load, which could mean zero access to the game. Keep them updated at all times.
A weak or intermediate internet connection may stall your gaming. Ensure your connection is strong.
Your session may time out if you leave the game unattended for a while. Simply refresh the browser when this happens.
Verdict
BTG has proven itself to be quite the innovator in games, and they have done exceptionally well in their Megaways slot. It's for this reason that our final score sits at 95/100.
Other Slots to Play If You Like White Rabbit Megaways Slot
If you enjoy playing White Rabbit Megaways, be sure to check out our list of The Top 10 Megaways Slots in PA!