Spartacus Megaways Review
Spartacus Megaways Review
We take a look at WMS and SG Digital's video slot game, Spartacus Megaways. Find out how to take advantage of its incredible bonus features, decent RTP, and high volatility.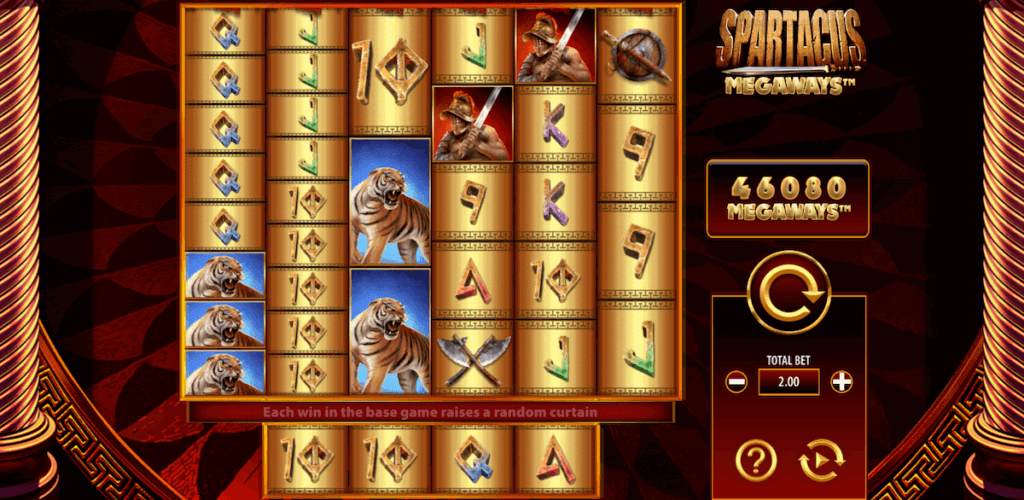 How I Tested Spartacus Megaways
To conduct a review, specific criteria need to be used to conclude a final verdict on the slot game in the end. I took some time to play the game and experience all of the game's features for myself. So if you're wondering what elements influenced my opinion and the final score, keep reading for more.
The Layout and Design of the Game
Before we even touch on factors like bonus features and the likes, first impressions are essential. A significant part of our verdict is made up of how entertaining, catchy, and well-organized the game's design and layout are.
The Details
Here we ask questions related to the RTP score, volatility rate, hit frequency, and a maximum win of the game to assess the chances of you, the player, making the experience more worthwhile.
Ease in Navigation
We look at whether the icons are easy enough to understand without a guide. Otherwise, does the game inform the player of what symbols there are, the payouts, and information concerning bonus features?
The Bonus Features
At the end of it all, each player wants to walk away with more than what they started with, so we look at what game features the software provider has added to make the slot worth playing.
Play Spartacus Megaways With the Best Bonus
You can enjoy Spartacus Megaways at DraftKings. DraftKings offers all new players a $10 no deposit bonus just for signing up. You can also opt-in to a 100% match bonus of up to $1,500 on your first deposit.
Spartacus Megaways Symbols and Payouts
Most software providers usually have a detailed guide on the different symbols used in the game, their individual payouts, and any added bonus features. Always go through this, as it will aid you in knowing what symbols to focus on.
The Symbols
The game has 12 symbols with different values for matching them together. The commonly seen 9, 10, J, Q, K, and A are at the bottom of the list in value. The other symbols will earn you much bigger wins, with the Tiger at the top in the value ranking.
Paytable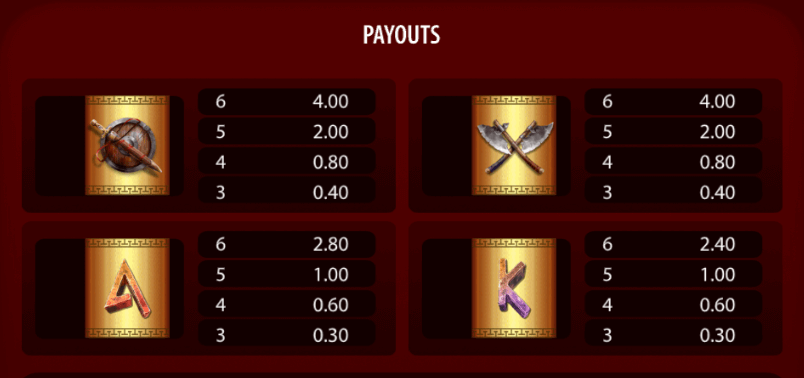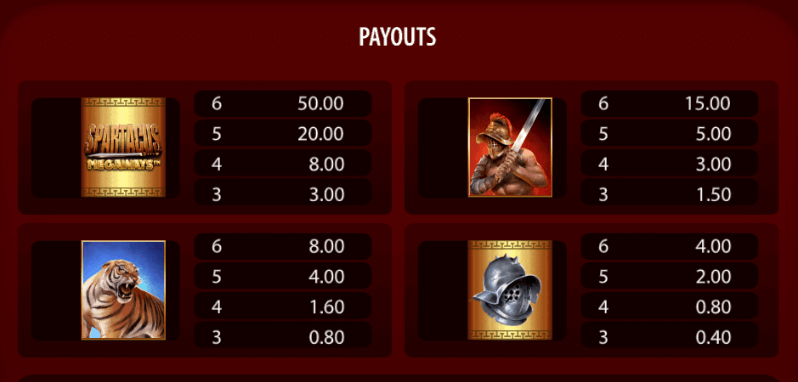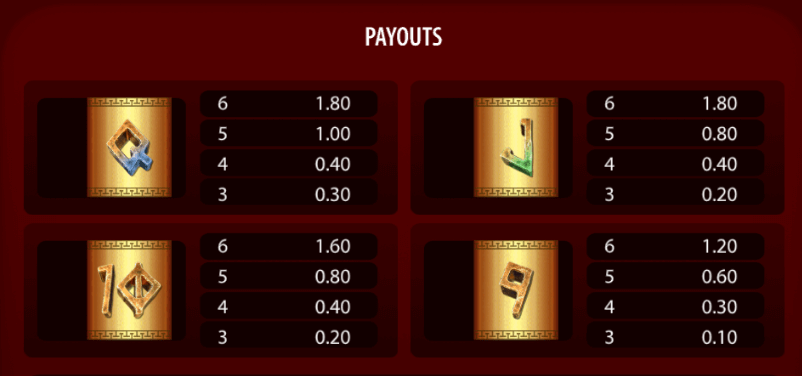 Min/Max Bet and Autoplay Option
Spartacus Megaways has an affordable and standard minimum bet of $0.20 and a maximum of $20. It also offers an autoplay feature that is excellent for times when you just want to have the game going for you.
RTP
Spartacus Megaways has an RTP score of 96.32%, which is above average.
Volatility
Spartacus Megaways has a high volatility rate, which means that you might have to wait a little longer for a win. However, the wins you gain will be bigger than those you can expect from low volatility games.
Hit Frequency
Spartacus Megaways has a hit frequency of 30.2%, which is expected of a high volatility game.
Jackpot And/or Maximum Win
The maximum win players can look forward to in Spartacus Megaways is 12,500x the wager, but the game doesn't have a jackpot.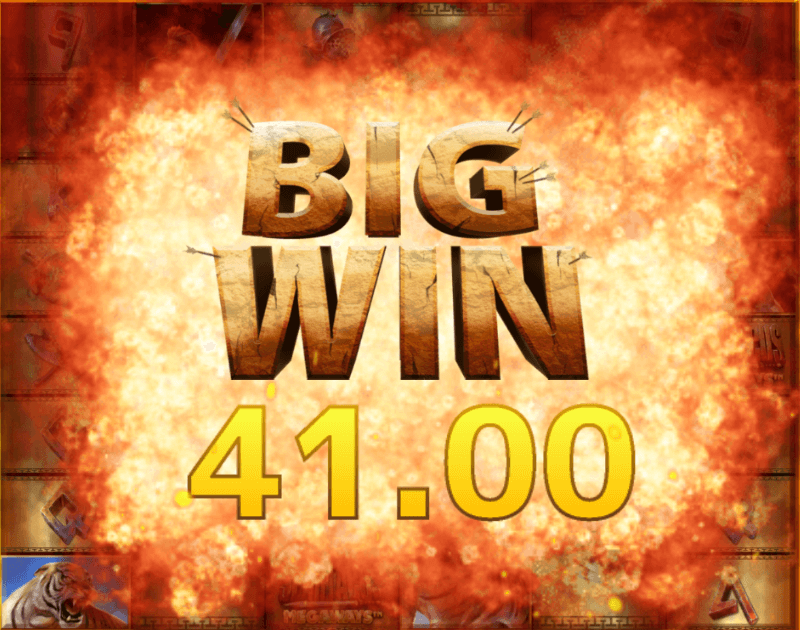 It's a balanced video slot game.
Spartacus Megaways has some pretty decent and rewarding features already. We haven't gotten into any of the bonus features as yet, but we can see that there is a great chance to find yourself walking away from your game with a worthy reward.
The slot offers an affordable yet standard, minimum bet making it suitable for any player's budget. To top that, the RTP of 96.32% is pretty decent. It has a high volatility rate as well, which means that, yes, you can have a time where you'll seem to be making quite a few losses in the run; however, during those lows moments, you're guaranteed a worthwhile experience. In addition to this, the game holds a maximum win of 12 500X the total bet in addition to a payline system of up to 1 million chances. That's impressive!
Game Features
Game features are innovative ways that software providers keep their online casino slot games rewarding and entertaining. Let's take a look at the features available on Spartacus Megaways.
Wilds, Re-Spins, and Other Features
Cascades Feature
If you manage to score three or more matching symbols while playing, then you automatically qualify to play in the Cascades feature. Here, the feature allows for an explosion of winning combinations so that new combinations can appear. With each win, you get the chance to receive an unlimited win multiplier of +1.
Curtain Dynamic
Another exciting feature to look forward to is the Curtain Dynamic feature. During every spin, certain reels of the game will be covered with a red curtain. Should the player win during the base game, the curtain will randomly be removed on a reel. During this time, the player can look forward to an increased chance of experiencing added cascades during the game.
Free Spins Feature
If you get four or more Amphitheatre symbols, you will automatically qualify for the Free Spins feature. Players can expect to win a maximum of 16 free spins and a curtain configuration during this time of the game.
Since you're not playing in the base game at this point, the number of curtains that you've triggered will remain unchanged, which works in the player's favor.
You'll also begin to notice that all your wild symbols will now expand and cover the entire reel, including reels that have curtains covering them. During this time, getting three or more scatter symbols allows the player a chance at free spins, yet again.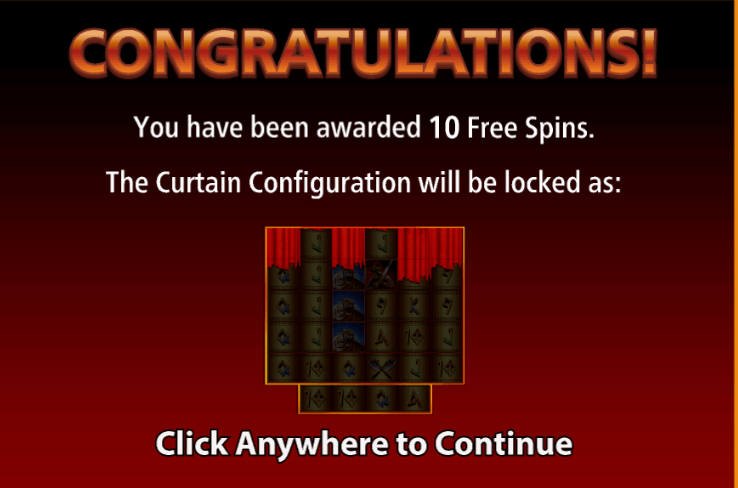 Spartacus Megaways comes with some rewarding innovation
It's crucial that bonus features make the player feel enticed and entertained throughout the game. Having said this, Spartacus Megaways goes out of its way to ensure that it accomplishes this.
There's a lot to keep a player's options open in this game, with scatter symbols and wild symbols that come bearing gifts in the form of increasing your chance at different winning combinations.
Not only that, but the game comes with unique additions, like the Cascades and curtains. These features are proving to be pleasing on the eye and pocket, which is fantastic for players that are genuinely out to have a good time while gaming.
Spartacus Megaways Graphics and Sound
| | |
| --- | --- |
| Graphics: | Stunning use of 3D graphics |
| Optimized for mobile: | Yes |
| Music: | Rhythmic soundtrack |
| Special features: | None |
Stunning designs, but more can be done with the layout
Spartacus Megaways has an attractive design, apart from the busy red background, with its Roman Empire theme and use of colors that lightly work to make the design bolder in appearance. However, the design is one thing, while the layout is another.
The colors of the game blend together very well. All of the symbols and icons are made to match. This might be too effective as we find it makes it more difficult to find a specific icon for spinning or accessing the paytable.
For this reason, we recommend you first familiarize yourself with the game's layout not to find yourself clicking on the wrong icons during your game.
Other than that, everything works well together to bring the game to life, including the thumping soundtrack.
Solutions If You Have Some Issues With a Game
Before thinking of contacting any customer support channels for assistance, please consider the following:
Video slot games are made to use the best technology there is. Always ensure that your Java and Flash are continuously updated. If you see an error notification or trouble in completing the loading process, this could be why.
It's always recommended that you use a WiFi network that will offer you a quality internet connection. This will help you in ensuring that the game doesn't often pause or take time to load.
If you've just returned from a short break and found that your session has timed out, be sure to refresh the page to play again.
Should you still need any further assistance, be sure to contact customer support for help.
Verdict
In terms of the design and layout, the game puts together a beautiful piece of work with an attractive theme. However, more can be done in making the game the centerpiece of the screen.
The game has an attractive RTP and hit frequency for a high volatility game. We must say that the game's bonus features are fantastic in high payout rewards, design, and innovation. Brilliant! So it's for this reason, we have given Spartacus Megaways a final score of 80/100.
Other Slots to Play If You Like Spartacus Megaways Slot
If you have enjoyed the likes of Spartacus Megaways, then be sure to check out our list of The Top 10 Megaways Slots in PA!.