Red Hot Tamales Review
Increase your chance to win with 27 paylines
The Blackout feature gives a tasty 100,000x payout
Traditional stepper slot gameplay
Our Red Hot Tamales slot review serves up all the delicious details about the game's RTP, volatility, and features.
So what are you waiting for? Let's jump in!
Red Hot Tamales Slot Information
Provider
IGT
Volatility
Low
RTP
95.83%
Features

Wild symbols
Blackout Wins

Paylines
27
Reels
3
Minimum Bet
$0.27
Maximum Bet
$540
Top Win
100,000X
Find the best bonus for Red Hot Tamales
Red Hot Tamales Symbols and Payouts
At first glance, this slot doesn't seem to offer much more than a typical stepper slot – the name given to classic three-reel machines.
However, with 27 paylines that pay from left to right, there's a decent chance you might land yourself a tasty win.
Symbols
This slot from IGT has all the traditional symbols you'd expect from this kind of game: bars, sevens, and wilds.
The former two appear in different colors, but that's as far as the variety extends.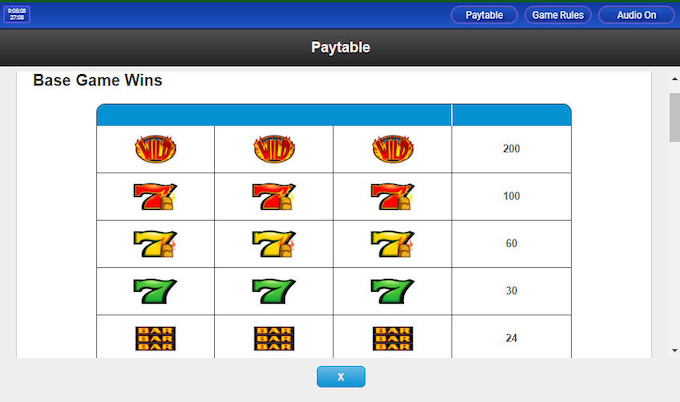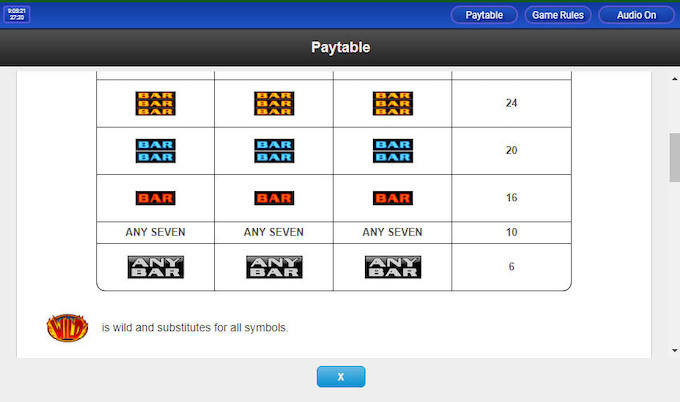 Paytable
27 paylines is definitely a selling point of this slot, as is the uncomplicated point structure.
As you'd expect, 7 symbols are the ones you want the most of, with red ones worth 100 points if you line up three.
The flaming Wild icon is the most valuable, though, at 200 points for three.
Red Hot Tamales min / max bets
You can make a minimum stake of $0.27 to cover all paylines and a maximum bet of $540.00.
The game lists these amounts as credits, but you should have no problem playing in a currency relevant to the site you're playing on (e.g., USD).
Red Hot Tamales RTP, volatility & hit frequency
The Red Hot Tamales slot RTP won't set your world on fire; it has a relatively low range of between 92.67% – 95.83%.
This value is matched by low volatility and an approximate hit frequency of 30%, which are expected of a steeper slot.
Red Hot Tamales Jackpot and/or maximum win
This slot doesn't have a typical jackpot, but rather Blackout wins, which we'll look at in more detail below.
It's a feature linked to the maximum possible win of 100,000 credits (you can replace 'credits' with a relevant currency when you play this for real money).
Red Hot Tamales Features
The Red Hot Tamales slot from IGT is low on features. Only Wilds and Blackout wins are available.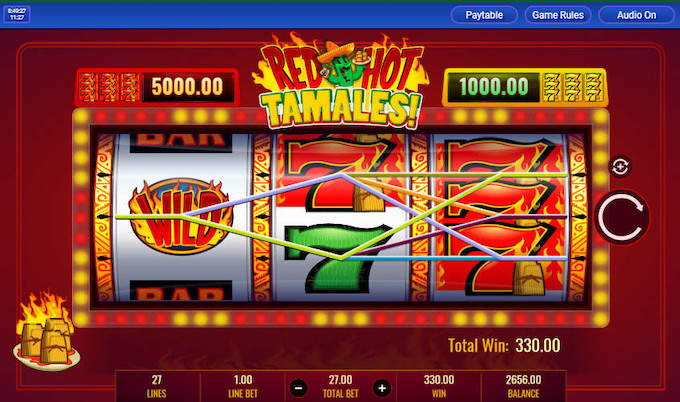 Wilds, Respins, and other base game features
There's only one possible Wild symbol available in this game. It functions exactly how you'd expect it to.
Wilds
A flaming Wild symbol is the highest individual icon you can land.
However, it substitutes all other symbols, so if you manage to get Wilds lined up with 7s, you're looking at a decent payout.
Blackout Wins
Instead of a typical jackpot feature, this title has Blackout wins. When you place a bet, two separate totals get bumped up.
These are linked with red and yellow 7 symbols, respectively.
Fill the reels with yellow 7s, and you could dish up 20,000x in winnings. Get all the lines covered by red 7s, however, and you can say hello to a tasty 100,000x payout.
Given the low return to player value of this slot, your chance of hitting all 7s is unlikely, but not impossible. Plus, the Wild symbol really helps your chances here
Graphics & Sound
The IGT artists must have been taking a siesta when they designed the Red Hot Tamales slot, as the whole aesthetic is a little boring.
There's a small taste of Latin American flavor in the loading screen, and the main logo, as a cactus waiter offers up flaming tamales and hot sauce in front of a Mexican flag.
Minor detailing around the reels also hints at the slot's culinary heritage, but otherwise, this is as copy and paste as a title can get.
Even the music and sound effects struggle to evoke a true fiesta atmosphere, although they are upbeat and bright.
Other Slots to Play If You Like Red Hot Tamales Slot
If you're wondering where to play the Red Hot Tamales slot, look for any online casino with IGT games.
If you fancy playing a similar slot style, you could try IGT's own Twenty Seven title.
Or for a different Mexican theme, LuchaLegends from Microgaming offers wrestling wrapped up in a colorful five-reel, three-row slot.
Red Hot Tamales Review – Conclusion
Even though the Red Hot Tamales slot from IGT doesn't do much to distinguish itself, visually, from similar titles, we doubt that will be an issue for most players.
Plus, the chance of spicing up your life with 100,000x is an appetizing idea for sure.
As are the 27 paylines, which mean you'll at least hit low-paying wins relatively easily. If you're a casual gambler or new to online slots, Red Hot Tamales is an uncomplicated game and worth a few tasty spins.