Monopoly MegaWays Review
The Monopoly Megaways slot, the new hit from Big Time Gaming, will keep you spinning with 117,649 paylines and an exciting Reel Adventure. This remix of the famous 1930's board game has all the best features like free spins, multipliers, and a generous RTP. All in all, a recipe for a good time.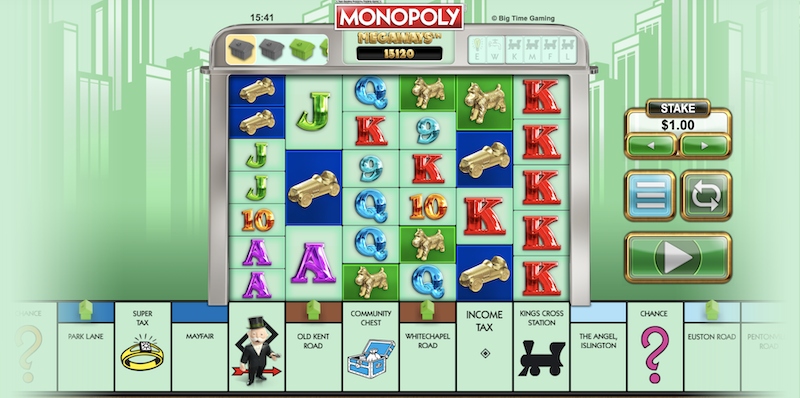 Pros:
117,649 paylines
Increasing multipliers
Fun classic theme
Cons:
High volatility
The bonus round is hard to get to
How I tested Monopoly Megaways
To test the Monopoly Megaway slot, I played the free demo version available online.
Play Monopoly Megaways with the best bonus
You can play Monopoly Megaways at DraftKings Online Casino.
New players at DraftKings will automatically receive a $10 no deposit bonus just for signing up. You can then opt-in to their very generous 100% deposit match of up to $1,500! This is one of the largest valued welcome bonuses you'll find in Pennsylvania. And these bonus funds come with a very low 10x wagering requirement.
Monopoly Megaways Symbols & Payouts
Monopoly Megaways has all the top hats and shoe symbols that the original Monopoly board game had, which adds significantly to this slot's authenticity and fun factor. It's safe to say that if you're a fan of the board game, this slot will not leave you disappointed.
The symbols
This slot combines the regular slot symbols such as the 9 to Ace card symbols with the traditional and very familiar Monopoly symbols: the dog, tophat, boat, and car. The card symbols are not the big triggers here, so you'll be hoping for the Monopoly figurines to rake in the bigger winning combinations. The giant bejeweled "M" symbol is the big-hitting wild symbol and comes in at a 50x the bet.
There is no scatter symbol available in this slot.
Paytable
The paytable is available by clicking on the Menu tab located to the right of the reels.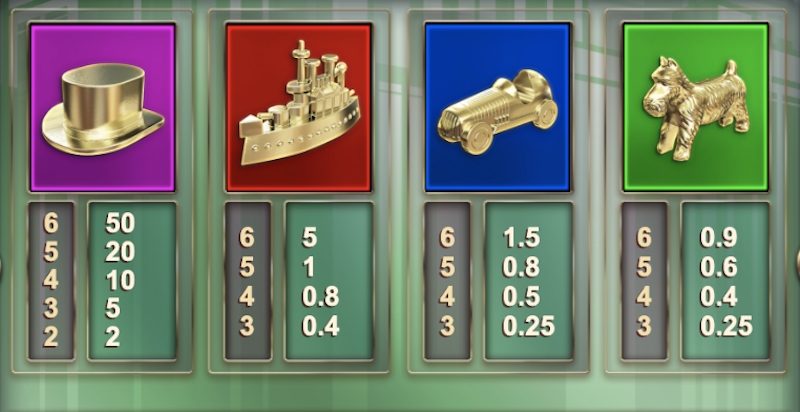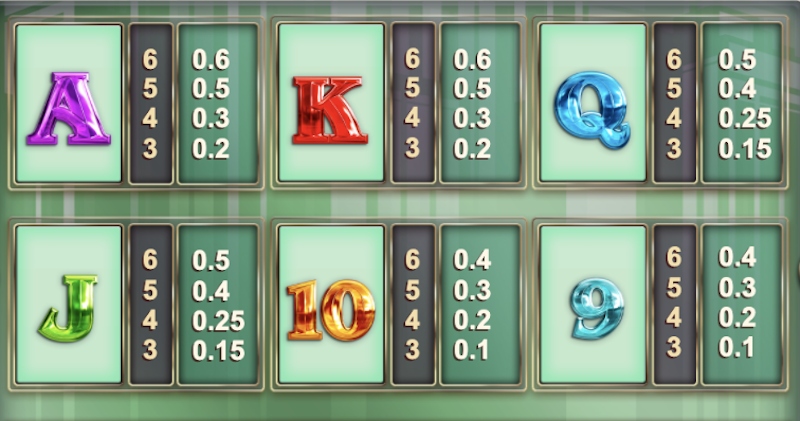 Min/max bet, autoplay option
You can play Monopoly Megaways for free on the demo game. Due to the somewhat complicated aspect of Reel Adventure games, i.e., getting to know the system, what it entails, procuring properties, and the various options available.
Playing the demo game is highly recommended until you get to a place where you're comfortable and can wager with confidence, knowing what the game can offer you. The minimum bet is 20 cents, and the maximum bet is $120.
The Monopoly Megaways Autoplay option is activated by clicking the "Auto" button. Bettors can select the number of spins or a loss-or-win limit. Players can choose to stop the autoplay by clicking the stop button. The number of spins left will be displayed on the stop button. The autoplay function will stop immediately once a limit has been reached or if player intervention is required.
RTP
The Monopoly Megaways RTP is 96.50%.
Volatility
Monopoly Megaways is a high volatility game, so you can prepare for some time between winning spins.
Jackpot and/or maximum win
Monopoly Megaways has no progressive jackpot feature; however, they offer a rather generous maximum win at a charming 14,700x the value of your bet. This is not as much as many of the progressive jackpots seen in other slots, but this won't be a significant deterrent if you're a fan of the developer.
Enjoy the demo game before you commit to this high volatility slot.
With an industry-standard RTP at 96.50%, this slot is welcoming to all. I, however, recommend you get to know the game first, especially if you're new to playing slots. Get to know the bonus features and the basic ins and outs of the slot on the free demo game before you start wagering.
Yes, the minimum bet is low, meaning you can play without risking a whole lot on a single spin, but this game gets real fun real quick, so get well-acquainted before you make a big commitment.
Game Features
This slot certainly brings exciting features with it. The Monopoly Megaways Bonus rounds are full of free spins, and snazzy multipliers will keep you highly invested.
Wilds and other features
Wilds
The single wild symbol in Monopoly Megaways is the sparkly "M" symbol. It can replace any symbol to complete a winning combination.

Cascading reels
The cascading reels on this slot are a big hit because you can make multiple wins off a single spin. Once you hit a winning combination, the reels cascade down and disappear from the screen, making room for new symbols that can also create winning combinations. This feature continues until no new winning combinations occur.
Multiplier
What's excellent about the Monopoly Megaways multiplier is that there is an insanely high cap on multipliers – up to 15,000x what's at stake. You can increase your multiplier by owning utilities or landing on properties with houses.
Bonus round
The Monopoly Megaways bonus round is pretty hard to get to but can be pretty lucrative once triggered. To activate this feature, you have to land on "Chance" or build five houses on a single street. The first bonus round offers eight free spins. You can increase the number of free spins by expanding your properties. This can include adding train stations or entire streets to your name.
You should add as many properties to your name as possible before triggering the bonus, seeing as your amount of properties is directly correlated with the multipliers.
These are some of the bonus round triggers available:
Go: Hit the next spin at Max Megaways.
Station: Receive one extra spin for every train station you own.
Utilities: Add a 1x multiplier to every utility you own.
Community Chest: Advance to a random property.
Chance: Landing on chance can offer you Max Megaways spin, a random property search, or five free spins.
Property: Land on a property and increase your win multiplier by the number of houses on that property.
During your free spins, you still get the opportunity to add to your property portfolio with houses, free rotations, multipliers, and Max Megaways but do note that these will disappear at the end of that particular round.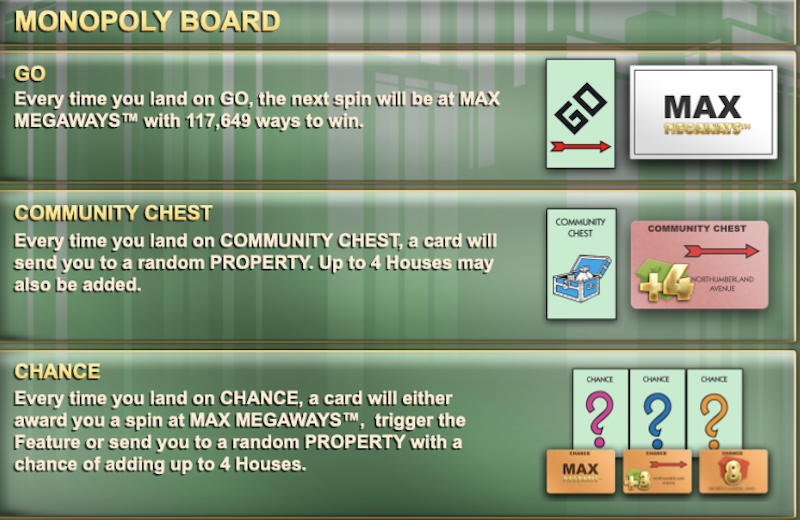 Reel Adventure
This is the one feature that gets players really excited about this BTG game. Only ever seen in Big Time Gaming's Holy Driver Megaways game, the Reel Adventure feature is one that excites gamers to no end. This feature merges the original Monopoly board game and the slot in an authentic and fun way.
Mr. Moneybags Monopoly moves around the board, and every time he passes through Go, you earn a chance for the next spin to be a Max Megaways spin. Landing on Community Chest can add up to four properties to you, or "Chance" that affords you the opportunity to have a go at the Max Megaways. When you land on the "Vroom" card, Mr. Monopoly propels you to a random property.
This feature immerses players into the Monopoly world and makes the slot about more than just spinning the reels hoping for a winning combination. This aspect adds a layer of complexity to the game, which keeps your mind occupied.
The notion of adventure and the option to engage with the game on a different, almost interactive level is what keeps bettors coming back to these slots from BTG. The option to play a slot combined with an element of narrative, or in this case, the familiar sensation of playing Monopoly, is what makes this slot so successful.
Bonus Buy
Monopoly Megaways has no option to buy a bonus round.
Reel Adventure is a real adventure!
As you can expect from all Big Time Gaming games, Monopoly Megaways is a thrill. It has some really funky features like the Reel Adventure, only ever previously seen in the Holy Driver game (also from BTG). Despite the bonus round being hard to trigger, the amount of options available in the form of paylines and the fun you have moving around the Monopoly board certainly makes up for that.
The bonus features are definitely a firm favorite of mine and what draws me to this game.
Monopoly Megaways Graphics & Sound
The Monopoly Megaways interface is not at all complicated. It places all the vital information in plain sight. As with all BTG games, the graphics and sound are high quality.
Graphics
3D
Optimized for Mobile
👍
Music
Yes, Vintage
Special features
Animated Mr. Monopoly that guides you around the game board
Reel Adventures
The old-school London vibe is a thrill!
I enjoyed this game's interface and features. Navigating some of the player features on the board took some getting used to but playing the demo game first helped mitigate this issue. I enjoyed the 1920's-style music and the old car horn. The sound effects are terrific, and Mr. Monopoly's encouragement is a sweet feature. Overall an excellent interface with outstanding components, as to be expected from Big Time Gaming.
Solutions if you have some issues with a game.
If any issues arise with the slot, contact the casino where the slot is hosted. It is worth noting that a system malfunction will void all plays and payouts.
Verdict
I thoroughly enjoyed how all the elements from the board game came into play in the Monopoly Megaways slot. The animated tokens (dog, car, top-hat, and battleship) provide a sense of familiarity that will make anyone who's fought with their family over the board game sigh with nostalgia. I got a bit annoyed with how seemingly impossible it is to trigger the bonus game, but it's not the biggest of issues. This game offers a great many paylines to compensate.
I wouldn't recommend this slot to a relatively new or inexperienced player due to the high volatility. If you are newish and want to play, perhaps consider about 100 to 200 spins on the free demo game before you start wagering money. Monopoly Megaways is excellent for the high rollers out there and those looking for a little classic razzle-dazzle. A highly thrilling game with incredible graphics, fantastic animations, and an adventure reel that will keep you spinning.
The vintage feel with the more classical soundtrack and all the old familiar aspects of Monopoly that we all know well made this a pleasure to play.
Regardless of whether or not you've played any Monopoly-themed slot before, don't think you've seen the best until you've played this slot from Big Time Gaming.
I rate Monopoly Megaways a charmed 87 out of 100.
Other slots to play if you like the Monopoly Megaways slot
If you enjoy Monopoly Megaways, check out our list of the Top 10 Megaways slots in PA! We'll give you all the information you need to know about the best Megaways slots and where to find them using the best bonus available!