Fruit Shop Megaways Review
Fruit Shop Megaways Review
Fruit Shop Megaways is a NetEnt slot with a solid RTP of 96.06% and a substantial maximum payout of 20,000-times your bet. It is a Megaways makeover of the popular 'Fruit Shop' slot with vibrant colors and an easygoing soundtrack that provides a good gaming experience to both beginners and experienced players alike. Fruit Shop Megaways features a free spins round, wild symbols, and the fascinating Megaways mechanics, which affords players escalating multipliers and 117,649 ways to win.
Read through our team of experts review of Fruit Shop Megaways below for more details!
How we tested Fruit Shop Megaways
Our team of experts at PACasino.com weighs every aspect of a game when we do our reviews. Here's a list of all the steps we take into consideration:
We look at RTP and volatility: The Return To Player and Volatility should always be the first thing a player looks at in a game. The RTP tells you how often you can expect to win while spinning the reels.
We actually play the games: Unlike many reviews you find online, we take the time to play the games to understand how they work. We'll tell you our honest opinion on if we enjoyed the game or not.
We find out minimum and maximum wagers: A good game should be accessible to all types of players, including those that like to wager small bets to high rollers. We provide this information in all of our reviews.
We focus on the theme: All good games should have an appealing theme. While most themes are apparent, we like to detail how well the game truly envelops its overall concept.
We listen to the audio and pay attention to graphics: Players want games with HD graphics and engaging audio to enjoy while playing. We have all that information and more below.
We calculate the jackpot and maximum win: We play games for fun, but we also play to win. We'll tell you the full potential win of a game and explain what that means.
We explain the symbols and paytables: To play well, you need to understand the game's rules. While the "how-to" of online slots is simple, it's essential to know what the symbols mean on the reels to understand your spin's total value.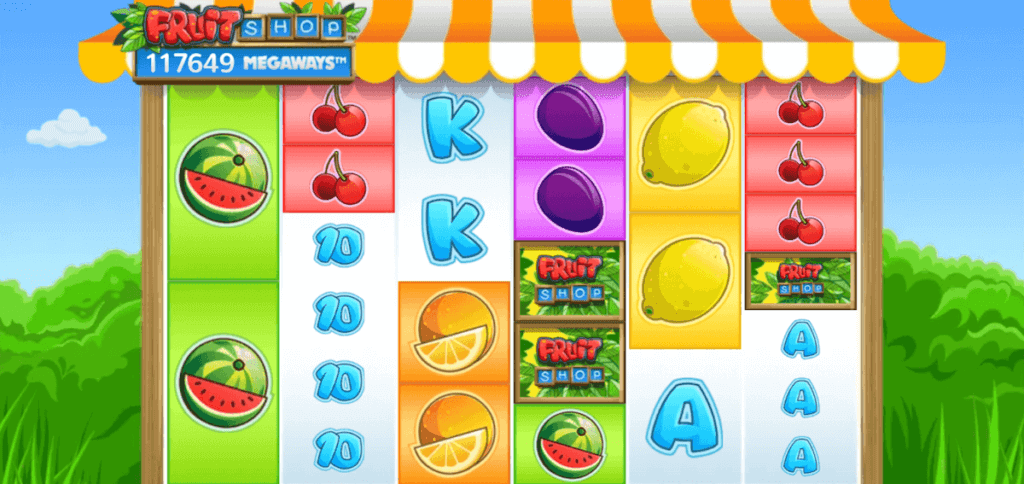 Play Fruit Shop Megaways with the best bonus
Make sure to read our comprehensive online casino reviews to find the best welcome bonus for you. There are many ways to get the best value from joining an online casino, from free spins to first deposit matches and low wagering requirements.
Fruit Shop Megaways is available at Borgata Casino, which offers new players a two-part welcome offer when joining. First, new players will receive a $20 no-deposit bonus from playing on both classic and progressive slots. This bonus money is attached to a 1x wagering requirement, one of the lowest in Pennsylvania.
Next, Borgata will match new players' first deposits up to $1,000. There is a 15x wagering requirement for this offer: To claim any winnings from this money, you'll have to wager 15x the bonus amount.
Of note: Players have 14 days to meet the wagering requirements after claiming them. Also, remember to "opt-in" for the bonus before making your first deposit.
Fruit Shop Megaways Symbols & Payouts
Those familiar with Fruit Shop will have no problem adjusting to the Megaways version of this game, but it might take a little bit of time to get the hang of it if you're new to the series. Like many other online slots, NetEnt has taken this old classic and given it a Megaways makeover, incorporating the popular gameplay style for a modern-day experience.
By reading our review, you should have a good grasp of how the game works. Fruit Shop Megaways includes a free spins bonus round, which results in the most winning value for players.
Here, we will take a look at the symbols in the game, their payouts, and how they're deployed in the game:
The symbols
If you've played Fruit Shop in the past, its successor looks and plays very similarly. The symbols have a fruit theme, with melons, oranges, lemons, plums, and cherries. Like many online slot games, players will also see Ace, King, Queen, Jack, and 10 symbols on the reel. The game's custom symbols are worth more than the traditional card symbols, with the cherries providing the most value, with 12.50x for six on a payline.
As you'll see in the Free Spins feature, Fruit Shop Megaways has cherries as their top symbol and divides the rest of the symbols into two categories: Medium symbols (Melon, orange, lemon, plum) and lower symbols (10, Jack, Queen, King, Ace).
Both medium and lower symbols require three or more in a row to win, except the coveted cherry, which only requires two in a row.
The "wild" symbol in Fruit Shop Megaways is the game's logo.
Paytable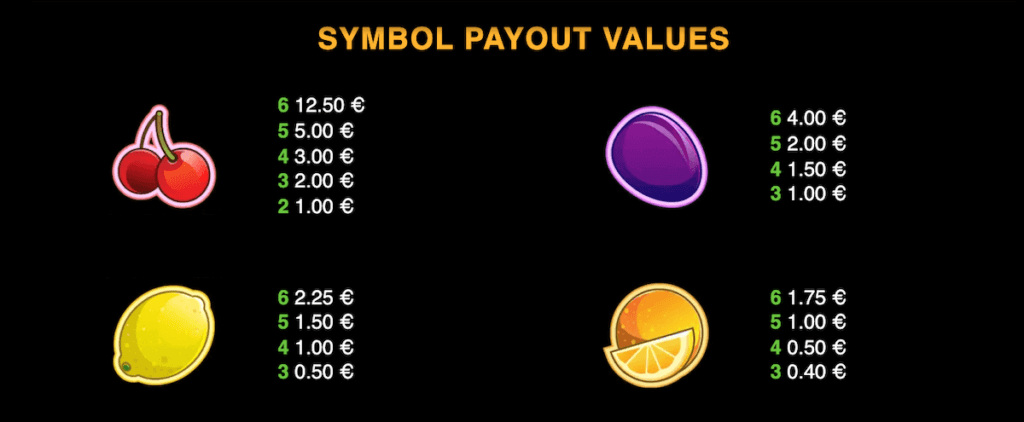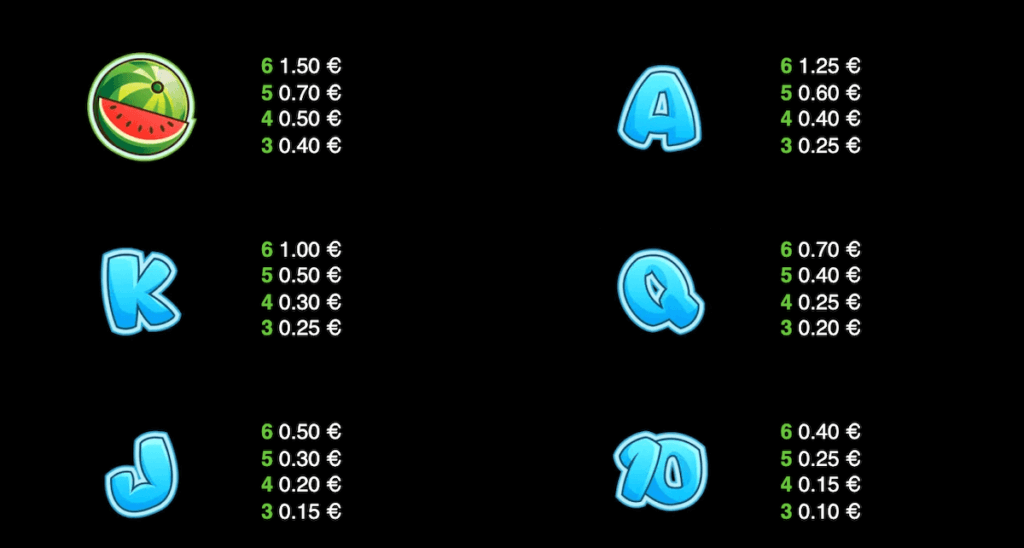 Min/max bet
The minimum bet for Fruit Shop Megaways is $0.20. The maximum bet is $100.
RTP
With an RTP of 96.06%, Fruit Shop Megaways is above-average in this category. Generally speaking, most slot machines have an RTP of 90-95%. Keep in mind that the RTP of a slot machine is the average taken from thousands of spins and not a guarantee to win.
Volatility & hit frequency
While this slot's volatility isn't exactly high enough to be considered a 'high' volatility slot, it does rank a little bit higher than 'medium.' Hence, our team of experts ranked it as a 'medium-high.' Basically, Fruit Shop Megaways is a slot that low-stakes players might not find enough bang for the buck: Because of the style of the game, big payouts are rare.
The hit frequency of Fruit Shop Megaways is 17.31%, which ranks in line with most Megaways games. Hit frequency is different than RTP, counting for the percentage of times an online slot will stop on a winning outcome.
If you're looking for a Megaways spin on a classic game, the big payouts that Fruit Shop Megaways offers might be worth it. As is custom with Megaways games, game multipliers and free spins can pad the pot to make jackpots bigger.
Jackpot and/or maximum win
Though the top win for this slot is 20,000x your wager, because it's a Megaways game, there is no actual limit to the jackpot size. For example, the rising multiplier in the Free Spins feature has no limit. There is also no limit for the number of free spins available so that the maximum win can be even higher–if you get fortunate!
Game Features
Like some other Megaways games, Fruit Shop Megaways only has one feature: The Free Spins feature. But because of the Megaways mechanics, which offers players 117,649 ways to win along with a number of wild symbols, the features are built into the game.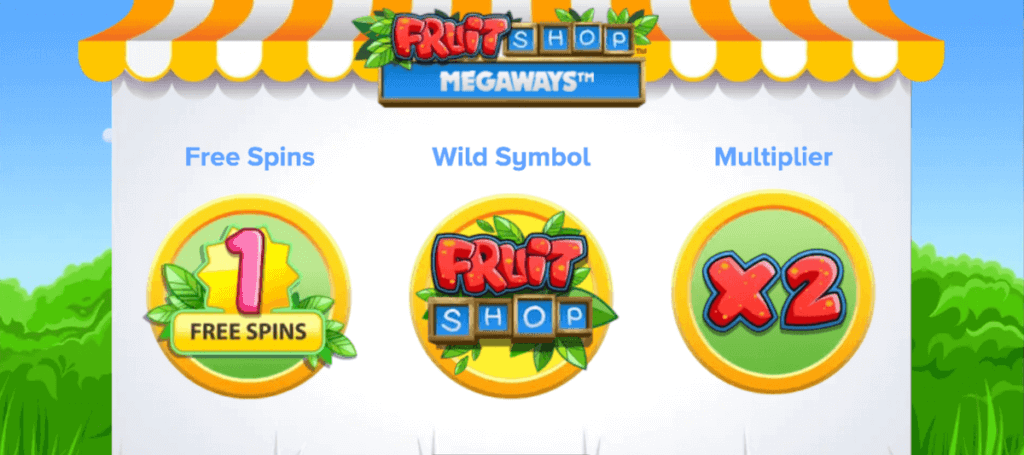 Fruit Shop Megaways free spins
One of the great features of any online slot game–including Fruit Shop Megaways–is the Free Spins feature.
You can receive free spins in Fruit Shop Megaways by unlocking winning combinations with symbols. How many free spins you receive depends on how many of those symbols result in a win.
As we mentioned above, cherries are the most sought-after symbol on the reel. If you land two cherries, you receive one free spin. This is consistent with the game's formula: Three cherries equal two free spins, four cherries equal three free spins, five cherries equal four free spins, and six cherries–the full reel–equal five free spins.
Additionally, players can earn free spins by accumulating medium or lower symbols. For the medium symbols, three medium symbols equal two free spins; four medium symbols equal three free spins; five medium symbols equals four free spins; six medium symbols–the full reel–equals five free spins.
The same goes for the lower symbols, except the number of free spins decreases by one. So, if you land three, four, five, and six lower symbols, you will receive one, two, three, and four free spins, respectively.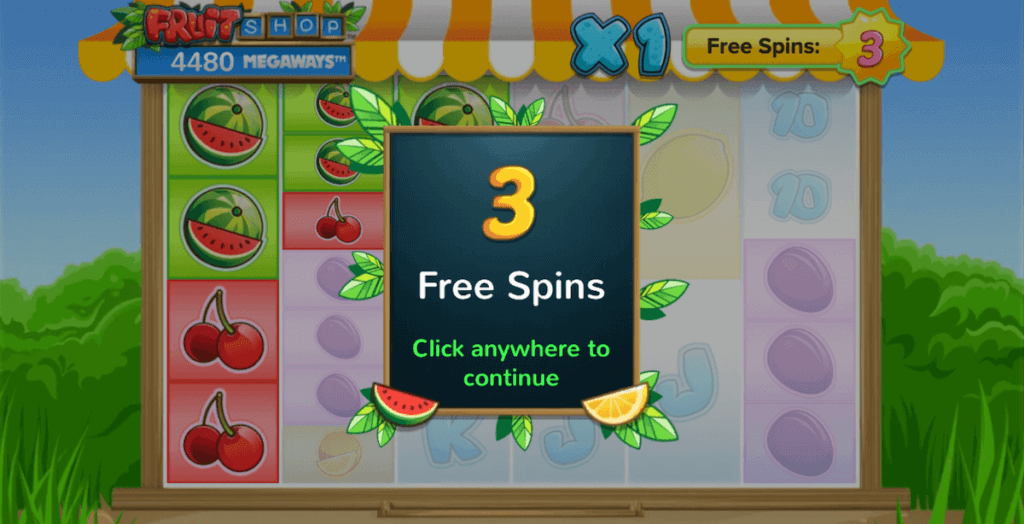 Fruit Shop Megaways Graphics & Sound
Visually, Fruit Shop Megaways comes as advertised, with the game situated at a fruit stand with many fluorescent colors. The Megaways version of the classic 'Fruit Shop' game keeps the same theme with the upgrade. While the graphics aren't outstanding, they are certainly enough for this type of game, providing a lively look at an online slot game.
Looking at the game, the reel takes up most of the window, with the game's logo and the number of free spins you've earned displayed prominently on top. At the bottom is all of the pertinent information, including your bet, winnings, and current balance.
The background audio in Fruit Shop Megaways has a lot of birds chirping, like a pleasant day at the market. But when a player hits the requisite symbols to unlock the free spins feature, the background audio speeds up, creating a more dramatic dynamic to the feature round.
Altogether, Fruit Shop Megaways is solid both visually and audibly. While NetEnt could have taken a bigger swing at improving both facets, it seems they decided to stick with what's worked, taking the popular Fruit Shop game and keeping it as on-brand as possible. Still, the gameplay is a quality experience because of its simplicity.
| | |
| --- | --- |
| Graphics | 2D |
| Optimized for Mobile | 👍 |
| Music | Up-tempo flute music, faster-paced Carnival-esque music for free spins rounds |
| Special features | Background noises of birds chirping, squishing fruit noises |
Solutions if you have some issues with a game
If the game is interrupted during play, players can replay the game round after restarting the game. If the player chooses to skip the replay, their win will be added to their balance immediately.
In any situation where the replay-functionality is not sufficient, you can contact the gaming website's support team.
In the event of a gaming hardware/software malfunction, all affected game bets and payouts are rendered void, and all affected bets are refunded.
Verdict
If there was ever an online slot game destined for a Megaways reboot, it's Fruit Shop Megaways. Building on the success of the classic 'Fruit Shop' game, NetEnt has masterfully incorporated the popular Megaways mechanics, adding a great spin to a straightforward game.
While Fruit Shop Megaways doesn't come chock full of bonus features, the Free Spins feature provides a great gaming experience. We would have liked to have seen another bonus feature, like cascading reels, which would have provided more excitement, but that likely would have been the cherry on top of an already good game.
Because Fruit Shop Megaways is based heavily on the base game, receiving free spins is the best way for a big win. Players who loved the original 'Fruit Shop' game are sure to love the remake, which offers more volatility and higher potential winnings. Because of the Megaways mechanics and its simplistic format, Fruit Shop Megaways is undoubtedly a game to try for both beginners and experienced players. However, its lack of bonus features might not be enough to count as one of your favorites.
Other slots to play if you like Fruit Shop Megaways slot
If you're a fan of Fruit Shop Megaways, check out more Megaways slots on our list of The Top 10 Megaways slots in Pennsylvania!