Extra Chilli Megaways Review
Spice Up Your Slot Game BTG's Extra Chilli Megaways
Lovers of Megaways will enjoy Big Time Gaming's Extra Chilli Megaways slot. This game features a high RTP, exploding symbols, a bonus buy feature, and a free spins gamble.
Read our full review below to learn more about this popular online slot game and which of PA's top online casinos have it.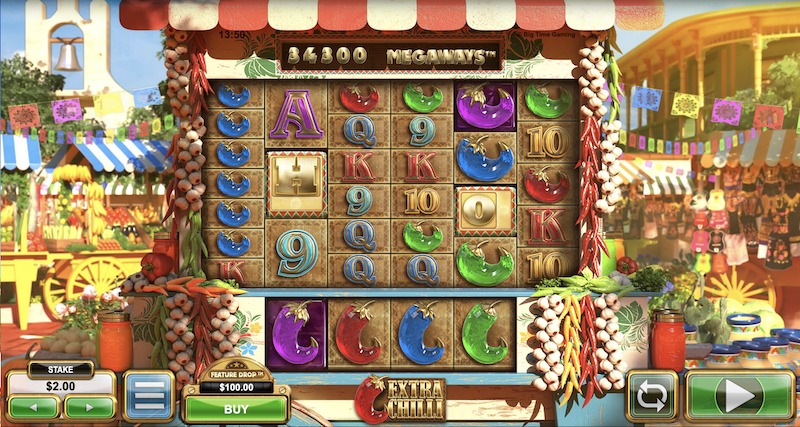 How we tested Extra Chilli Megaways
Our team analyzes all aspects of online slots to bring you all the information you need.
Here are the steps we take when writing an online slot review:
1. We find which online casinos offer the game
This allows us to know which PA casino(s) have the best bonus for players who might be new to online slots or looking to try a new game.
2. We look at the paytable
Understanding how the game works is key to boosting your winnings. By reviewing the paytable, we can learn how the symbols line up and what the payouts will be accordingly. Players can also find the game's RTP and volatility in this section of the game.
3. We analyze the game's unique features
In the same area of the game where you find the paytable, you can also find the detailed descriptions of the game's unique features. This will tell you how to activate the features and explain how the playthrough of the features will occur.
4. We play the game
Our team always plays the game in Demo Mode before writing our reviews. By playing the game, we can analyze the quality of its graphics and sound. We also learn how the game's features work to describe them in our review better.
5. We compare and contrast
We constantly compare and contrast games that are similar to one another. Doing so gives us a more robust understanding of the pros and cons of differing online slots and their providers.
Play Extra Chilli Megaways with the best bonus
PA players can find Extra Chilli Megaways exclusively at Caesars Casino.
Caesar's current welcome package is a $10 no deposit bonus + a 100% first deposit match bonus up to $1,000.
The no deposit bonus comes with a 1x wagering requirement, and the matching deposit bonus has a 5x wagering requirement. These are much lower than the average wagering requirement at PA casinos, so this bonus is an excellent choice for new PA players.
Extra Chilli Megaways Symbols & Payouts
Extra Chilli Megaways continues to be one of BTG's most popular online slots, and for good reason. Players can win big by matching up the right symbols.
The symbols
Players won't be shocked to find that the majority of symbols in this game are chili peppers. As the reels spin, players will find chillis of various colors, including blue, green, red, and purple. The purple chillis have the highest payout. The game also contains the standard royal symbols of 9, 10, J, Q, and K.
Paytable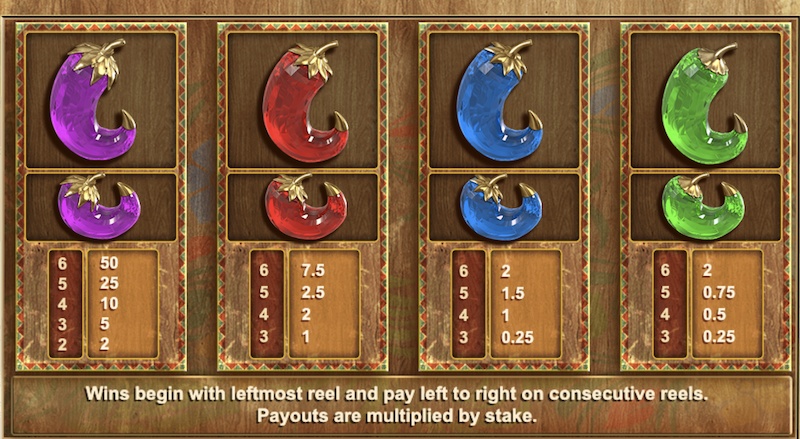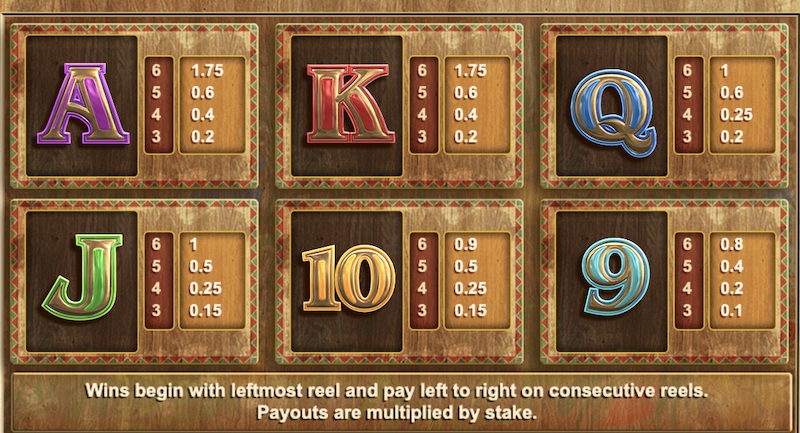 Min/Max Bet
The minimum wager on Extra Chilli Megaways is $0.20, and the maximum is $40.
RTP
The return to player, or RTP, is a hypothetical number of how often a player can expect to win over a long period. The average RTP on online slots is 95%. Extra Chilli Megaways' RTP is 96.82%, making it higher than average.
Volatility
Volatility, or variance, is more correlated with the size of the payouts of an online slot. The volatility of this online slot is marked as "high." A game with high volatility typically rewards players fewer, but much more significant, payouts.
Maximum Win
The largest amount a player can win while playing Extra Chilli Megaways is 20,000x their initial wager.
Extra Chilli Megaways is a mixed bag in terms of payouts
Players want a game with a higher than average RTP, so this online slot gets high marks for that. However, high volatility is not for all players and may dissuade newer players from trying this title out. Our advice is here is, "Don't let it!" A game with high volatility can be just as much fun as a game with low volatility. While the payouts may be fewer in numbers, the overall rewards are much larger once they hit.
Game Features
The bonus features of a game are where all the action happens. In this section, you'll learn how to increase your overall winnings while playing Extra Chilli Megaways.
Wilds, Free Spins, and Other Features
Extra Chilli Megaways has several exciting features that our PA players will enjoy. Each one not only enhances the player's overall experience but also boosts the total of your potential payouts.
Wilds
The wild symbols in Extra Chilli Megaways look like firecrackers. These will substitute for all symbols except Scatters and Feature drop symbols.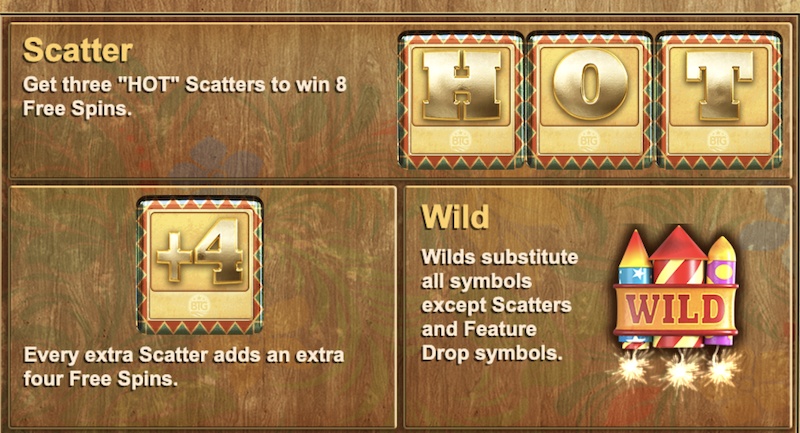 Scatter
The Scatter symbols in Extra Chilli Megaways spell out H-O-T. When a spin lands on all three in that order, the bonus game will be triggered. Players will receive an additional four free spins for each extra scatter.
Free Spins
In the bonus, game players will receive at least eight free spins. Players can win extra free spins during the bonus game by hitting the free spins scatter. This symbol looks like a golden pot full of firecrackers. Extra Chilli Megaways' bonus game also features unlimited multipliers.
Free Spins Gamble
Before the action of the bonus game begins, players have the option to gamble their free spins for the chance to earn more. The game will ask you four times if you want to wager your already awarded free spins to potentially increase your total amount of free spins by four. This can total up to 24 free spins if successful in all four rounds. However, if your gamble is unsuccessful, you will have fewer free spins than you started with or possibly lose your entire bonus round.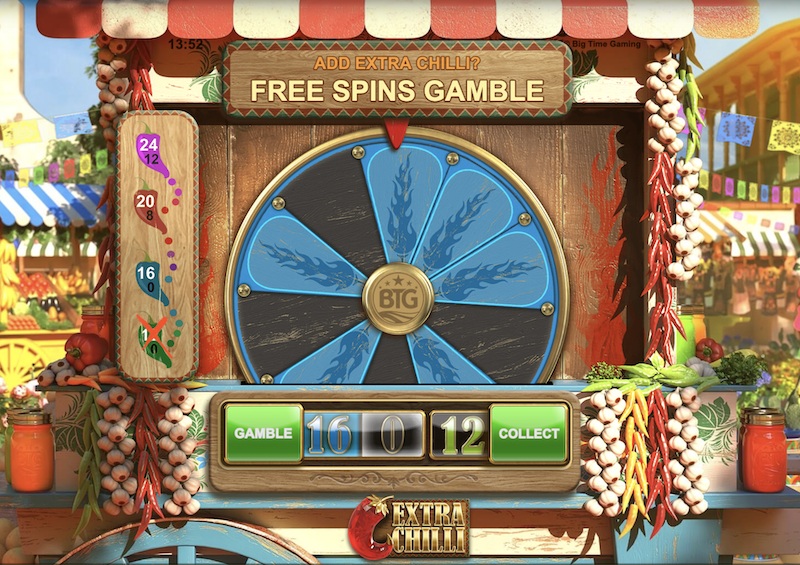 Bonus Buy
Extra Chilli Megaways does have a bonus buy feature. The feature is titled "Feature Drop" and is located at the bottom, center-left side of the screen. This allows players to jump straight into the action of the bonus round for the potential to win the game's largest prizes. The game also has Feature Drop symbols that can land on the reels. Landing on these symbols will lower the cost of the bonus buy feature.
Extra Chilli Megaways has all the special features an online slot player could want
When it comes to bonus features, BTG did not skimp on this online slot. The real question people will want to know the answer to is, "Is the bonus buy feature worth it?" Our team has played several online slots with this feature, and our opinion is that if you have the money to purchase it, do it. There is no faster way to start racking up the game's largest payouts. However, we suggest spinning the reels for a bit to lower the cost of the bonus buy feature before doing so.
Extra Chilli Megaways Graphics & Sound
| | |
| --- | --- |
| Graphics | 2D |
| Optimized for Mobile | 👍 |
| Music | The game features a mariachi band playing with each spin. |
| Special Features | Added sound effects in the background and exploding symbols. |
Extra Chilli Megaways offers an immersive gaming experience
This online slot has a lot going for it in the graphics and sound department. The game is vibrant with HD graphics, and it is as if you are transported to a barrio in Mexico. Big Time Gaming thought of little details in this game, such as the speaking and yelping of the Latinx people in the background between spins to the festive mariachi band music that plays as the reels go. These are the added touches the separate good games from great games.
Solutions if you have some issues with a game
It is rare for issues to occur when playing online casino games. However, they do happen. Here's our advice on what to do if you encounter problems while playing:
If the game is interrupted during play, players can replay the game round after restarting the game. If the player chooses to skip the replay, their win will be added to their balance immediately.
In any situation where the replay-functionality is not sufficient, you can contact the gaming website's customer support team.
In the event of malfunction of the gaming hardware/software, all affected game bets and payouts are rendered void and all affected bets are refunded.
Verdict
Extra Chilli Megaways is one of the best Megaways slots available. It has all the bonus features and game mechanics that most slot players are looking for. The game is enjoyable to play, attractive to look at, and has the potential for decent-sized payouts. Unfortunately, this game is currently only available at one PA casino. However, if you are looking to play Extra Chilling Megaways, you can find it at Caesar Casino.
Other slots to play if you like Extra Chilling Megaways slot
If you liked Extra Chilling Megaways, check out our list of The Best PA Megaways Slots available at Pennsylvania's top online casinos.