Crazy Wizard Review
Crazy Wizard is a magical-themed jackpot slot from IGT with solid metrics and multiple bonus rounds to win the jackpot. In this online slot game, there is an RTP of 96.56% and medium-to-high volatility, which is above-average in payback and affords players sizable winnings. Crazy Wizard's features include a free spins round in which players can receive up to 250 free spins, wild symbols that produce multipliers, and a jackpot of up to 2,000x your wager. With IGT's trademark quality graphics and a popular theme to play with, this may become a mighty popular slot.
Read through our team of experts review of Crazy Wizard below for more details!
How we tested Crazy Wizard
Our team of experts at PACasino.com weighs every aspect of a game when we do our reviews. Here's a list of all the steps we take into consideration:
We look at RTP and volatility: The Return To Player and Volatility should always be the first thing a player looks at in a game. The RTP tells you how often you can expect to win while spinning the reels.
We actually play the games: Unlike many reviews you find online, we take the time to play the games to understand how they work. We'll tell you our honest opinion on if we enjoyed the game or not.
We find out minimum and maximum wagers: A good game should be accessible to all types of players, including those that like to wager small bets to high rollers. We provide this information in all of our reviews.
We focus on the theme: All good games should have an appealing theme. While most themes are apparent, we like to detail how well the game truly envelops its overall concept.
We listen to the audio and pay attention to graphics: Players want games with HD graphics and engaging audio to enjoy while playing. We have all that information and more below.
We calculate the jackpot and maximum win: We play games for fun, but we also play to win. We'll tell you the full potential win of a game and explain what that means.
We explain the symbols and paytables: To play well, you need to understand the game's rules. While the "how-to" of online slots is simple, it's essential to know what the symbols mean on the reels to understand your spin's total value.

Play Crazy Wizard with the best bonus
Make sure to read our comprehensive online casino reviews to find the best welcome bonus for you. There are many ways to get the best value from joining an online casino, from free spins to first deposit matches and low wagering requirements.
Crazy Wizard is available at BetRivers in Pennsylvania, which offers one of the most competitive welcome bonuses in the country. New players who register for an account can receive a 100% match bonus on their first deposit up to $250. Players must deposit a minimum of $10 to qualify for the offer.
Crazy Wizard Symbols & Payouts
While its name might say otherwise, Crazy Wizard isn't crazy. It's actually an extremely simple and easy-to-play game. This game is themed around–you guessed it–a wizard, and takes you on a trip through a magical world in an attempt to unlock a jackpot.
Here, we will take a look at the symbols in the game, their payouts, and how they're deployed in the game:
The symbols
Like many online slot games, Crazy Wizard features your run-of-the-mill normal symbols (face cards) and customized special symbols. Still, because of IGT's commitment to great graphics, these normal symbols are not just any face card symbols: You'll see Jacks and Queens and Kings in the game's full theme, which is to say much more "wizardly" than normal.
After the normal symbols come the premium symbols which are all themed according to the game: Crystal balls, potions, candles, and spellbooks. The latter is the game's highest-paying symbol: When landing between 2-5 in combination, a spellbook pays up to 100x your stake. Of note: This top payout does not factor in any potential wins from wild multipliers.
Here's how the spellbook breaks down:
For a combination of two spellbooks, receive a 1x multiplier
For a combination of three spellbooks, receive a 3x multiplier
For a combination of four spellbooks, receive a 20x multiplier
For a combination of five spellbooks, receive a 100x multiplier.
Here are the symbols in Crazy Wizard:
10
Jack
Queen
King
Ace
Crystal ball
Potion
Candle
Spellbook
Crazy Wizard (Wild)
Dragon (Scatter)
The Wild symbol in Crazy Wizard is, well, the Crazy Wizard! The game's namesake will substitute for other symbols when his appearance can land a winning combination. The Wild has another bonus, though: If the Wild is part of a winning combination, then the players' payout receives a 2x multiplier and will be doubled.
The Scatter symbol in Crazy Wizard is the Dragon. This is how you enter the Free Spins bonus round. Here are the multipliers you'll receive along with that:
For a combination of three dragons, you'll receive a 5x multiplier
For a combination of four dragons, you'll receive a 20x multiplier
For a combination of five dragons, you'll receive a 100x multiplier
Another big wild card: If you land five Wilds on a reel, you'll receive a whopping 200x multiplier.
Paytable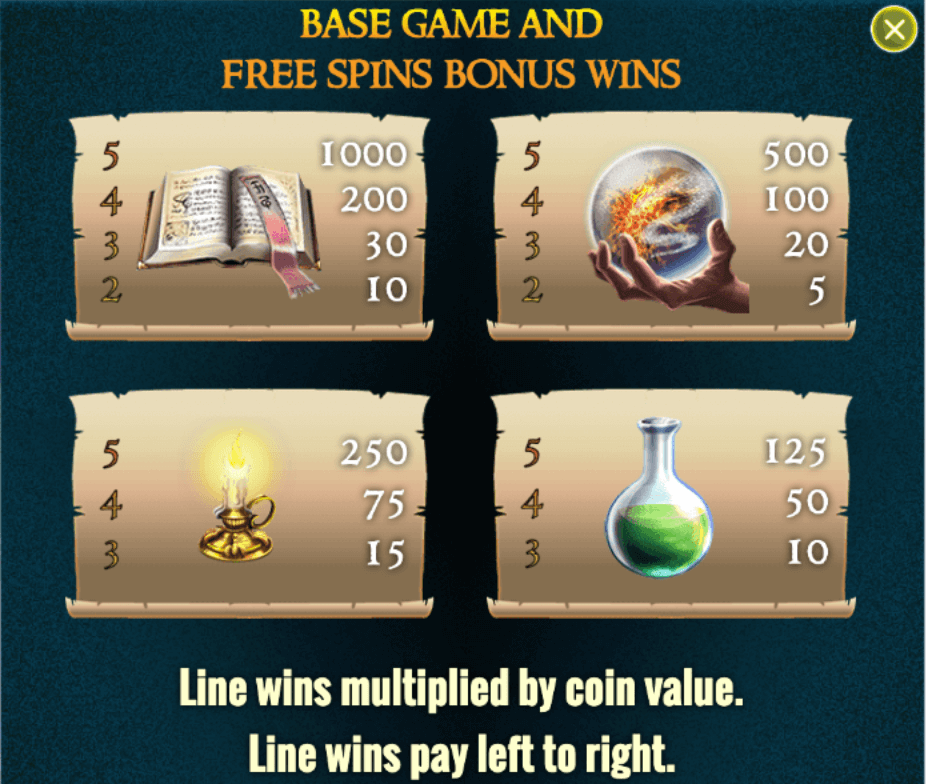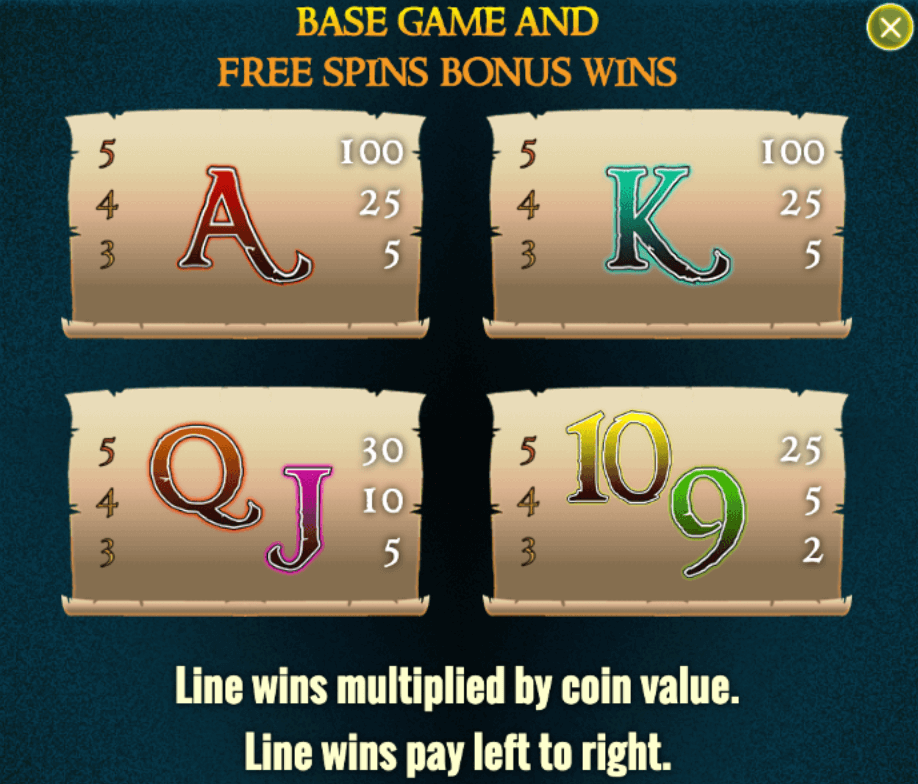 Min/max bet
The minimum bet for Crazy Wizard is $0.50. The maximum bet is $100.
RTP
Crazy Wizard ranks favorably in RTP at 96.56%. The average RTP for online slot games is between 90-95%, which ranks significantly higher than land-based slot machines. RTP is the average a player should expect back. This percentage is taken from a massive amount of spins, sometimes over one million. Keep in mind: RTP is not a guarantee, rather a key barometer for a game's overall value.
Volatility & hit frequency
While Crazy Wizard ranks as a medium volatility game, there were spurts our team of experts played that pointed it towards a medium-high volatility game. Still, we are going to rank it as a medium volatility game because of its relatively low number of paylines: 10 paylines on five reels.
This game might not have the bang that aggressive players are looking for. Though it's a medium volatility slot with above 96% RTP, we'd like to see a bigger maximum jackpot or more lucrative feature modes. Crazy Wizard is a game we'd recommend to beginners because of its simple gameplay and the metrics that point towards consistent but marginal wins.
Typically, online slot games have an average hit frequency between 20-30%. Without having an exact figure, we found that Crazy Wizard is a tick above, which is great for players. This isn't a surprise because it's developed by IGT, an industry leader that's known to have favorable hit frequencies. Keep in mind: Hit frequency isn't the same thing as volatility–it's the percentage of time players can expect to hit a winning combination; volatility relates those winning combinations to the maximum payout of the game.
Jackpot and/or maximum win
If there's one area Crazy Wizard may lack, it's in the jackpots and maximum wins. This is a typical five-reel, 10-payline game, which falls well short of similar titles. What makes up for that fact is the jackpot bonus round, which balances things out a bit. Read on for the details of the jackpot round.
Because of the volatility and the nature of the feature games, we would have liked a higher maximum win. In Crazy Wizard, the most a player can win is 2,000x, which comes out to $20,000 with a maximum bet of $100.
Game Features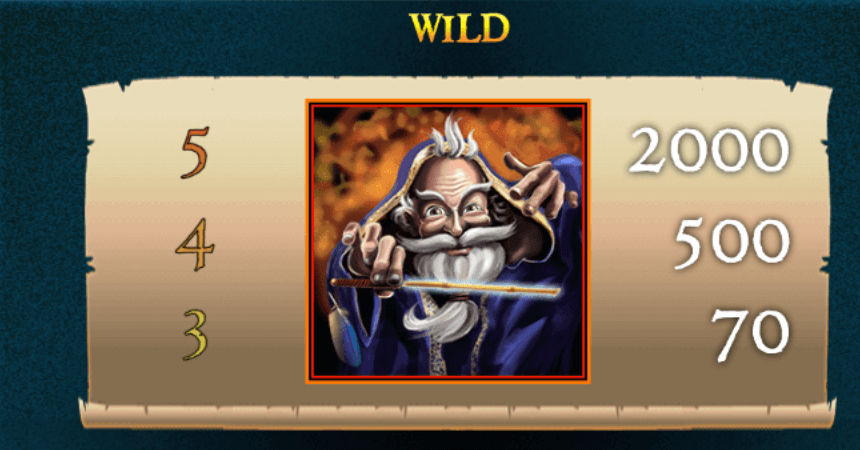 Crazy Wizard is the latest in a line of IGT slots that play fast and fair: This online slot game has free spins, a Jackpot round, and multiple bonuses. This jackpot game has the feel of a classic slot but with modern-day graphics and optimized on mobile.
Here's a look at the features in Crazy Wizard:
Crazy Wizard Jackpot feature
True to its simple style of gameplay, Crazy Wizard's jackpot feature is simple: It triggers at random. Like the vast majority of jackpot slots, you have a better chance at winning the jackpot by playing for more money. For example, you'd have better odds with a $5 bet than a $1 bet.
Crazy Wizard Free Spins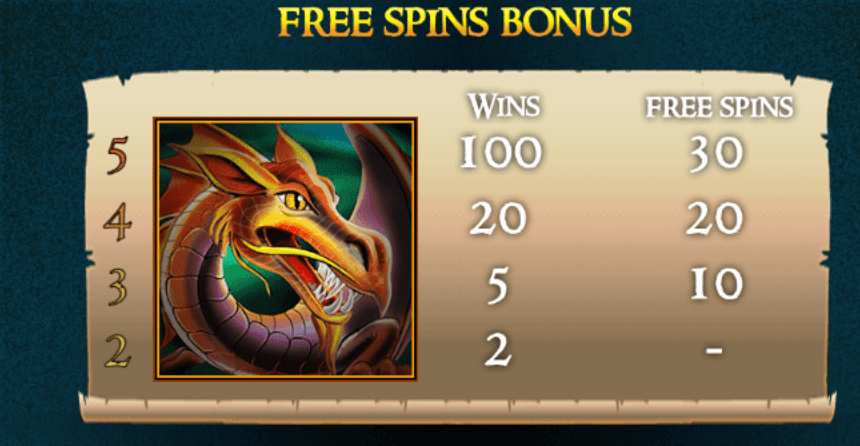 Enter the Free Spins bonus round by landing the dragon, or the Scatter symbol, on the reel. As we detailed above, you will also receive a multiplier for hitting between 3-5 scatters. But in the Free Spins round, you'll have a chance to earn some serious extra spins.
Players can receive either 10, 20, or 30 spins based on the number of scatters they hit. For the Free Spins, the game's main character, the Crazy Wizard, takes the main stage.
In the Free Spins round, depending on the number of "spins" from the Crazy Wizard, you'll get multiple wilds on the reel, adding a 2x multiplier into play. Of note: These multipliers can't be duplicated for hitting wilds.
But what we liked the most about the Crazy Wizard free spins bonus round was how players can re-trigger the free spins, which can result in an even higher amount of free spins. By re-triggering at the maximum rate, players can earn up to 250 free spins!
Crazy Wizard Graphics & Sound
We've seen Crazy Wizard before. Following a very fan-friendly format, tapping into the Magic The Gathering genre with a character that looks straight from the silver screen, there have been many slot games similarly in the theme before. But that's precisely what makes this game stand out: The way IGT combines simple gameplay with sophisticated graphics gives this the feel of a vintage game with a better visual experience.
One of the most unique characteristics of the game comes in not what you see, but what you hear. More specifically, what you don't. While most slot games use continuous background music, Crazy Wizard keeps it silent until you start your spin. Not only did IGT go in a different direction with this, but they add another unique touch with what follows: The music, a magical-sounding instrumental, speeds up as players advance through spins and bonus rounds.
| | |
| --- | --- |
| Graphics | 2D |
| Optimized for Mobile | 👍 |
| Music | Magical background theme |
Solutions if you have some issues with a game
If the game is interrupted during play, players can replay the game round after restarting the game. If the player chooses to skip the replay, their win will be added to their balance immediately.
In any situation where the replay-functionality is not sufficient, you can contact the gaming website's support team.
In the event of a gaming hardware/software malfunction, all affected game bets and payouts are rendered void, and all affected bets are refunded.
Verdict
If you're looking for a game that's easy to play with plenty of value in the numbers, then Crazy Wizard is a game to try. After you get past the fact that this is not a progressive jackpot, which seriously limits its winning potential, you find that this jackpot game from IGT is enjoyable because it knows what it is: Simple.
In Crazy Wizard, there are two bonus rounds–free spins and jackpot–and with an above-average RTP, players can win a lot more free spins than the normal jackpot slot. One of the things we really enjoyed was the simple interface. It's a five-reel game but very easy to navigate alternating the amount of your bids.
Graphics-wise, IGT remains near the head of the class and while there is the potential for high volatility play, the maximum win of 2,000x is significant enough for this class of slot game.
Overall, it's a game we think beginners could get more use of than experienced players, but a game that adds a nice title to a large collection of magic-themed games.
Other slots to play if you like Crazy Wizard slot
If you like Crazy Wizard, you should check out progressive jackpot games like Cleopatra Mega Jackpots and Divine Fortune. Cleopatra Mega Jackpots is also an IGT game and will give you a good look at what a progressive slot is like.