Poker Variants, RTPs, and Unique Special Features
The one thing you must know about poker variations is that each one has its own RTP. RTP determines the likelihood of winning back money you have already spent. They can be included in the poker rules, which can also be seen so that you know how to play the game itself.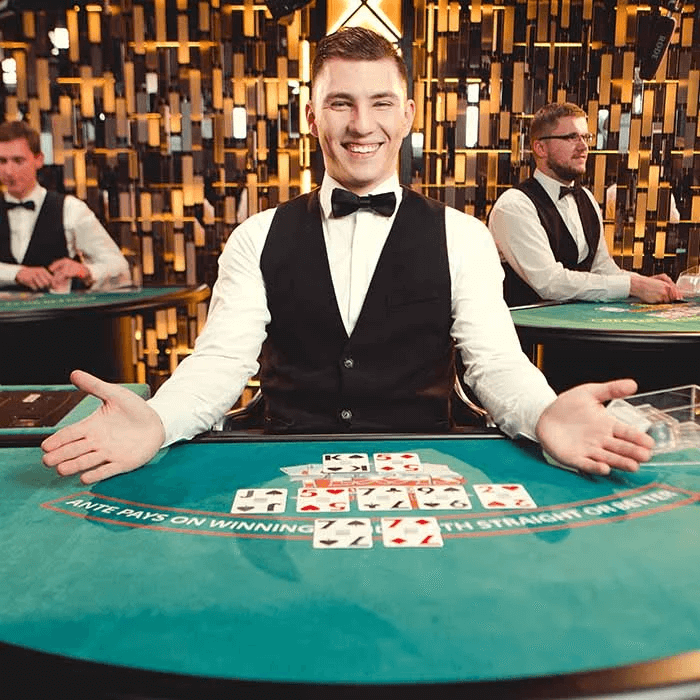 From there, you can apply poker strategies to help you practice and get better at these games. We have selected the best software providers which offer the most optimal RTP.
| Variation Name | RTP | Special features |
| --- | --- | --- |
| Texas Hold'em by Evolution | 99.47% | This is the most popular card game around. Players match two cards with three cards revealed later. |
| Omaha Hi by Playtech | 97.10% | Similar to Texas Hold'em with two differences. Players are given four cards, and the sizes of bets get capped later. |
| Omaha Hi-Lo by Mobzway | | These deal five community cards in total with players. Showdown will divide Pot equally with the highest and lowest hands. |
| 7-Card Stud | | Players have two face-down cards and one face-up. After the reveal, players bet on streets to reveal more cards. |
| 2-7 Triple Draw | | Players can discard their cards and draw five new ones. Players to the left must make a bet before cards are dealt. |
| 5-Card Draw | | Players will have five cards in their hand. A player can redraw new cards after raising, betting, or folding. |
| Badugi | | Everyone is dealt four cards They can choose to discard and redraw any of those cards after each round. |
| HORSE | | Players play with a fixed limit, with the same stake and structure. Three games are played in order from Hold'em, Omaha, then Razz. |
| Razz | | All players put forward and ante. The player with the lowest bet gets more control over the game. |
| Chinese Poker | | Usually played with only four players. The Player has 13 cards and can divide them into three hands for different strengths. |
| Short Deck | | Players put forward an ante and then build off from it. Usually played with no limits on betting. |
| Pineapple | | Dealt three cards instead of two. Makes it easier to get a good hand at first. |
| 5-Card Omaha | | Similar to regular Omaha rules but with five cards. Everyone receives five hidden hole cards to be revealed later. |
Texas Hold'Em
Texas hold'em is one of the most popular and easiest poker variants to learn. It can help ease-in players who are new to the game.
Omaha Hi
This one has the easiest way to get a strong hand because of the number of cards. Rules are still the same as Texas Hold'em, so it makes it easy to learn.
Omaha Hi-Lo
The pot will be divided between the highest-value combination and the lowest-value combination. This means there will be two winners instead of one, improving your chances.
7-Card Stud
This is a lot less popular with number of cards but is still played in tournaments. It can open a lot in terms of combinations.
2-7 Triple Draw
This is found more frequently in mixed games. Having three chances to draw can open more opportunities for better games.
5-Card Draw
This is easiest to play when gaming with friends. It offers just enough challenge and opens enough room for anyone to come join.
Badugi
Offer a more unique experience by using a ranking system to determine what hand is best. It can be hard to learn and is usually recommended for veterans.
HORSE
HORSE is like playing six poker variations all in one go. It can create some exciting long-term gaming with other players.
Razz
This version is usually only included with HORSE. It includes specific rules that may or may not work out for you.
Chinese Poker
This game is quite rare as it doesn't follow regular core rules. Using three hands in one may be a good way to make it more exciting.
Short Deck
This version is perfect for those that want to go on for long hours. Having no betting limit can mean anything could happen.
Pineapple
This game has very similar rules to Texas but allowing three cards in your hand at the start. This small change can add much more to the experience.
5-Card Omaha
It may not be as popular as the Omaha versions, but it can still be found in many rare casinos. It can offer more combinations to make strong hands more possible.
Which Poker Variant Should You Choose?
This can all depend on personal preference and what works out best for you. It is not expected for you to learn all of these rules, but you best stick with what you know to increase your skill.
Best Profitable Poker Variations
No limit Texas Hold'Em can offer the best payouts as they hold no crazy gimmicks. However, below we have a few ideas on what to think about when choosing.
Poker Variations with the Lowest House Edge
3-Card Poker – Their house edge ranges from 1.5% with the highest returns.
Video Poker – Online poker games come between 5% to 0.5%.
Chinese Poker – This game can reach down to 2.5% with its many hands.
7-Card Stud – Dropping to 5%, it can have more fun, but more risk included.
Jacks – This comes from NetEnt and is designed with low house edge but varies with casinos.
Poker Versions that Payout the Most
Texas Hold'Em – It can always be relied upon to payout the most.
Live Caribbean Stud Poker – Easy to learn with faster payouts from the cards.
Oasis Poker – Offers good chances with card exchange offered.
Joker Poker – Has different variations for better results.
Side Bet City – Includes three different games to improve chances on all of them.
Top Poker Variations Based on the Player's Experience
Here, we introduce different types of poker games that some people get along with most. Below are examples of what to choose for the easiest transition.
The Top Poker Variants for Beginners
These are the best games for those who are still new to the rules and want an easier time:
Texas Hold'Em
Short Deck
Omaha Hi
Poker Versions for Advanced Players
Here are the types of poker you can level up towards once you have a better idea of what to do. Choose which one to test your skills:
Omaha Hi-Lo
7-Card Stud
Badugi
Poker Versions You Should Avoid
Here are some poker variants you may want to stay away from. Some of them range from difficulty to sheer unprofitable winnings.
Badugi – While known, the ranking system can make the games much harder than necessary.
HORSE – This game can go on too long with some of them, including five variations all, put together.
Pot Limit Omaha – Having a limit on the Omaha version can mean little to no winning at all.
Deuce-to-Seven Triple Draw – Includes too many rules that even veterans can have trouble with.
Final Poker Evaluation
Poker variants can be daunting at first. With so many to choose from, you may be spoiled for choice. However, each one comes with its own pros and cons, which make them fun to learn all the same. You may find one game harder than the last, but it's a way to help improve your gambling skills for the better. You will come to understand what makes a good poker game and what makes the worse one.
Frequently asked questions
At its core, there are mainly 12 types of poker. Some of them include slight variations on the major rules, which make subtypes such as the ones mentioned above.
Games like Texas Hold'em have the easiest time for beginners. Others, like Razz, can include a lot of rules that make the games more challenging.
A game such as HORSE includes the three major types of poker all in one match.
Hold'em, Razz, Omaha, and Stud have the most places in tournaments than all other variations you will come across.