Zoltar Speaks Review
They say fortune favors the bold and Zoltar Speaks is certainly a game to chance your luck at. I found it to be a very well-crafted game that uses the main character, Zoltar and is themed around his fortune-telling.
How I tested Zoltar Speaks
Zoltar Speaks was a straightforward game to play with very good graphics using Zoltar as a speaking aid to help you play. There is a really nostalgic feeling to the game as it uses some classic slot symbols, such as BARs and 7s. It was great to have been able to look at every feature of the game to provide a detailed review; here's how I tested it:
I actually played the game! This might seem like an obvious statement, but with so many slot reviews out there that have been written by people who have never played the game, you will be reassured to know you will be getting honest feedback, including all the positives, and any negatives.
I researched the Return To Player (RTP) stats, one of the first things you should look at in any game. This tells you how often you can expect to win when playing the game and is the main factor I look at when choosing to play a certain slot.
I also focussed on the theme and graphics. The enjoyment of a slot game can be hugely affected by the quality of the graphics and the theme itself, so it is a very important factor when judging the overall experience in my opinion.
I looked at the minimum and maximum stakes. The best games should be accessible to everyone, no matter what budget a player has.
I also looked to understand the gameplay and how different symbols can unlock any bonuses and features. Slots can be played well when you understand the rules of the game, so I wanted to know what all the symbols meant so you can take advantage of them.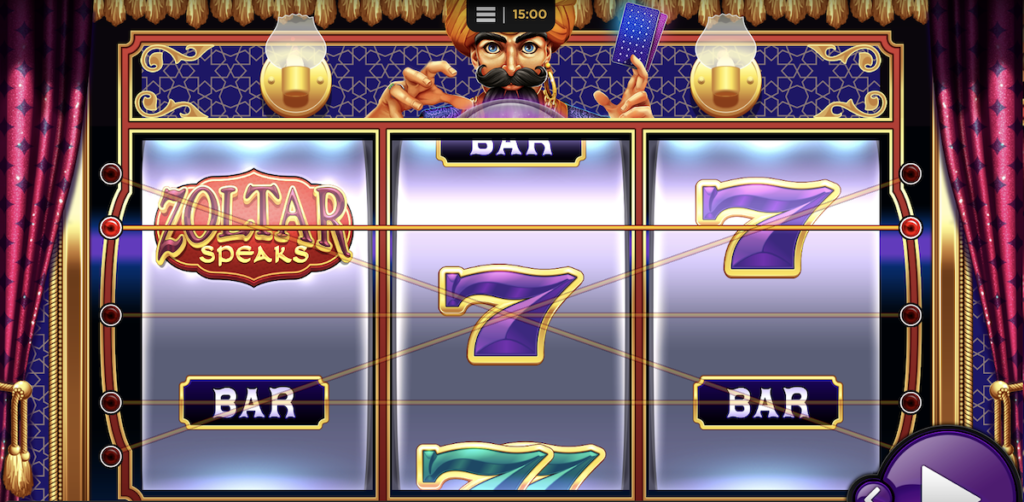 Play Zoltar Speaks with the best bonus
You can find and play Zoltar Speaks at the following online casinos:
New players at BetMGM receive a $25 no deposit bonus just for signing up! Then, you can opt-in to a 100% match bonus of up to $1,000. These bonus funds can be used on most online slots, including Zoltar Speaks.
Zoltar Speaks Symbols & Payouts
Zoltar Speaks uses some very nostalgic symbols, as well as Wild symbols and the Zoltar multiplier symbol.
The Symbols
The majority of the symbols in Zoltar Speaks are BAR or 7 symbols. Any 3 BARs, either single, doubles or triples will pay 5 x coins. However, any 3 x single BARs will pay 10 x coins, while 3 x double BARs pay 20 x coins, and 3 x triple BAR symbols pays 50 x coins.
The 7 symbol is more valuable, as any 3 x 7s, either single, doubles or triples will pay you 30 x coins, whilst 3 x purple 7s pays 100 x coins. If you can land 3 x green double 7s on a win line you receive 150 x coins, and 3 x triple white 7s will reward you with 200 x coins.
When I was playing I also came across Wild symbols, which substitute all other symbols in the game but also feature multiplier symbols. The regular wild symbol appears on reel 1, with the 3 x Wild appearing on reel 2, and the 5 x Wild symbol appearing on reel 3 only.
You can multiply your win by three by landing 3 x Wilds, or five times with a 5-x multiplier. Three wilds on an active pay line will pay 4,000 x coins, or you can combine wild multipliers. I believe it is also possible to hit several Wild symbols for jackpot of 15 x your stake.
Paytable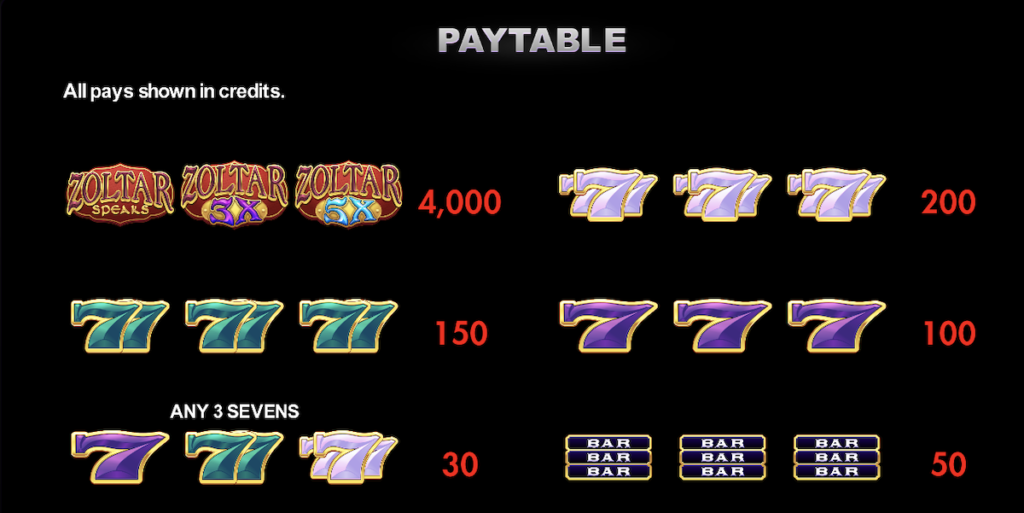 Min/Max Bet, Autoplay Option
Zoltar Speaks is a very accessible game for most budgets as you can play from as little as $0.25 per spin, with a maximum bet of $125.00 per spin if you prefer to play the bigger stakes.
One great feature I found was the Autospin option, which allowed you to set up 100 x consecutive spins so you can sit back and enjoy the action without having to lift a finger. You can stay in control of your Autospins by setting a win and/or loss amount to stop the spins from continuing.
There is also a Quick Spin function if you want to play faster games and get those reels spinning at a crazy tempo.
RTP
Zoltar Speaks has an RTP that averages at 95.00%, with each symbol having a different RTP setting.
Volatility
It was hard to find what the volatility is for Zoltar Speaks; however, I enjoyed a few frequent wins, which paid out some good sums.
Hit Fequency
Unfortunately, I was unable to discover the hit frequency for Zoltar Speaks, however, it must be remembered that the hit frequency and volatility are different. Hit frequency describes how often a machine will stop on a winning combination, whilst volatility describes how often a winning combination comes up in relation to the maximum payout of a game.
Jackpot and/or Max Win
The maximum win of Zoltar Speaks is 4,000x your wager.
Game Features
Zoltar Speaks is a straightforward slot as you'll find, so don't expect loads of bonus features as you'll be disappointed. The bonuses are what you'd expect to find from a slot with traditional machine gameplay. That said, you can still win big if fortune is smiling on you.
Here, I take a look at some of the best features on offer:
Wilds, Re-spins and Other Features
Multiplier Feature
I discovered a Zoltar 3 x symbol, which only appeared on the second reel and paid three credits. However, it also acted as a Wild for all symbols except the lone Zoltar symbol and Zoltar 5 x symbol. But when it did help to complete a win, the payout was subject to a 3-x multiplier.
The Zoltar 5x symbol, which only seemed to land on reel three, paid five credits and also acted as a Wild for all except the lone Zoltar symbol and the Zoltar 3 x symbol. The Zoltar 5 x symbol offered a 5-x multiplier when it completed a winning combination.
It is important to note that the three Zoltar symbols only paid out when on a pay line. However, you can also get a 15 x Multiplier if you have the Zoltar 3 x symbol and the Zoltar 5 x symbol simultaneously on a pay line.
Re-spin Feature
Zoltar Speaks does feature re-spins, which I found are randomly triggered after any round; you just never know when they'll come into play and there was no obvious pattern when I was playing the game. Zoltar will zoom in, announce that he wants to "help you out," and the reels will re-spin up to five times. This is the closest thing the game offers to a free spins bonus.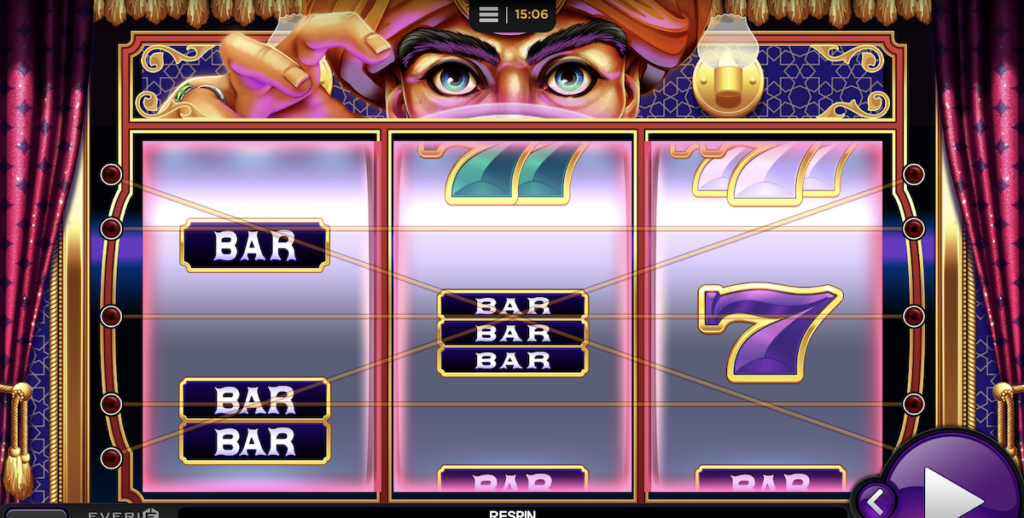 Zoltar Speaks Graphics & Sound
| | |
| --- | --- |
| Graphics | 3D |
| Optimized for Mobile | 👍Yes |
| Music | Mystery |
| Special features | Zoltar speaks to you |
Zoltar Speaks offers an interactive gaming experience
I really enjoyed the interactive feel to this game as Zoltar not only speaks to you, but the use of 3D graphics means he leans out from behind the grid too, which really adds to the enjoyment of this game.
Solutions if you have some issues with a game
If the game is interrupted during play, players can replay the game round after restarting the game. If the player chooses to skip the replay, their win will be added to their balance immediately.
In the event of malfunction of the gaming hardware/software, all affected game bets and pay outs are rendered void and all affected bets are refunded.
Verdict
Although Everi is an emerging game designer, with Zoltar Speaks they could have another popular game among their growing portfolio. The game is easy to play and understand quickly. I particularly enjoyed Zoltar actually speaking toy you, which adds to the drama, but also the use of Wild symbols, which I got frequent success from, especially the 3x and 5x multipliers.
For me, the traditional gameplay was a nice change to some of the flashier slots that are on the market, and I will give it the thumbs up. However, if you like your slots with all the bells and whistles, Zoltar Speaks might fall short for you.
Other slots to play if you like Zoltar Speaks
If you enjoy Zolta Speaks, try other classic slots like: