Cash Machine Review
Stakes ranging from $1 to $100
Two re-spin features
Top win of $10,500
This game is one of Everi's refreshing approaches to slot-making. It offers an unusual design and game rules.
With its appropriate cash theme, the title is a risky 'win what you see' adventure.
Our Cash Machine Slot review talks about the game features, volatility, and RTP.
Read on to find out where to play Cash Machine and other money-themed games.
| | |
| --- | --- |
| Provider | Everi |
| Volatility | Low |
| RTP | N/A |
| Features | |
| Paylines | 1 |
| Reels | 1 to 3 |
| Minimum Bet | $1.00 |
| Maximum Bet | $100 |
| Top Win | $10,500 |
Find the best bonus for Cash Machine
Cash Machine Slot Symbols and Payouts
Cash Machine is a unique game. The screen design looks like a banknote, and the gameplay is like no other.
It uses digits instead of symbols on its three reels, where you win the number that appears on the only payline of the game.
You can choose to activate one, two, or three reels at a time.
Symbols
While fruits, 7s, and BARs are classic 3-reel slot symbols, this game ditches all the conventional solutions.
You won't see any bells and fruits here, but several digits that make up your winning amount.
Each reel has a fixed list of numbers that can pop up:
Reel 1 – 1, 2, 5, 10
Reel 2 – 0 and 5
Reel 3 – 0, 5, 00 (double zero)
Paytable
Depending on how many reels are active at a given spin, you can expect to win anywhere from $1 to $10,500.
The result is possible because of the digit distribution on each 'window.'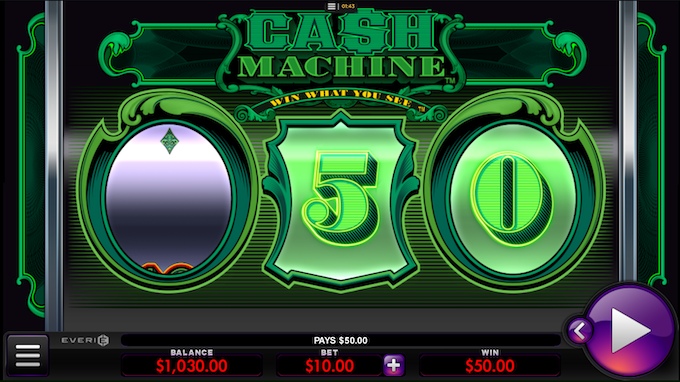 Suppose you get the following combination of '5' on reel one, another '5' on reel two, and a '00' on reel three.
Your payout will equal $5,500.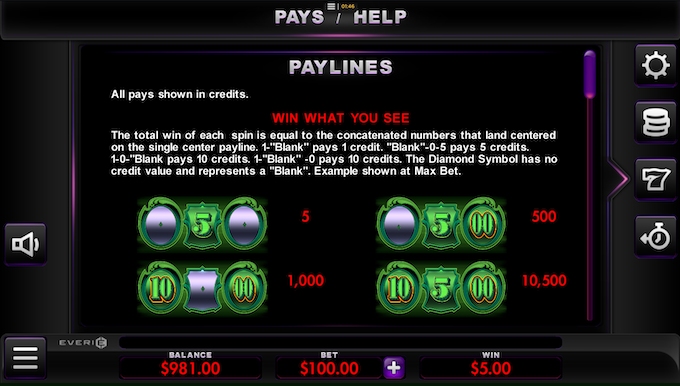 Cash Machine Slot Min/Max Bets
As we've already mentioned, betting can occur on three levels (active reel windows), anywhere between $1 to $100.
On each level, two coin values exist – $1 and $10 for level 1, $5 and $50 for level 2, and $10 and $100 for level 3.
Cash Machine Slot RTP, Volatility & Hit Frequency
Unfortunately, the slot maker isn't transparent about the Cash Machine slot RTP. However, we know that the game is quite ruthless if you fail to manage the bankroll.
Due to its low volatility, you can see yourself burning through the budget in a few minutes. Don't forget that each spin can cost you up to $100.
Bonus respin rounds are triggered randomly and not often.
During testing, we played 100 spins and encountered only three respin features, which means that the game can get monotonous if you play it for a while.
Cash Machine Slot Jackpot And/Or Maximum Win
Achieving the fantastic $10,500 jackpot can only happen if you have all three reels active and land the following combo: '10,' '5,' and '00.'
Cash Machine Slot Features
The Cash Machine avoids all conventional features you might see in other slots online or offline.
It doesn't use wilds and scatters.
Random re-spins are the only feature this game embraces, and they give you more (and larger) payout opportunities.
Wilds, Re-spins, and Other Base Game Features
The slot employs two types of re-spins: Red and Zero, each of which occurs after a spin that has specific conditions.
You should also expect different winning odds and payouts on feature wins.
Let's see how the re-spins work.
Re-Spins
The Red Re-spin happens on a winning and losing reel combination when the winning one stops. The losing column spins (once or twice) to reveal a number greater than the initial outcome.
The event is inactive on a $1 bet, and in case of the other re-spin bonus being already in motion.
The Zero Re-spin occurs when at least one reel depicts either zero or double zero. The number stays, until the other reels spin once more.
The feature ends in two occurrences. First on a winning spin, and second, when the re-spin doesn't bring forth another zero or double zero
Only reels two and three contain zero and double zero, so the feature can't occur if you're playing on bet level 1.
Having all three reels active allows for three respins. Two active ones result in two rounds.
Graphics & Sound
The screen of the game looks like a large dollar banknote. The exterior resembles an authentic ornate mechanical slot machine, with the reels turning on the other side of the glass.
In case you're playing at bet level 3, all the reels are active. Once you choose less, the rightmost reel stops turning and goes dim.
The same goes for the central one in case of playing on bet level 1.
The game doesn't have background music, but uses ATM sounds to create the 'machine' aesthetic.
Other Slots to Play If You Like Cash Machine Slot
Well, you might argue that all slots are about cash, in a greater scope of things. Still, it was quite challenging to find a proper cash-themed slot machine all over the internet.
Keep an eye out for the following cash-themed online slot in Pennsylvania:
Cash Machine Slot Review – Conclusion
The title is yet another unconventional approach to slots. Everi, the US-based game developer is known for other entertaining low volatility games.
It also develops physical slot machines that you can find in casinos around the USA.
Cash Machine is a breath of fresh air among the classic 3-reel games. Its two re-spins features promise a lot of excitement and wins when they land.
However, the wait can be a little too long sometimes. Prepare yourself for a risky ride and don't forget to have fun!